News
Spider-Man: No Way Home Oscars Prospects Dim After PGA Nominations
The Oscars 2022 hype around Spider-Man: No Way Home took a blow with today's PGA nominations, but Don't Look Up's chances improved.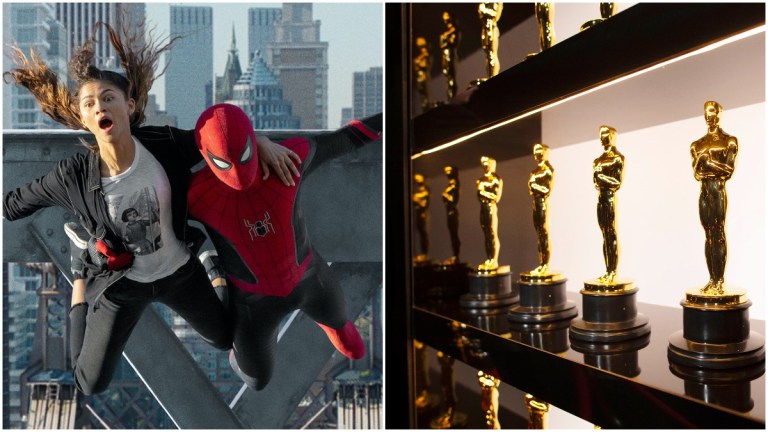 Marvel True Believers and proponents of blockbuster cinema took a hit Thursday morning with the announcements of the Producers Guild of America's nominations for 2022. Generally considered the best bellwether in the whole awards season for what the Academy of Motion Picture Arts and Sciences will nominate for Best Picture, the PGAs' choices suggest that Spider-Man: No Way Home isn't making it to the Oscars 2022 stage unless it's for Best Visual Effects and other technical categories.
Indeed, the highest grossing movie of 2021—and 2020 for that matter—failed to make the cut for the PGA Awards, which instead tended to favor streaming contenders more than ever before with the inclusion of Netflix's also widely popular disaster comedy, Don't Look Up, as well as the surprise nomination of Netflix's tick, tick… BOOM! Apple's CODA also made the cut alongside the more generally expected list of nominees that include West Side Story, Belfast, Netflix's The Power of the Dog, Dune, Licorice Pizza, King Richard, and Amazon's Being the Ricardos.
The snubbing of Spider-Man: No Way Home is telling because historically the PGA has been the one industry guild inclined to champion populist entertainment, including when Black Panther and Joker both went on to receive Best Picture nominations at those years' Oscars. Like the Screen Actors and Directors guilds, producers in the PGA have overlap with the voting body within the Academy. But unlike SAG or the DGA, the PGAs tend to be more open to celebrate successes that connect with audiences—and often signaling to the rest of Hollywood that they should do the same on Oscar night.
For example, Joker was neither nominated for Best Director by the DGAs or Best Cast ensemble by the SAGs (that guild's equivalent of Best Picture), but PGA nominated it for Best Picture, and come Oscar night, Joker was nominated for both Best Picture and Best Director. Director Todd Phillips was also nominated for Best Adapted screenplay for that movie. Meanwhile Black Panther received a SAG nomination for Best Cast, but was snubbed by the DGAs. Still, it got a coveted Best Picture Oscar nomination after the producers guild put their weight behind it.
If one awards body could signal that Spider-Man: No Way Home had a real shot at an Oscar nomination for Best Picture, this was it. The PGAs, after all, also nominated The Dark Knight, Deadpool, and Wonder Woman for Best Picture, and none of those were still able to land an Oscars nod or Best Picture, infamously so in The Dark Knight's case.
Nonetheless, the nominations are intriguing for what else got snubbed. Among film critics (and Film Twitter) a bigger blow than Spider-Man being left out was the exclusion of Drive My Car, the Japanese film which won Best Picture from a string of critics groups, including the prestigious New York Film Critics Circle. Many were perhaps overly hopeful after Parasite could win Best Picture two years ago at the Oscars that Drive My Car would move out of the Best International Film box and compete for the biggest prize of Oscar night. While it's still possible, the PGAs signal the industry is ready to celebrate more movies audiences have watched after last year's extremely poor ratings for the Oscars.
Perhaps that's why an audience favorite like Don't Look Up—which also happens to be filled with A-list favorites within the industry—can increasingly look like an Oscar frontrunner even when it received a cold reception among critics (the picture has a current Rotten Tomatoes aggregate score of 55 percent).
With traditional Oscar friendly fare like Steven Spielberg's West Side Story and Kenneth Branagh's Belfast being hardly seen in their theatrical releases, it seems like the industry might be ready to look more toward streaming to bring in audience-friendly movies. Just not Spider-Man.