Features
Sharon Tate Was an Icon of Youth for the Decade of Youth
Sharon Tate rode into the 1960s on an All-American missile and defined the decade in a perfect frame.
"Honey, let's face it; all I know how to do is take off my clothes," Jennifer North said in the film Valley of the Dolls, deflating the image of the sexual revolution and one of the decade's most cinematic sex symbols. But that's because Sharon Tate, the wife of director Roman Polanski and the hypnotic witch in the under-appreciated cult horror thriller Eye of the Devil, had a deeper knowledge. The actor and model encapsulated both the look and attitudes of '60s youth, from her Thea Porter-designed micro-mini dress to her coppertone tan. Even the Malibu Barbie is said to be based on a Sharon Tate character.
Tate would have turned 75 last year had she not died at the age of 26 during the summer of '69. While she shares the same birthday of another celebrity taken too soon, comedian John Belushi, Tate's legacy is not forever locked in the same media mythologies as Belushi or, for that matter, 1950s icon James Dean. Belushi went out on a creative streak with limitless possibilities and drug access; Dean was the brooding Hollywood bad boy in the Corvette; Tate, by contrast, was the all-American beauty with the allure of a sorceress. She started her career modeling as Miss Autorama and was a Stars and Stripes cover girl in 1960. What could be more American than that? By the end of the '60s, she was even featured in a Dean Martin movie.
Yet in between such sweet natured Americana, Tate also plumbed darker depths of cinematic bad behavior. Her darkest film, with the most malevolent of premises, is Eye of the Devil. It is about a cult, family-run and centuries old. It's magic and mystery, and a literally mesmerizing Tate.  She almost drives a woman to suicide and is all for the lord of the estate taking an arrow in the chest for a good harvest. Just like how the women in the more iconic Valley of the Dolls are all in for a quick prescription pick-me-up if it will bring out a good performance, this more obscure film proves Tate brought innocence into the shadows.
From Tiny Tot to TV Spots
Sharon Marie Tate was born on the day before her parents' first wedding anniversary in 1943. Oklahoma! opened on Broadway that year. The Krakow ghetto closed. Casablanca played in movie theaters. Tate was only six months old when she won her first beauty contest, Miss Tiny Tot of Dallas Texas. Her father Col. Paul Tate was part of military intelligence, and her mom Doris was smart enough to keep her address book flexible. Sharon learned to make pen pals.
Sharon rode a missile wearing a bathing suit and a cowboy hat for Stars and Stripes, but her parents hired a guard to sit outside her hotel bedroom door the night before Pat Boone sang to her on one of his TV specials. She had sex appeal and innocence in equal measures. The accommodating army brat was transferred to Italy with her family in 1962.
The man who sang "I got a feelin' there's a miracle due, gonna come true, coming to me," in West Side Story gave Sharon the idea of going into acting. Richard Beymer met Tate on the set of Hemingway's Adventures of a Young Man, and immediately gave her the card of his agent Hal Gefsky. Tate quickly got on set as an extra in Barrabas with Anthony Quinn and Jack Palance, and was placed on the short list for Italian productions.
The innocent Tate swam back to America and hitchhiked directly to Gefky's office. He put her straight to work selling Chevys and cigarettes on TV, and told her to get an apartment. Tate also sold wine before her prime.
read more: Once Upon a Time in Hollywood References and Easter Egg Guide
Tate was one of the last stars picked up in Hollywood's by then dying studio system, and the MGM producer Martin Ransohoff spent a million dollars getting her ready as a star. Sharon wasn't even 21 when she signed on with Filmways, and needed special dispensation from the courts to sign contracts in ink. Before it was even dry, she was making eyes at Jethro Bodine on The Beverly Hillbillies as secretary Janet Trego. She stayed for two seasons, while also appearing on Mr. Ed, Petticoat Junction, and "The Girls of Nazarone Affair" episode of The Man from U.N.C.L.E.
Her modeling career blossomed as she sat for the best photographers at the time, including John Derek. Knock on any door in the coming decades and you'd be able to find someone to attest to Derek's eye for perfection. The man who first uttered the phrase, "Live fast, die young, and leave a good-looking corpse" knew his "Tens" long before he provided Bo Derek to Blake Edwards for the film 10, and Tate was the 10 of the 1960s.
Dark Magic and Darker Comedy
The perfect 10's first major film role had the working title 13. She and Mia Farrow, who would star in Roman Polanski's Rosemary's Baby, both lost out to Charmian Carr for the role of Liesl in The Sound of Music, opening doors to darker roles. In 1964 Tate did a screen test with Steve McQueen for Sam Peckinpah's The Cincinnati Kid. Tate was still too timid and the role went to Tuesday Weld, but the magic of the screen siren could not be denied. Sharon conjured the role of Odile De Caray in the film Eye of the Devil.
Directed by J. Lee Thompson, Eye of the Devil is based on the novel Day of the Arrow by Robin Estridge. The movie was filmed at the Château de Hautefort in England in 1965 and set in rural France. The film builds its suspense slowly, and Tate's figure lurks in the shadows behind every scene. She masters the art of suggestion, convincing a young boy she can turn a frog into a dove and gets into the subconscious of the audience deeper than the leading characters. The film starred David Niven, David Hemmings, and Deborah Kerr, who replaced Kim Novak as the lead when a back injury forced her to pull out of the film after 80 percent had been shot. Donald Pleasence is also featured as an Aleister Crowley stand-in and bald-headed Pagan priest.
read more: Once Upon a Time in Hollywood Ending Explained
Many horror movies have their own mythology, and the Eye of the Devil production laid fertile ground for speculation. Besides the injury that sidelined Novak, the filmmakers brought in Wiccan High Priest Alex Sanders, aka King of the Witches, and his wife, the "Witch Queen" Maxine, to consult on the ritual magic in the film. Maxine's biography Fire Child claims her husband personally introduced Tate to Alexandrian Wicca, a Neopagan tradition among occultists. She also claimed that the actress kept up the practice after the filming was complete. Sharon certainly cast a spell over the generation.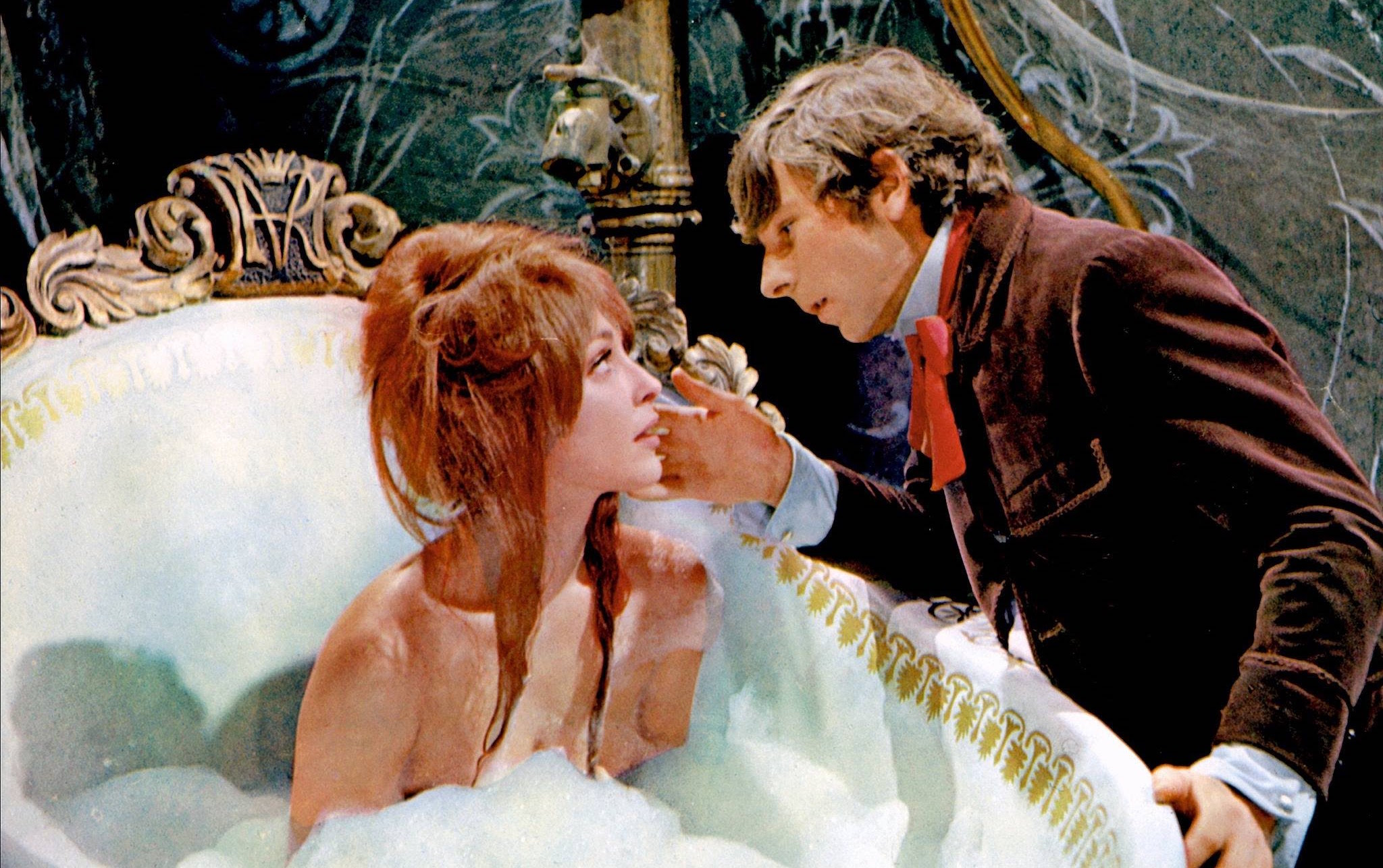 Sharon and Roman
Having played both comic and horror roles on screens big and small, Sharon got to sink her teeth in a smorgasbord when she was cast as Sarah Shagal in Roman Polanski's bloodsucking satire The Fearless Vampire Killers or Pardon Me, But Your Teeth Are in My Neck.
Polanski was a young genius behind the camera—a master filmmaker who could bring out tension on a single set on a lazy afternoon during a pleasure cruise. He changed cinema with his adaptation of Ira Levin's novel Rosemary's Baby, a masterpiece made during his and Tate's brief and happiest period. They were married in January 1968 and instantly became a celebrity couple, a beautiful Bohemian Liz and Dick. At the center of artistic culture, they became pop symbols.
read more: Movies That Scared Us – Rosemary's Baby
They met through the magic of moviemaking, but only made one film together. Polanski later said he wanted to cast Tate in the lead role in Rosemary's Baby but couldn't suggest it himself. He mentioned in interviews that Tate gave him ideas for the film, including the druggy ritual scene where Rosemary gets impregnated by the devil.
Under Polanski's direction, the Transylvania Tate of The Fearless Vampire Killers is deliciously all-American, even with a convincingly bewitching British accent. Polanski overdid everything in the vampire spoof, the violence becomes a kind of slapstick, and Sharon pops into the proceedings cleavage first. That is, except during the elegant dance scene, littered with conspiratorial buffoonery.
Sex on the Beach
Sharon put the cheesecake and the comedy in Don't Make Waves, which also starred Tony Curtis and Claudia Cardinale. Not quite Gidget and not quite Annette Funicello, it was one of those '60s beach movies that made it look natural to put dogs on surfboards. Tate played the skydiver Malibu, who was born as bikini-ready as Ursula Andress in Dr. No. Her boyfriend, played by former Mr. Universe Dave Draper, brings the best of '60s beefcake. Don't Make Waves opens with Curtis' character being pulled out of the tide by Sharon, and all he can see are her assets, as she walks in front of the POV camera.
The first full shot of Tate captures her in a sex symbol icon-ready frame. She became synonymous with the beach when she became the Coppertone suntan lotion girl in advertisements. Though she's more of a sand goddess being carried on a surfboard like it's a royal palanquin with its top down. Even her Valley of the Dolls character expected to recuperate on the beach. The "sexy little me" Tate called herself wanted to break out of the blonde sex goddess roles.
read more: The Beatles' Help is More Influential Than You Think
Sharon Tate might have most definitely been sexy, but Polanski has said in interviews that she was embarrassed by her beauty. Nonetheless, Tate had no hang-ups about being the face and body of the sexual revolution on film. "I don't see any difference between being stark naked or fully dressed," Tate told Look magazine in 1967 after being asked about a nude scene she shot for the film 12 + 1. "If it's part of the job, and it's done with meaning and intention, I honestly don't understand the big fuss made over nudity and sex in films. It's silly. On TV, children can watch people" performing all kinds of unnatural acts of violence. "But they can't watch two people in the very natural process of making love? Now, really, that doesn't make any sense, does it?"
Tate also captured the generational gap between the past generation's cool and the 1960s' innocence. In the 1969 comedy The Wrecking Crew, Dean Martin's Matt Helm character openly leers at the clumsy spy Freya Carlson. Martin was impressed enough by Tate's chemistry he planned to mix her into a sequel.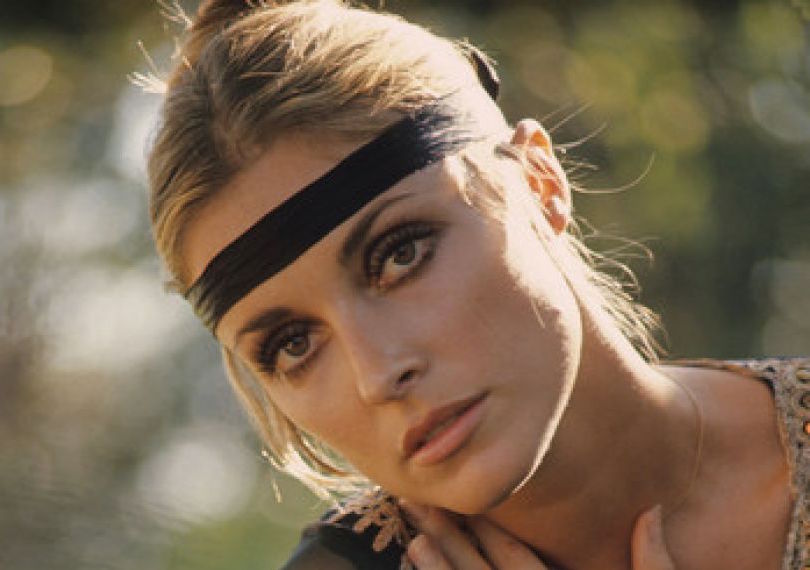 Fighting Stereotypes with Irony
Sharon did her own stunts on Don't Make Waves, and found she had a knack for it. Before the Kill Bill films, Tate faced off against Nancy Kwan in The Wrecking Crew (1969). It's a clean fight, all the rules are observed. Tate gets Kwan down in three picturesque moves before taking a sneak attack which she flips into a narrow escape, while Dean watches it all on a closed circuit TV. Tate studied martial arts under Bruce Lee for the film, and while they may look tame, remember this is a pinup icon doing them, not an action star. It actually looks like she's having a little fun in spite of all the danger, but there's a lazy grin at the bottom of every scene in every Dean Martin vehicle.
Director Mark Robson's adaptation of Jacqueline Susann's best-selling book Valley of the Dolls co-starred Patty Duke, Barbara Parkins, Lee Grant, and Susan Hayward, who replaced Judy Garland. Tate reportedly told Polanski she wasn't fond of the book or the screenplay but found an affinity for the young actress she would be playing, Jennifer North. In the role, she addressed not only the same critiques placed on her, but the value of beauty in its prime, and the cost when it fades. But Sharon was no ice sculpture, and her looks never got the chance to age. She is forever locked in her moment: the sex kitten inquisitiveness and shy purr dropped into a laser beam of defiant acceptance when she comes to grips with mortality in Valley of the Dolls. Despite being told by her mother in the film that she is only as good as she looks, Jennifer North is betrayed by her body. Tate brings out the irony by playing into the very real peril of breast cancer, far more harrowing than any vampire. Tate becomes the moral center of a deeply skewered film.
Sharon Tate was chronicled from toddlerhood to the early adulthood. She was the jewel in the greatest photographers' portfolios, the prestige prize of any paparazzo, and the best fit for any outfit, whether she wore faded jeans or full-length furs. She and Roman were the cinematic couple of the decade, as royal a pairing as any rock star duet, from George Harrison and his model wife Pattie Boyd, to Mick Jagger and Marianne Faithfull. Tate captured the questioning mystical ambiguities of the Age of Aquarius, the innocence of discovery and the revolutionary deflowering of the flower children. She did it with style, grace, and animal magnetism, whether on a trampoline, a beach, or at a nightclub.
Sharon Tate took much of the hope of the decade she helped defined with her. She was pregnant with her and Roman's first child when she died, but her youth and the supposed innocence her characters subverted will forever preserve her as the bombshell of the Baby Boomers that still fires.
This article was originally published on Feb. 1, 2018.