News
Netflix Movie The Gray Man Nabs Ryan Gosling, Chris Evans, the Russo Brothers and a Big Budget
The Russo Brothers will direct big-budget Netflix movie The Gray Man, which will co-star Ryan Gosling and Chris Evans.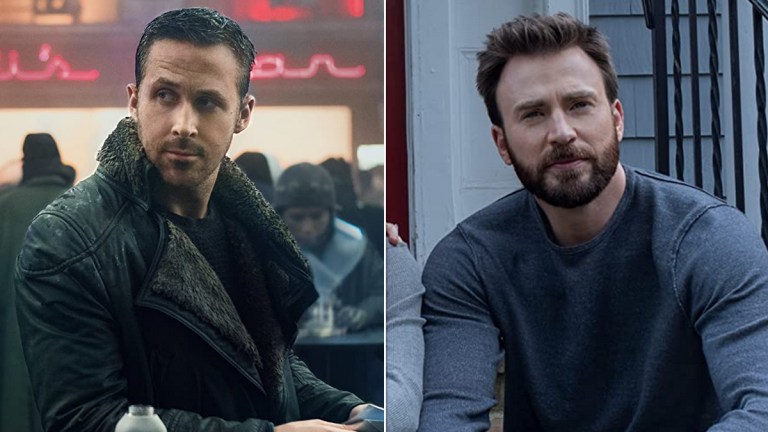 Netflix has revealed plans for its most ambitious movie project yet, tapping Avengers: Endgame conjurers Joe and Anthony Russo to direct an action-packed thriller that has two major headliners in Ryan Gosling and Chris Evans, along with an estimated budget of $200 million!
The Gray Man, an adaptation of Mark Greaney's 2009 spy novel of the same name, will not only see the esteemed Russo Brothers serve as directors and producers via their AGBO shingle, but has locked in a duo of co-headliners in Gosling and Evans, reports Deadline. The streaming giant is designing the film to launch a prospective James Bond-type film franchise, as evidenced by the cited budgetary scale, upward of $200 million—by far the biggest budget it has ever committed to a project. Joe Russo will pen the script, which will be polished by Christopher Markus and Stephen McFeely, both of whom co-scripted the Russos' now-iconic Marvel movies.
Gosling will star as the books' antihero protagonist, Court Gentry, a.k.a. the Gray Man, a former CIA operative who, after being burned by the organization, becomes a legendary hired gun. Yet, despite his ruthlessness—notably possessing the ability to vaporize his victims—the ever-elusive Gentry adheres to a strict moral code. However, Gentry may yet meet his match, since his old employers have sent out an old colleague, Lloyd Hansen (Evans), to hunt him down, setting up an intense showdown that will span from the Middle East to Europe.
Joe Russo describes the story as being "based on a tremendous book, a modern day fable that deals with magical realism and telling the quintessential Middle Eastern refugee story," with Anthony adding, "There is this element of magical realism to how the experience of being a refugee ends up playing out." Indeed, the report indicates that Netflix intends to retain the twice-Oscar-nominated Gosling for multiple installments of this intriguing franchise pitch.
Having reportedly languished in the back of studio New Regency's docket for years—originally intended as a project for the Ad Astra team of star Brad Pitt and director James Gray—the Russos and Netflix have moved The Gray Man to the top of Netflix's attention. As Anthony Russo describes at length of the newly-prioritized project:
"The movie is a real mano a mano between those two great actors who represent two different versions of the CIA, in what it can be, and what it can do." He adds, "For those who were fans of Captain America: Winter Soldier, this is us moving into that territory in more of a real-world setting. That's what this movie really means for us."
As Joe Russo adds of the high-profile co-headliners:
"The intention is for it to be competitive with any theatrical, and the ability to do with Gosling and Evans is a dream for us. The idea is to create a franchise and build out a whole universe, with Ryan at the center of it. We have all committed to the first movie, and that's got to be great to get us to the second movie." He adds, "We have a great working relationship with Netflix, and we go back almost 20 years with Scott Stuber. We formed AGBO to be an agnostic storytelling company, where we figure out the best platform. We think Netflix is the perfect place for this film."
There will be plenty of source material from which Netflix and the Russos can mine when it comes to The Gray Man. Greaney's 2009 novel—his first overall—would serve as the launch pad for several sequels, and the book series currently consists of nine novels total. Indeed, the latest volume, One Minute Out, was just released this past February, and it will be followed-up with a tenth book, Relentless, which is currently eyed for a 2021 release. Interestingly, Greaney's work in the spy genre also includes novels featuring the late Tom Clancy's Jack Ryan character, having written and released seven novels for that continuing (and frequently live-action-adapted) literary franchise.
Ryan Gosling was last seen in his starring role as Neil Armstrong in director Damien Chazelle's 2018 film, First Man. He was recently tapped to star in Universal's developing remake of The Wolf Man, which will be directed by The Invisible Man's Leigh Whannell. His co-star in Evans is coming off a purportedly final MCU appearance as Captain America in the Russos' Avengers: Endgame, and most recently appeared opposite Michelle Dockery on the Apple TV+ series, Defending Jacob. He's also set to appear in director Greg Berlanti's Little Shop of Horrors remake. Of course, with the pandemic having sidelined the entire industry, it will be interesting to see if The Gray Man gets prioritized above other upcoming projects.
As for directors the Russos, they remain attached to several projects, mostly in the capacity of producers. Their next directorial effort will be the Tom Holland-headlined drama, Cherry, which was planned for a 2020 release date, but—as with pretty much all post-Q1 2020 release dates—that currently remains up in the air. However, The Gray Man will be the Russos' first blockbuster actioner since 2019's Avengers: Endgame, which became the undisputed all-time box office king, having grossed an estimated $2.8 billion worldwide; quite the daunting follow-up task, indeed.
Netflix's The Gray Man is expected to go into production by either late-fall or early-spring, according to Joe Russo, who extends the caveat of COVID dependence in his estimate. We'll keep you updated as the news arrives.