Features
Netflix's Extraction Director Breaks Down That One-Take Action Sequence
Director Sam Hargrave walks us through the stunning 11-minute scene at the heart of Extraction.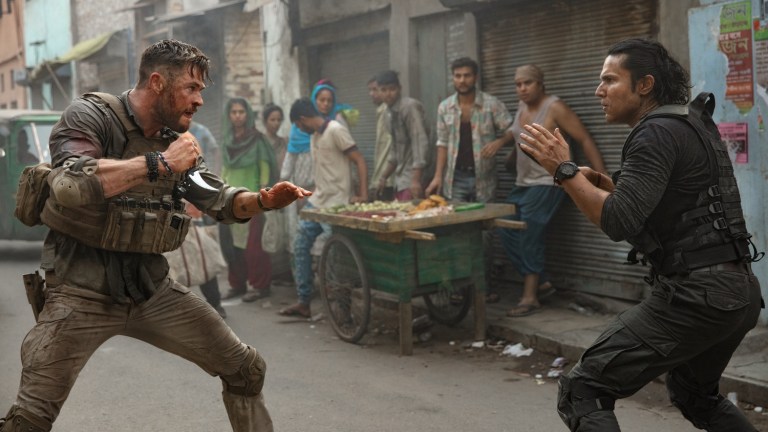 The new Netflix movie Extraction stars Chris Hemsworth (Avengers: Endgame) as Tyler Rake, a highly efficient mercenary who is dispatched to Dhaka, Bangladesh to rescue the teenage son of a drug lord from an even more ruthless one. With a big bad kingpin controlling the streets, Rake and Ovi (Rudhraksh Jaiswal) must fight for every inch of the way to get out of the city and make it to freedom.
Produced by Anthony and Joe Russo (from Joe's screenplay) and directed by Sam Hargrave, stunt coordinator and second unit director on the Russos' Marvel movies, Extraction is already getting a lot of attention for an 11-minute "single take" action sequence in the middle of the movie that takes Rake and Ovi on a frenetic chase that starts inside a car, weaves wildly through the streets, leaves our protagonists in a tenement building for a barrage of up-close-and-personal fights, and then spills back out into the streets of Dhaka.
It's a true showstopper, and we asked Hargrave how the whole thing was conceived and executed.
"It's tough when you come from an action background to just do something different and unique," the director says. "It's always the goal, but how do you do that? Because people can only punch in so many ways, they can only drive cars in so many ways. How do you find something or do something that is different and that people haven't seen before?"
Hargrave adds, "A lot of times, and in this case, it comes down to perspective: how you photograph it and how you present the action to the audience. We're obviously not the first ones to have done an extended take. 1917 came out, and we did a long thing in Atomic Blonde. Through the years, it'd been done before. But the idea with this was just a different perspective and combining different aspects of an action sequence that may be put together in this way you hadn't seen before."
Hargrave says his goal was to place the audience into the action so that they could experience it first hand, in real time, so that by the end, "You're just as tired and worn out as the characters." He continues, "Making it happen was technically, extremely difficult. I ended up operating the camera for all 10 days of the shoot for that sequence, because I wanted the camera to do things and go places that could be dangerous, and I didn't want anyone else to be put in danger. With my stunt background, I felt comfortable doing this."
The director reckons that it took around four or five months to create the scene from concept to execution, which included rewriting the scene to make the action flow, extensive rehearsals with the cast and crew, and scouting the locations.
"As we saw the space that [production designer] Phil Ivey and his great team found, we would redesign or alter the action a little bit so it was a better featured space," Hargrave explains. "Then we just plotted out our route, and then we would go on tech scout after tech scout. I think we ended up doing eight different tech scouts with the entire crew, to get everything just right. We had only 10 days to shoot it and we were trying to fit in three to five different long sequences in a day."
To be clear, the scene is meant to appear as if it's one long, unbroken take, but it's actually comprised of several which are digitally stitched together. "We had to break it up into multiple long takes because some parts of the set would be on one side of town and the others would be on the other side of town," Hargrave explains. "Just the logistics of it didn't allow us to do one actual, continuous take. So we tried to build a style that would lend itself to the audience being unable to tell what was happening in real time or what something that we stitched two different locations together was or whatnot. We tried to embed that in the style so that it was one continuous experience, at least, for the audience."
The result is a sequence that will no doubt have pride of place in Hargrave's demo reel going forward. How ever Extraction is ultimately received, that 11-minute scene may end up getting its first-time director several years' worth of work in the action genre and beyond.
Extraction is available on Netflix now.