News
Extraction: Netflix Release Date, Trailer, Cast, Story Details and More
Chris Hemsworth is a black market mercenary struggling with a new mission in Netflix's Extraction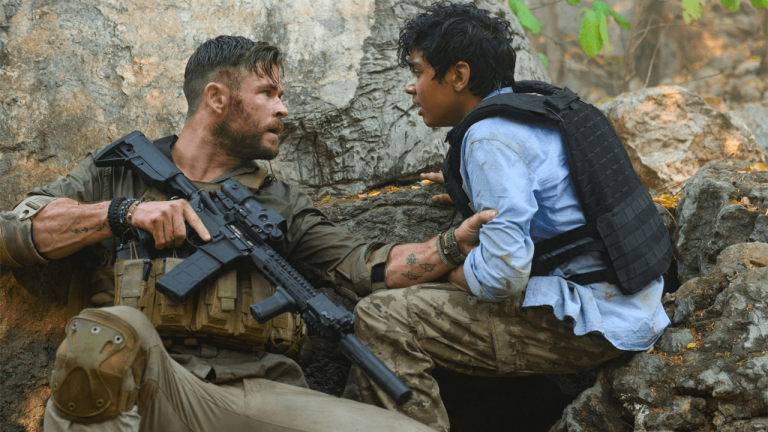 Chris Hemsworth has teamed up with MCU stunt coordinator Sam Hargrave for a new Netflix original film called Extraction, coming your way in April. It's not the only Marvel Cinematic Universe connection the film has – Avengers: Endgame helmers Joe and Anthony Russo produced this one, and Hemsworth shares the screen with Black Widow's Red Guardian, aka David Harbour, who is certainly no stranger to the streaming service's more expensive projects, having been a part of Netflix's flagship sci-fi series Stranger Things since its debut.
In Extraction, Hemsworth stars as black market mercenary Tyler Rake, who is tasked with finding and extracting (ahhh?) the kidnapped son of a crime lord. It's not the sort of part we're used to seeing the actor in at this stage, as normally he does prefer to flex his comedic muscles when he's off the MCU clock, and director Hargrave admits that any attempts to make Hemsworth more gritty and grizzled for the film were ultimately pointless.
"We tried to make him dirty and bloody and (added) stubble and a beard and just beat him up," he explained. "But it seemed like the more dirt and blood we put on him, the more handsome he was. So we failed there."
Here's everything you need to know…
Extraction Trailer
Get a decent idea of what to expect from Netflix's new thriller with this first look trailer…
Extraction Cast
Starring alongside Hemsworth in Extraction are David Harbour (Stranger Things), Golshifteh Farahani (Paterson), Derek Luke (13 Reasons Why), and Rudhraksh Jaiswal.
Extraction Story
Here's an official synopsis from Netflix…
"Tyler Rake (Hemsworth) is a fearless black market mercenary with nothing left to lose when his skills are solicited to rescue the kidnapped son of an imprisoned international crime lord. But in the murky underworld of weapons dealers and drug traffickers, an already deadly mission approaches the impossible, forever altering the lives of Rake and the boy."
Hemsworth's character will have layers, according to Hargrave, and won't be just a beefcake stuck in a tumultuous bind.
"You've got a guy who has a dark past and has done some very violent things as a way to make a living," the director told Today. "The interesting thing about (Hemsworth's) character isn't his physical bravery but his emotional cowardice."
Hemsworth says the kidnapping "awakens something within [Rake] that he's buried and pushed aside for many years", dragging up memories of his own son's death, and forcing them to the forefront of his mind. "He's come to terms with the fact that his number could be up any second. The innocence and purity from this young kid reminds him that there's still more to do on Earth before he departs."
Having three kids helped Hemsworth connect to the character of Rake in a way that he hasn't been able to in other roles. "Every sort of perspective you have on anything in life changes when you have a child – it's no longer about you, it's about them. The idea of that not being the case or the loss of a child, I can't imagine anything worse."
Extraction Release Date
Extraction will be streaming on Netflix from April 24.