News
Warren Ellis Talks Castlevania Season 3's Huge Netflix Ratings
Warren Ellis celebrated a job well done after Castlevania season 3 did "really, shockingly well" on Netflix globally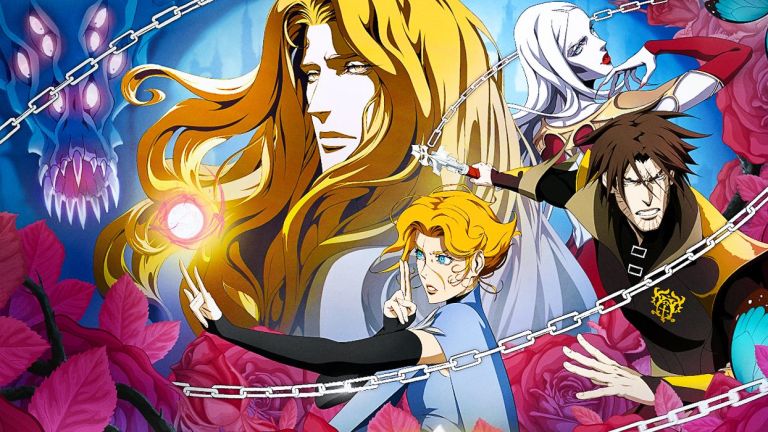 Netflix renewed Castlevania pretty swiftly following its season 3 debut, and now creator Warren Ellis has taken to his personal website to give us a peek behind the curtain at that decision-making process. Turns out, Castlevania didn't just coast through an increasingly dog-eat-dog streaming landscape after season 3 landed on the service back in March – it absolutely smashed its doors in.
"So, we had our Netflix call about the 28-day data on CASTLEVANIA Season 3 last week," Ellis wrote. "Because Netflix data is protected, I can't actually tell you all the exact numbers. What I can say is that season 3's popularity was an order of magnitude over that of season 2, and season 2 was popular enough to get us season 3. It turns out season 3 did, really, shockingly well. Shows tend to show a little attrition in the third season, and it was, quote, "unusual" to see the audience actually rise by a multiple factor."
He added "Season three was in the Netflix Top 10 — not for animation, not for tv, but for all Netflix content — for a week or two in 40 countries."
We love Castlevania here at Den of Geek, but even we were taken aback at how magnificent season 3 was. If you're not familiar with the show, which is loosely based on Konami's video game series of the same name, it follows outcast monster hunter Trevor Belmont (Richard Armitage) and magician Sypha Belnades (Alejandra Reynoso) as they fight back against the all-consuming revenge of Dracula (Graham McTavish) which has doomed their country. The pair also have some unlikely help in the form of Dracula's half-human son, Alucard (James Callis). Season 3 added the vocal talents of Bill Nighy as time-traveler Saint Germain, and the veteran actor clearly had a lot of fun playing the irreverent character.
Ellis seemed in an optimistic mood as he posted the update, not just about the future of Castlevania, but the future of more grown-up animated fare, too.
"Four seasons of an Anglophone adult drama animation about vampires, moral philosophy and toilet paper. Which is not a niche production, but something with an audience of (stops, sees Netflix sniper rifle dot)… many, many millions. Who saw that coming? If it turns out that this weird thing is what prised open the door on doing adult-oriented drama narrative in English language animation, I would be delighted. Because we just proved that the audience is there, in the same numbers that show up for live-action drama."
Castlevania's fourth season has no set release date on Netflix, but as an animated series, it won't be as harshly affected by the coronavirus pandemic as most live-action series have been.
"We don't expect too much of a covid-related delay," Ellis confirmed. "But if that one guy who keeps tagging me on IG to demand 'season 4 NOW' could fuck off, I'd appreciate it."
@ that one guy: you've been telt.