News
Netflix Lands Enola Holmes Movie Starring Millie Bobby Brown
Enola Holmes, a mystery movie starring Stranger Things' Millie Bobby Brown, is headed to Netflix.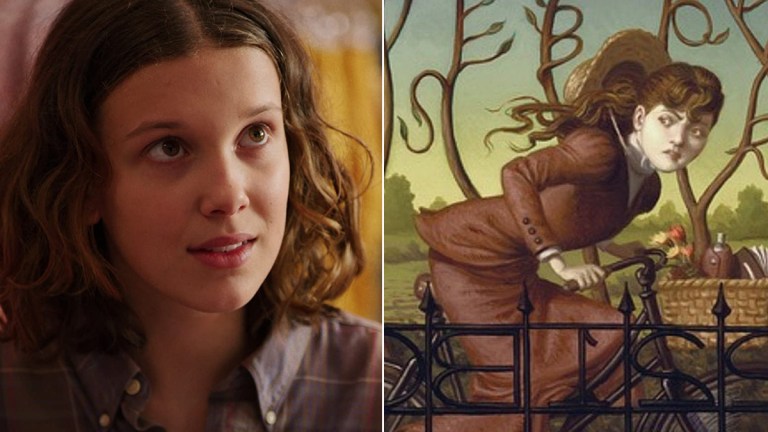 Netflix is keeping Stranger Things star Millie Bobby Brown in its streaming stable for a new kind of starring vehicle in Enola Holmes. An adaptation of the Edgar Award-nominated young adult novel series of author Nancy Springer, the film will see the teen actress trading all things psychokinetic and Eggos for sleuthing in Victorian England, bearing a surname that obviously carries significant weight in the detective trade.
The streaming giant has acquired the global rights (sans China,) to Springer's The Enola Holmes Mysteries novels from Legendary Entertainment. The film, which adapts the first book, The Case of the Missing Marquess (2006), has already been shot, but is—like everything else—without a post-production timeframe due to the pandemic. Brown stars as the titular character, the tenaciously precocious 16-year-old sister of famed Holmes siblings Sherlock and Mycroft. She will be joined by an array of impressive co-stars, most notably another superstar of the Netflix stable, The Witcher's Henry Cavill, who will play Sherlock, joined by The Hunger Games' Sam Claflin as Mycroft.
As the official synopsis for Enola Holmes reads:
Based on the beloved Edgar-nominated book series, ENOLA HOLMES tells the story of Sherlock and Mycroft Holmes' rebellious teen sister Enola, a gifted super-sleuth in her own right who often outsmarts her brilliant siblings. When her mother mysteriously disappears on her 16th birthday, Enola seeks help from her older brothers. But soon realizing they're less interested in solving the case than in packing her off to finishing school, Enola does the only thing a smart, resourceful and fearless young 1880s woman can do… she runs away to London to find her. Meeting a cast of memorable characters along the way, Enola's caught in the middle of a conspiracy that could alter the course of political history. ENOLA HOLMES puts a dynamic new female twist on the world's greatest detective and his brilliant family.
Harry Bradbeer serves as director for the film, transitioning from a long CV of television work, most recently with Phoebe Waller-Bridge shows Fleabag and Killing Eve. He works off a screenplay by Jack Thorne, a BAFTA and Tony Award-winning writer, who recently worked on the play, Harry Potter and the Cursed Child, along with shows like HBO's His Dark Materials and upcoming Netflix series The Eddy. Star Millie Bobby Brown herself—at age 16—will serve as a producer on the film alongside Paige Brown, both via their PCMA Productions shingle, joined in that capacity by Legendary's Mary Parent, Alex Garcia and Ali Mendes.
Joining Brown, Cavill and Claflin in the Enola Holmes cast are Fiona Shaw (Killing Eve, Harry Potter films), Frances de la Tour (Into the Woods, Harry Potter films), Louis Partridge (Medici), Burn Gorman (Pacific Rim), Susan Wokoma (Crazyhead, Year of the Rabbit), with two-time Oscar nominee Helena Bonham Carter (The Crown, The King's Speech, Harry Potter films).
Before Stranger Things Season 4 (hopefully) drops on Netflix sometime in 2021, Brown will next be seen in megamonster showdown threequel Godzilla vs. Kong, reprising her role from 2019's Godzilla: King of the Monsters. While the film is still currently on schedule for a release on November 20 of this year, that could quickly change, given the devastating dilatory impact of the pandemic on the entertainment industry. Likewise, the Netflix premiere of Enola Holmes remains at the mercy of external circumstances.