Features
X: Ti West Finds Link Between Horror and Porn
Ti West and the X cast chat about their new A24 horror movie, including the symbiosis between genre filmmaking and pornography.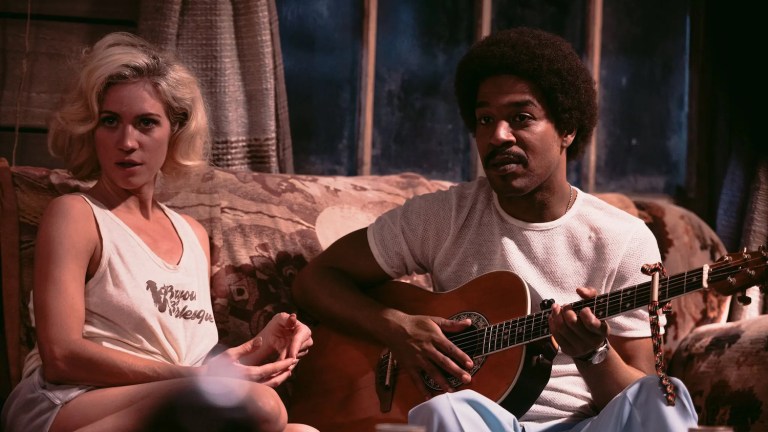 It's been almost a decade since Ti West last helmed a feature-length horror movie, which makes his return to the SXSW Film Festival in 2022 special. It was at the same fest that he premiered his first film in the genre, The Roost, in 2005, launching what would be a string of seven chillers that included more than a few cult classics: The House of the Devil (2009), The Innkeepers (2011), V/H/S (2012). But nine years is a long time to be out of a game. And in that interim, horror has changed and changed again, earning more critical acclaim with the rise of so-called "elevated horror" (a term West eschews) and more mainstream haunted house thrills.
Yet when we sit down with West, as well as actors Brittany Snow and Martin Henderson, to discuss their new film, X, West has a small bone to pick with the shape of modern horror movies.
"I took a break from making horror movies," West explains. "I made seven of them in a row, so I decided I don't want to repeat myself… and I found myself directing television for a while and having a great time. But there was just something nagging at me. I felt that modern horror movies had gotten a little soft."
While West doesn't elaborate on exactly what it is that's missing in modern genre efforts, he speaks eloquently about the craft of classic horror cinema, from the effects to the layered uses of tension. And more than just what he says, he shows that admiration too in X, his most aggressive and gore-soaked effort to date. It's a movie that happily tiptoes along the grindhouse sensibility with its very setup: a group of young filmmakers in 1979 go out into the Texan heartland to shoot a porno and get more than they bargained for when they come under the surprisingly watchful gaze of the elderly couple whose guesthouse they're renting.
West tells us that setting X in the world of amateur '70s pornography is not just about having a salacious backdrop to a slaughter. Rather the idea was to make his return to horror about the craft of moviemaking itself, even before the XXX factor became involved.
"I had an idea that had been percolating in my mind," says West. "I love movies, and I want to make a movie about filmmaking, and this is where we ended up." Even so, the filmmaker did not want X to be about making a film in his favorite genre.
"I didn't want to make a movie about people making a horror movie. That's too meta for me," West says. "But if you could show people making an adult film, you could kind of get the gist of making any kind of film."
Indeed, there is strange shadowy reflection between true independent horror cinema, perhaps even more so back in the less "elevated" times of the 1970s, and pornography.
Says West, "[Porn was] not specific to Texas, although in 1978 Debbie Does Dallas—although that wasn't filmed in Texas—ended up being one of the bigger adult film hits. That was sort of the golden age of that type of filmmaking. And for me, horror and porn have always had this symbiotic relationship of being outsider films. Like it was a way to get into the movie business without all of the things you needed from Hollywood. You could make them independently."
While the filmmaker hesitates to say they were more linked then than now, he does acknowledge that in many ways they could court the same audience in the pre-VHS days that X is trying to recapture.
"I think it was more the way that you made a low budget horror movie, an exploitation movie, that would go to a drive-in or something like that. It was not that far removed from how you would make an adult movie and go straight to adult movie theaters," says West.
And West and his team were making an independent horror movie that would go to theaters, with perhaps some drive-ins down the road. The parallels between the characters going out to make such a film was also not lost on the cast, though they're quick to point out that filming in 2021 New Zealand is quite a bit different than the film's on-screen setting of '79 Texas.
"I think we all had a camaraderie of knowing what kind of movie we signed up for," says Snow, "which was an elevated horror. Because it could have been done in different ways. It [could have been] done where this is a movie where we're just making a porno in 1979. But I think all of our characters have drive and entrepreneurial ideas, and I think we kind of felt like that as a group, as well. We were making something that we wanted to make better than just a normal horror movie."
Henderson agrees, noting that even given the extraordinary circumstances of making the movie in a foreign country during the COVID-19 pandemic brought a tightness to the cast, not unlike their on-screen characters who spend their nights sitting around the guitar and reminiscing.
Says Henderson, "We were all sent down to New Zealand, we had to quarantine for a couple of weeks. We had this shared experience of being in hotels and then released, and we got to run out and make this movie. And I think there was a genuine excitement that we all had that we were making something that was fun and different, and that audiences were hopefully going to have a really good time watching. And I think we felt pretty bonded."
When asked whether he considers X to be a straight-ahead slasher movie, West concedes it's fair to label it more of a slasher than any of his other films. However, right down to setting the movie in '70s Texas—which inescapably calls to mind Tobe Hooper's Texas Chain Saw Massacre from 1974—the filmmaker hopes he's inviting expectations from audiences that can then be subverted. Because at its heart, there is a strong sympathy for the film's elderly killers who look on at the young filmmakers doing salacious things in their barn… with faded memory and envy.
Says West, "I think there's something existential for everybody where you get a little bit older and some things you used to be able to do you can't do as much anymore—and people coming up behind you seem to have no problem doing it, and that's a complicated feeling to deal with. And people deal with it in other ways. Perhaps in this movie they deal with it in a rather extreme way."
That feeling of longing about what you don't have—or can no longer have—is one of the elements Snow thinks elevates the material.
"I think we're all wrestling with the idea that we want to make something of our life that hasn't been presented to us before," she says of the characters. "I think we're all there for that reason, specifically for [my character] Bobby-Lynne, I think she knows what she has and she wants to utilize it to the best of her ability. And she's very in control of wanting to write her own narrative. So there is that sort of looming feeling where she doesn't want to accept a life that she doesn't feel is meant for her. So I think it's that thing all the characters are struggling with a little bit where the life that they have and the life they want."
And it is how the movie grapples with those feelings where the film may prove to have more than sex and slaughter on its mind.
"It was interesting to watch the movie for the first time with my sister who knew nothing about the movie," recalls Henderson, "and during the poignant parts of that aspect of the movie, I looked over and she was actually in tears, which I guess in hindsight shouldn't have surprised me, but I was quite surprised it affected her that much. So I think there's something about this story that is relatable. I think it is a universal thing that we're all having to experience to some degree, and I think the movie delivers in a way that is actually quite surprising for a film of this genre."
X premiered at the SXSW Film Festival on March 13. A24 releases the film everywhere on March 18.