Features
MCU Spider-Man Watch Order: Peter Parker's Journey to No Way Home
Time to get your ducks (or spiders) in a row, and catch up with Peter Parker's Spider-Man journey in the Marvel Cinematic Universe so far!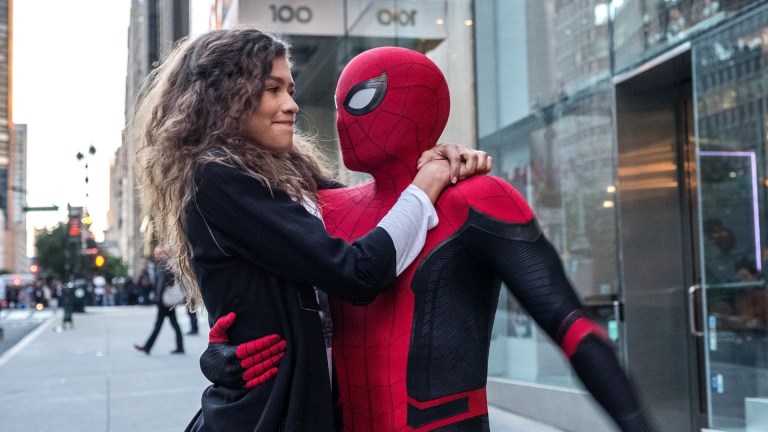 With so many Marvel Cinematic Universe movies to watch and so many yet to be released, it's easy to lose track of where your favorite Avenger is, or how they got there! If you haven't been keeping up with Tom Holland's MCU journey as Peter Parker as much as you wanted to, or even if you're just getting started with his MCU antics, we've got a handy guide to your friendly neighborhood Spider-Man that will help you watch all his incredible adventures to date in the right order.
Let's start at the beginning…
Captain America: Civil War
Though Peter Parker's existence was referenced at the end of 2015's Ant-Man, he didn't appear in the MCU in person for the first time until Captain America: Civil War in 2016. A young Tom Holland was added to the cast of the ensemble film as Spider-Man in a coup between Sony and Marvel Studios, who joined forces to make it happen in what was considered to be a pretty big deal both now and then!
In the film, it's revealed that Tony Stark aka Iron Man (Robert Downey Jr.) has been keeping tabs on Peter's New York heroics, and recruits him to join his faction against Captain America, who opposes signing accords that will keep the Avengers in check while they're fighting bad guys around the world. Civil War skips over Peter's Spider-Man origin story, and we join him as he is already fighting crime and making his own gadgets while living with Aunt May (Marisa Tomei).
Spider-Man: Homecoming
Tom Holland's first solo film as Peter Parker arrived on the big screen a year later, in 2017. Spider-Man: Homecoming properly introduces us to Peter living the high school life at Midtown School of Science and Technology. We also get to meet his best friend Ned (Jacob Batalon), his potential love interest Michelle (Zendaya), and ongoing antagonist Eugene "Flash" Thompson (Tony Revolori).
Spider-Man: Homecoming depicts Peter's struggle to balance his time as an ambitious wall-crawler with his day-to-day activities, even as an unexpected new MCU villain emerges in Michael Keaton's Vulture. The movie ties to the wider Marvel universe by utilizing the Chitauri alien technology seen in The Avengers and Avengers: Age of Ultron, and by including appearances from Downey Jr. as Tony Stark, Gwyneth Paltrow as Pepper Potts, and Jon Favreau as Happy Hogan.
Avengers: Infinity War
Peter Parker next popped up in the 2018 MCU blockbuster Avengers: Infinity War, which was filmed back-to-back with the concluding part of the Infinity Saga, Avengers: Endgame. Tom Holland was a key member of the first film's massive cast, and portrayed Peter Parker as a new member of the World's Mightiest Heroes in their fight against Thanos.
The mad Titan is out to collect all six Infinity Stones in the big budget movie, and is also on a quest to kill half of all life in the universe. Peter, Tony and Doctor Strange (Benedict Cumberbatch) travel to Thanos' homeworld with the Guardians of the Galaxy in a bid to remove the Stones from Thanos' possession.
Avengers: Endgame
Holland shows up again as Spider-Man in 2019's massive MCU showstopper, Avengers: Endgame. Though Peter Parker sits out most of the movie, which includes a time jump and a complex time travel plot, he does feature in the cast. In fact, Infinity War and Endgame are both pretty essential viewing if you want to fully understand Peter Parker's next Spider-Man solo outing!
Endgame focuses on the remaining Avengers' efforts to undo most of the damage done by Thanos in Avengers: Infinity War. This includes getting the gang back together for one last Hail Mary mission, and Holland co-stars with Downey Jr., Scarlett Johansson, Jeremy Renner, Paul Rudd, Mark Ruffalo, Chris Evans, Chris Hemsworth, Don Cheadle, Brie Larson, Karen Gillan, and Danai Gurira.
Spider-Man: Far From Home
In Spider-Man: Far From Home, Peter Parker is determined to go on vacation to Europe and tell MJ how he feels about her following the cataclysmic events of Avengers: Endgame. Unfortunately, fate has other ideas, and his plans are interrupted with the emergence of the Elementals, who are dishing out destruction around the world. The helpful Quentin Beck (Jake Gyllenhaal), who claims he's from another universe, then arrives on the scene to help out when SHIELD track Peter down.
Samuel L. Jackson and Cobie Smulders reprise their roles as Nick Fury and Maria Hill respectively in Tom Holland's second Spider-Man solo movie, and Jon Favreau once again makes an appearance as Tony Stark's right hand man, Happy Hogan. The movie contains some distressing scenes that may not be appropriate for younger viewers.
Spider-Man: No Way Home
The concluding part of Sony and Marvel Studios' Spider-Man "Home" trilogy (another trilogy tracking a different era of Peter Parker's life and a Disney+ animated prequel series called Spider-Man: Freshman Year are currently in active development) boasts many villains from Sony's previous Spider-Man movies, including Doc Ock, Electro, Green Goblin and The Lizard.
Spider-Man: No Way Home catches up with Holland's Peter Parker as he tries to reverse his real identity being revealed to the world at the end of Far From Home. Benedict Cumberbatch's Doctor Strange takes over from Tony Stark as Peter's mentor in the movie, and the story brings Peter's BFF Ned and girlfriend MJ further into the fold.
What If…?
MCU Spider-Man also features in Marvel's What If…? animated series on Disney+, showing up in the episode "What If… Zombies?!". Holland did not provide the voice for the character of Peter Parker in this instance, with Mad Men actor Hudson Thames taking over.
The episode's mutiversal story centers on the MCU survivors of a zombie apocalypse who band together to find a cure for a zombie virus that has infected most of the Earth, and follows Peter as he attempts to acquire the Mind Stone from Vision and take it to Wakanda with T'Challa (the late Chadwick Boseman in his last performance as Black Panther) and Scott Lang.
If you want to dig deeper into the Marvel Cinematic Universe, please consider subscribing to Marvel Standom on the Den of Geek YouTube channel, where we dish out weekly episodes on all the new Marvel TV series, trailers and movie releases. You can listen to Marvel Standom on Spotify and Apple, too!