Features
Malcolm & Marie and the Rise of Quarantine Filmmaking in COVID
The new, highly specific subgenre of movies made during quarantine, including Malcolm & Marie, Locked Down, Host, and How It Ends, captures our current moment in fantastically different ways.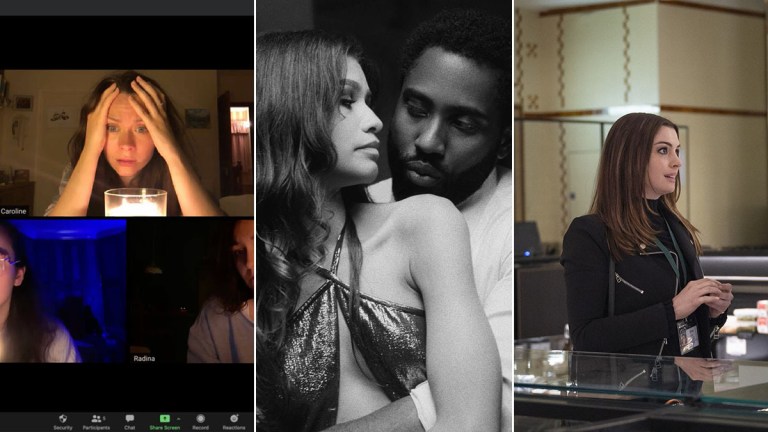 At the start of the COVID-19 pandemic, a time when accomplishing even the simplest tasks had taken on the burden of the impossible, Netflix's "secret pandemic movie," Malcolm & Marie, became a way to process a year of stalled projects and compromised creative control. A Deadline feature retraced how Zendaya, one half of the two-hander's cast, reached out to Euphoria creator Sam Levinson with the plea for a self-contained project when COVID delayed the HBO drama's new season.
As Levinson rushed to write a script based loosely on his own experiences of failing to thank his wife at a movie premiere, he and Zendaya brought on Tenet star John David Washington for a movie at the complete opposite end of the spectrum from Christopher Nolan's blockbuster; the Euphoria crew, in a COVID bubble in California, were able to keep working for a few weeks in June 2020 when so many others were laid off. What they created was a passionate, claustrophobic black-and-white relationship drama that has the rare distinction of being created during a pandemic while its story still reflects life before the virus.
On its own, Malcolm & Marie falls somewhat short of Oscar bait expectations. However, the film takes on greater nuance when considered in the context of the growing subgenre of post-lockdown movies. While this may ultimately prove to be a short-lived category of filmmaking, it already includes four incredibly varied films. Even if they all started with the same universal constraints—COVID tests and social distancing, small casts instead of big—they make for radically different statements about human connection (either during the pandemic or not), futility, about purpose.
In fact, you can plot these four movies over the axes of ignoring COVID versus acknowledging COVID in their actual plots, and closeness versus distance in the execution of said stories.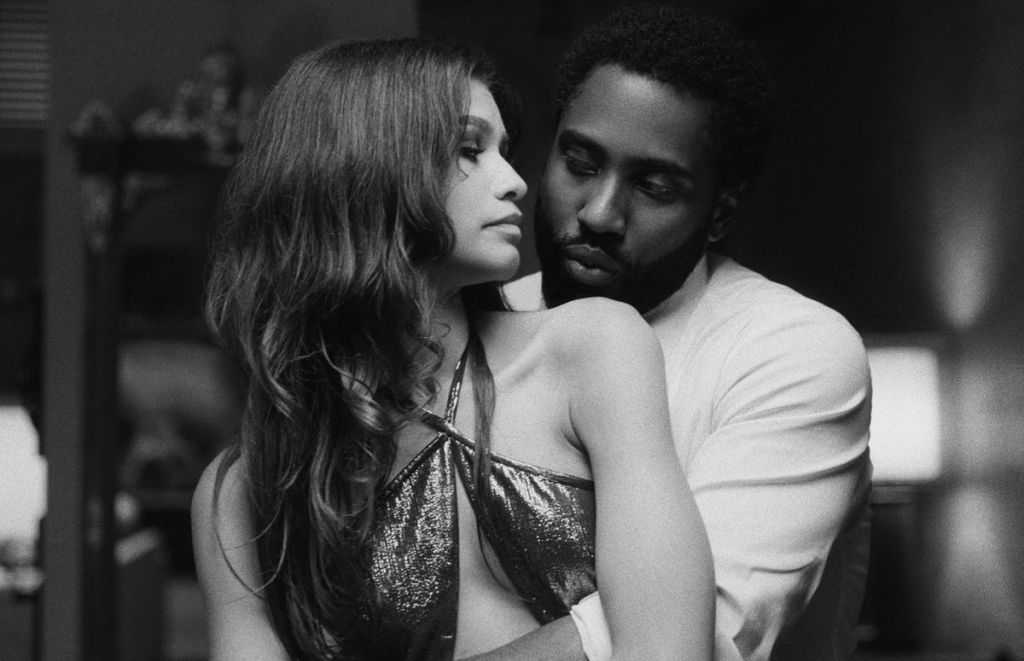 Malcolm & Marie
Ignoring the Virus and Embracing the Closeness of Quarantine
What's immediately ironic about Malcolm & Marie is that its setting is anathema to our current situation: The eponymous couple come home from a movie premiere (remember those?), where he (Washington) is being celebrated as a rising Hollywood talent, and she (Zendaya)—an amateur actress, a recovering drug addict, definitely not a model—has been reduced merely to his loyal girlfriend. Their feature film-length fight might take place within the bounds of their spacious rented house, but every source of conflict and sticking point exists out in a non-pandemic world.
At the same time, the viewer is tangentially aware of the real-world limitations in filming this movie, i.e. the need to stay in one setting with only two players. The inability to leave that house–except for Marie's desperate little steps of leaning out the window to smoke or of that ambiguous ending–is authentic to anyone who has been stuck in a relationship-defining fight: There are no shortcuts, no escapes; the only option is to see it through to the ugly end, only to watch the toxic cycle start all over again.
The actors' close attention and shaping of their roles lends Malcolm and Marie's relationship real intimacy, but it also contributes to the sheer exhaustion of watching these young lovers metaphorically eat their own tails without getting anywhere. Despite Malcolm's appalling outbursts and Marie's stunning monologues, nothing really changes; even his quiet "I'm sorry" at the end is a puny concession after all that emotional effort.
In fact, this ouroboros feels most like a reflection of the endlessly unfruitful fights that many a couple has experienced since lockdown began.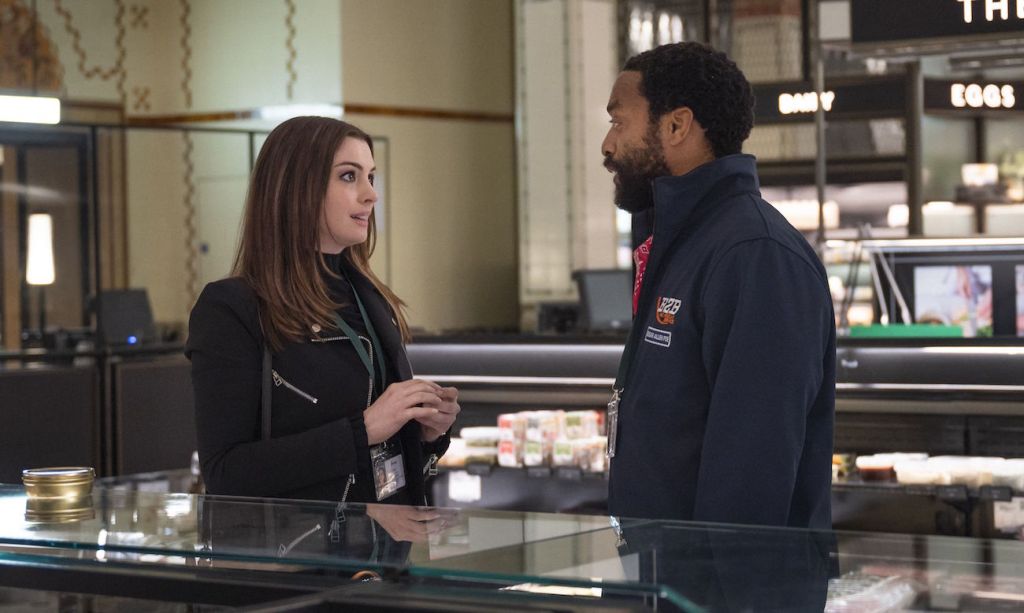 Locked Down
Acknowledging the Virus and Embracing the Closeness of Quarantine
By contrast, Mr. & Mrs. Smith director Doug Liman's Locked Down casts its marquee stars (Anne Hathaway and Chiwetel Ejiofor) as ordinary people in the extraordinary circumstances of early 2020, when a pandemic that people still didn't fully understand reshaped their home into a workspace, and work into a prison rather than an outlet. Steven Knight's script—written in July 2020, on a dare—carries so many authentic field notes that it's almost difficult to watch. You feel it from Zoom fatigue, with wine o'clock creeping up into the AM, to people talking over one another on video calls where they're ostensibly checking in on each other.
Liman also employed the same amusing device used by the Parks and Recreation COVID special, in which real-life couples had to explain why their characters happened to be inhabiting the same physical space during this era of highly negotiating personal contact. In Locked Down, it's Psych star Dulé Hill and his costar (and real-life wife) Jazmyn Simon as the sympathetic American counterparts to Linda (Hathaway) and Paxton (Ejiofor), an American and a Brit who are not holding up well enough in quarantine. (A bevy of cameos, including Mark Gatiss, Mindy Kaling, Ben Kingsley, and more also scratches that itch of wondering what celebrities' homes might look like.)
Paxton and Linda's marriage seems to have ended around Christmas 2019, but being stuck in their flat just as the pandemic hit—he's a driver unable to work while she's a CEO who has the excruciating duty of firing her "family" of coworkers over Zoom—has beaten their senses of purpose to a pulp. Paxton attempts to make up for that by making the masked grocery runs and trying to connect with his neighbors through shouted evening poetry, but he's suffering the all-too-familiar depression of the furloughed. Linda isn't far behind when she finally confronts the soullessness of her corporate job.
When fate delivers the incredible coincidence of Linda overseeing the load-out of a priceless diamond from Harrods—with Paxton assigned to transport the goods—the estranged couple decide to embark on a heist, because truly what else are you going to do during a pandemic? Ultimately, Locked Down does a better job with the romantic dramedy aspect than the heist, yet its use of the iconic London department store is as ambitious as Ocean's 8 with the Metropolitan Museum of Art. Though there are more twists to the movie's character studies than the logistics of nicking the diamond, the scenes in which Linda and Paxton stroll through the deserted Harrods food court—which arguably carries just as many culinary treasures—provide that same breathless sense of getting away with something.
Both films were made with unprecedented levels of safety and sacrifice, which regardless of the final products' quality will always set them apart from pre-COVID entertainment as successes in filmmaking. But then there are the COVID films that have embraced social distancing, building it into a plot point or stylistic device rather than employing movie magic to obscure it.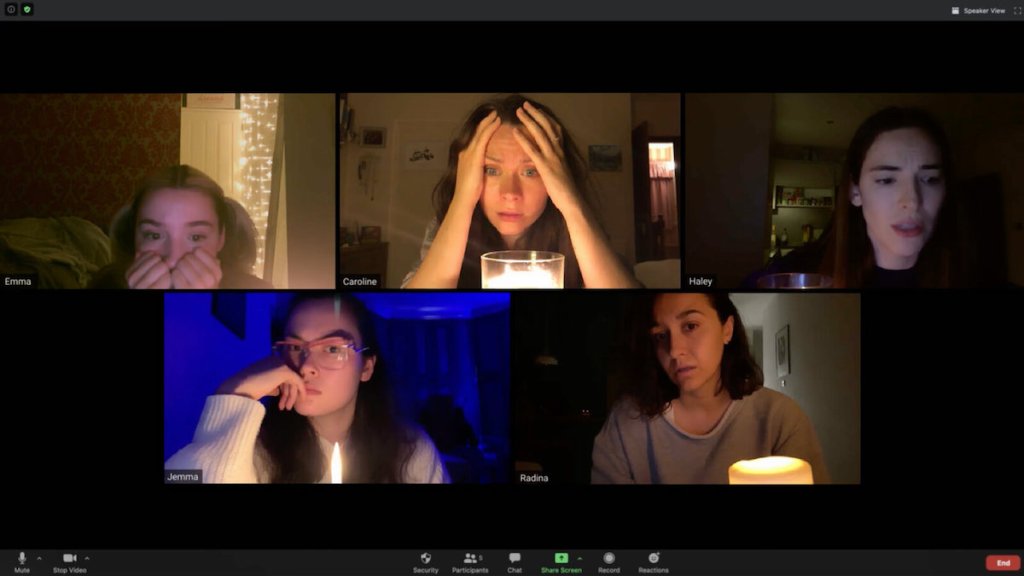 Host
Acknowledging the Virus and Embracing Social Distancing
Interestingly, one of Levinson's early pitches to Zendaya was a horror film, although of course they eventually pivoted to relationship drama. Fortunately, another enterprising group of creatives went the horror route, and they managed to fold in a poignant tale of female friendship over digital distances in 2020's Host.
A British found footage successor to Paranormal Activity told entirely over Zoom, this indie tale has a shockingly reasonable premise: Five girlfriends, bored to tears during lockdown, decide to conduct a séance. (Again, what else are you going to do?) But when sarcastic Jemma (Jemma Moore) fakes a backstory about a suicidal friend and their medium Seylan (Seylan Baxter) mysteriously drops the call, the girls are on their own as a demonic force crosses over into the physical plane… and into each of their flats.
In the past year, we've all learned that Zoom calls can be awkward, boring, and occasionally revelatory—but this is the first time they're truly scary. Host utilizes the familiar horror tropes of darkened rooms and whispered panting at the slightest of suspicious noises, but it takes on an utterly disturbing dimension when it's five young women, in the prime of their lives, are all trapped at home apart from one another—not even that far, as Jemma and séance enthusiast Haley (Haley Bishop) live within walking distance of each other.
In found footage fashion, there are plenty of Paranormal Activity-esque moments of people getting dragged or lifted by otherworldly forces. Kudos to director and co-writer Rob Savage for remotely directing his actors, who had to learn how to do the aforementioned practical effects inside their own homes. But where Host is scariest is when it leans into Zoom technology, from a chilling use of silly facial filters to a sequence that will make you reconsider ever making a custom video background for your future Zooms.
As the demon begins picking them off at random, with the others watching in helpless horror, Jemma's shift from apathetic nonbeliever to selflessly trying to save Haley is incredibly moving. There's so much history to this fractured friendship that you'll be rooting for them to reconcile, even as you realize Host's final trick: It's only as long as an unpaid Zoom session.
How It Ends
Ignoring the Virus But Still Embracing Social Distancing
You could make the argument that Daryl Wein and Zoe Lister-Jones' pre-apocalyptic comedy could be interpreted as taking place during COVID, what with its many comedy stars all acting a conspicuous six or more feet from one another. It's just that even if that were true, it wouldn't matter, because there are bigger fish to fry. Specifically, an asteroid en route for Earth, conveniently set to make impact at the end of Liza's (Lister-Jones) and everyone else's last day in sunny Los Angeles.
Trying to make it to an end-of-the-world party in LA without her car, which has been stolen, Liza and her younger self (Devs' Cailee Spaney) wander through the aggressively bright county, populated with other people doing their best to cope. Unlike the other films on this list, How It Ends makes no effort to hide that it was shot with stringent COVID protocols enforcing social distancing: Cameos from the likes of Fred Armisen and Lamorne Morris are shot on different floors of houses while Bradley Whitford is so far removed in his scene that it's impossible to get him and Lister-Jones in the same shot.
How It Ends is more a series of loosely-connected sketches than a super cohesive narrative, but that's how the film manages to bring in so many talented stars as kooky strangers whom the two Lizas encounter, from Nick Kroll as the shadiest of drug dealers to Olivia Wilde as Liza's estranged psychic friend (a scene-stealer) ,to Ayo Edibiri (another absolute delight) as a teacher who decided, hey, why not try her hand at stand-up comedy while she still can? Even with this layer of grim humor, get ready for this movie to spark unexpected pathos in these Decameron-esque encounters between strangers.
By leaning into the physical distance between these characters, How It Ends shows how even when faced with the literal apocalypse, humans will still hold themselves apart from one another. While Liza makes peace with a number of key figures from her life, by the time the asteroid is creeping its way to the horizon, she is faced with her most challenging, but also most freeing, task: To accept that it's okay to just be alone with yourself during a world-changing catastrophe.