Reviews
Host Review: Zoom Horror That's Fresh and Frightening
Shudder Original, Host, sees a virtual seance make lockdown even more terrifying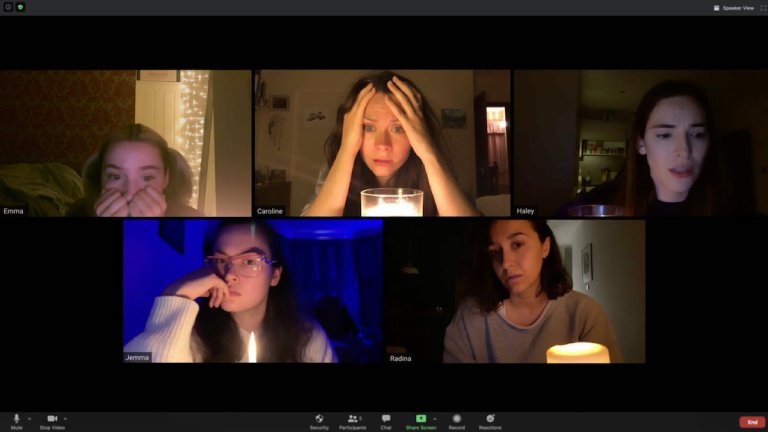 Time moves differently during lockdown. But that's actually worked to the advantage of director Rob Savage who has managed to create an incredibly timely, sincerely scary and wonderfully shot horror movie in 12 weeks. That's 12 weeks from conception to its appearance on streaming service Shudder.
The result is Host, a horror set over a Zoom call that couldn't be more relevant and more zeitgeisty, which will likely secure a place in horror history as a movie that captured a moment which, with any luck, will look like a bizarre blip. Though Host certainly leans into horror movie tropes that existed before it – you can see shades of The Blair Witch Project, Paranormal Activity and Unfriended here – Host is put together with such ingenuity, particularly given the whole lockdown situation, that it's difficult not to be somewhat in awe of what Savage and his extraordinary cast and crew have achieved. 
Remember July 2019 when lots of people had never even heard of Zoom? We are not in that world anymore. Now the video conferencing software is ubiquitous, it's how many of us run meetings, talk to our friends and family, engage in quizzes, and replicate the pub experience as best we can. So why not use it to hold a seance? Lots of good reasons, it turns out…
Haley (Haley Bishop) has arranged for her and five mates to get together via Zoom where they will be joined by Seylan (Seylan Baxter), a medium who's a friend of Haley's and has agreed to help them communicate with the spirit world. Haley has done it before and implores her friends to be respectful. Jemma (Jemma Moore) is highly sceptical of the whole thing. Caroline (Caroline Ward) and Emma (Emma Louise Webb) are more credulous but also more nervous. Radina (Radina Drandova), who moved in with her partner for lockdown, has bigger things to worry about and Teddy (Edward Linard) really just wants to get pissed with his mates. 
Like The Blair Witch Project more than 20 years before it, Host opts to use the actors' real names, and works best because of the incredibly naturalistic performances from all the cast. The dialogue is funny and authentic, exposition-light, and a completely convincing picture of what a real Zoom call between those people would look like, including acknowledgement of new hairdos, slagging off of Teddy's girlfriend when he can't hear, and an incredibly endearing cameo from Caroline's dad showing off his tan. Even as the film progresses though, and the action becomes heightened, the girls maintain an absolute sense of reality – the fear is believable and therefore easily shared by the audience. 
Host does rely on a lot of jump scares but they are delivered to such great effect you can forgive it. And the chills in Host are way more sophisticated than creepy things appearing in the background of Zoom windows – there's stunt and FX work here that's seriously impressive.
Host uses Zoom – specifically Zoom – to great effect too – using its functionality with a horror twist. A custom background Caroline makes which appears to show her walking into her own room behind her is clever, then scary, then terribly poignant, while a reveal involving the chat function is inspired. It's actually genuinely disorientating when the film begins, with the familiar Zoom home screen – for a moment you think you've accidentally cast your laptop onto the telly – and even the end credits keep us within the 'Zoom' universe.
Host is an excellently made film in its own right but at a runtime of less than an hour it almost feels like something new entirely, part of an emerging different way to consume media perhaps. It was never intended for the big screen and wouldn't work as well as such. It's probably just as enjoyable on a small laptop as a big TV. Unlike some 'internet' horror films which find it hard to keep up with changing tech and become awkwardly outdated before they are even released – 2010s Chatroom being the most obvious example – Host feels gloriously fresh. There's a gag in it about having to cover up a cough with a fart as opposed to the reverse, and a lovely moment with a simple elbow touch, which wouldn't have made a lick of sense a year ago.
Savage is the director behind excellent short Dawn Of The Deaf which was nominated for a Grand Jury prize at Sundance, a multi-storied and fascinating new take on the zombie genre, using deaf actors and utilising innovative sound design, which also features Caroline, Haley and Radina and was co-written by Jed Shepherd and co-produced by Douglas Cox who he reunited with for Host, here joined by co-writer Gemma Hurley. They're a team clearly focused on scares that are doing interesting things within the genre. When lockdown is over and filmmaking can go back to normal we wouldn't be surprised if Savage becomes the next big thing – we only hope he carries on the innovation even when it's not born of necessity.
Host is available to stream on Shudder now.