Features
How Fear the Walking Dead Season 6 Changed Due to the Covid-19 Pandemic
The Fear the Walking Dead season 6 cast tells Den of Geek what it's like to be on a show about the zombie apocalypse in the age of Covid-19.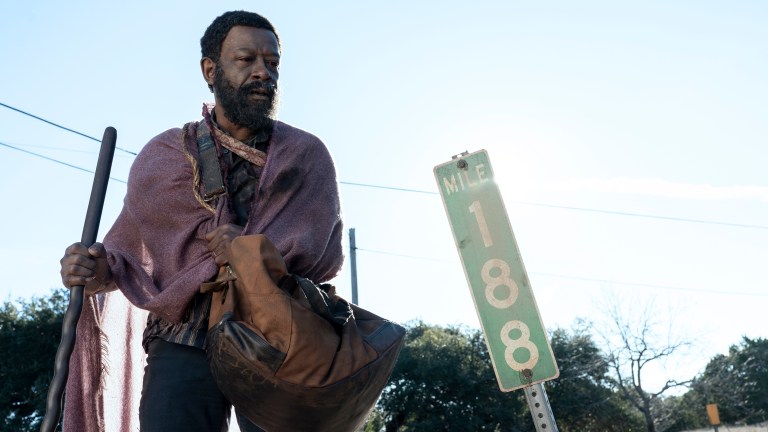 Back in February, I visited the set of Fear the Walking Dead in Austin, TX as the cast and crew were filming season 6, which is set to premiere on Oct. 11 on AMC. Nobody on set that cold, wet day had any idea that, just a few weeks later, the entire production would be shut down due to the Covid-19 pandemic.
Speaking to Den of Geek on a Zoom call ahead of the Fear the Walking Dead season 6 premiere, the show's cast reflected on how the production changed in midst of the pandemic and how this new, real-world context might add a measure of profundity to the already social commentary-heavy show.
"I drove home after shooting got shut down and I was like 'Oh, I've been on a show about the apocalypse and this feels like the apocalypse,'" recalls Colby Minifie, who plays the show's main antagonist, the authoritarian but enterprising Virginia.
Colman Domingo, who plays Victor Strand, one of the few season 1 characters who are still alive on the show, saw what was going on in the world and wondered whether viewers would still have a stomach for fictional zombie apocalypses.
"I am going to be honest: When the pandemic hit and there was all of this racial strife, I thought, 'Who's going to want to watch our show?'" says Domingo. "Nobody is going to want to watch this. We're already in this bad place–are people going to want to see a mirror to that? And then I came of that thinking, yes, people are going to want a show like ours, which is seeking to find our better selves, find community, find agency. How do we rebuild? How do we rebuild together, with people who are different than us? How do we come together with all these different ideologies?
"What I love about our show is everyone is very strong with their convictions, whatever they are. And that's an exact representation of what we are experiencing now in this country. People have very strong beliefs about certain things. The only way we are going to fight our common enemy is we are going to fight it out, and we're going to love it out as well."
Maggie Grace, who plays the zombie-killing journalist/documentarian Al, believes that in a world in which many people are separated from their loved ones, the show will resonate in a different way than was originally intended.
"I will say that the new season reflects the current world events in more ways than one, and some of them are sort of striking and pretty creeptastic. I was like, 'I can't believe they wrote that before the pandemic–did they have a crystal ball?'" says Grace. "It's sort of eerie, especially a couple of things that Al starts to uncover. It was pretty trippy when everything started going down in March. These are characters struggling to find a sense of family and connection and hope over distance and I think we are all trying to do that in our own way."
Minifie echoes that thought, suggesting Fear the Walking Dead season 6 could potentially be a balm for the current moment, as well.
"What I notice about this pandemic is that, for good or for bad, there is no room for bullshit anymore," Minifie says. "So many couples are breaking up and getting together because there's just no room for lying or bullshit and I think, in that way, our show could be a tonic. There's no bullshit allowed in this space and you have to make life or death decisions daily."
Both The Walking Dead and Fear the Walking Dead's were forced to push their productions back in response to the pandemic, with the former's finale airing just this past Sunday, six months after it was originally supposed to air. Fear the Walking Dead filmed about half of season 6 before production shut down, with filming scheduled to resume this month.
"It really isn't that fun to be in the mud and rain for that long," says Grace of returning to Austin to film the remainder of the season. "Right now my hair is so long, so healthy [laughs]. It's freaking so good. And it doesn't have dirt or mud in it! But I have really missed the set family and working, that life. That is something that I really, really miss."
As for on-set health and safety precautions, Grace eludes to a restructured shooting schedule and environment. "We are shooting less but I think the time we'll be on set will probably be just as long because of the new safety protocols. There will be hand sanitizers, everything."
Catch the season 6 premiere of Fear the Walking Dead this Sunday, Oct. 11, at 9 pm ET on AMC.