Reviews
Locked Down Review: Anne Hathaway and Chiwetel Ejiofor Pioneer the COVID Rom-Com
Anne Hathaway and Chiwetel Ejiofor's Locked Down is the first post-COVID romantic comedy, benefitting and suffering both from the monotony of our new normal.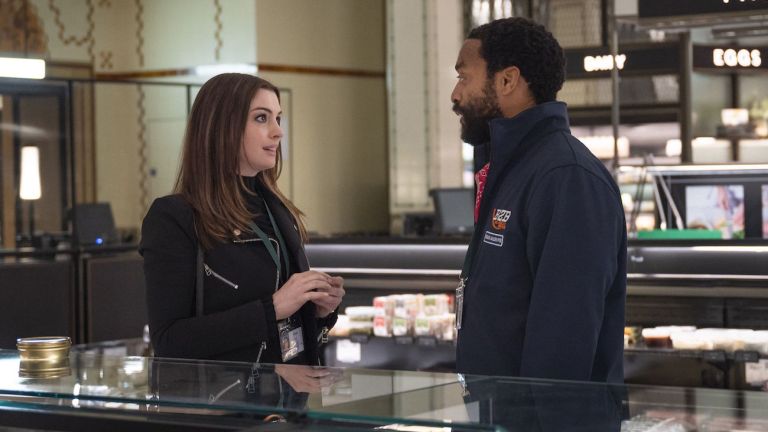 For as long as 2020 dragged its miseries across our lives, a curious refrain became constant in my line of work: 'We never could have predicted something like this year while working on our project.' That comment, and its many variations, was repeated en masse during interviews, press conferences, and Zoom chats about the handful of films, TV series, and other assorted media that managed to be released during a pandemic. But as HBO Max's Locked Down signals, that's about to change.
Up until this point, most of the films released last year were filmed in 2019 or earlier, creating among them a bizarre alternate reality where these stories existed on screen. There was no COVID in their 2020, nor shutdowns, and certainly not a global economy standing still. And barring a few low-budget (but appealingly ambitious) "Zoom" horror movies, that's the way things went until Doug Liman announced he was filming Locked Down in September: a romantic dramedy that Steven Knight wrote as a dare over the summer. As the vanguard for the movies that will spring from a post-COVID Hollywood, I cannot say this Anne Hathaway and Chiwetel Ejiofor pairing sets the bar demonstrably high. Yet, a lot like lockdown life itself, there is a weary acceptability to it.
The basic setup is surely familiar. Paxton (Ejiofor) and Linda (Hathaway) are a couple suffering through the umpteenth month of lockdown in London. This includes the requisite Zoom calls to work and the restless chatter of hangouts with friends who are exactly where you left them last time. And yet, things are a little worse for our leads. Because unbeknownst to any of their friends, Linda dumped Paxton right before COVID hit.
Still (frustratingly) invested in each other's lives, neither can quite walk away from their quarantined home, particularly as Pax is furloughed and Linda was always the breadwinner, anyway. So they live separate, chained lives in the same house, Paxton reading his new poems on the street in the afternoon, and Linda enduring his bad wine selection (he does the shopping) and grim requirements from her new promotion to CEO during a pandemic. But when fate seems to intersect their lives again—with Pax hired to do clandestine work on the shady side of Linda's company—the pair discover they might be able to spice things up… by robbing her sleazy parent company blind.
Barely 100 minutes, Locked Down is a story in three acts, and where two of them work well enough. The first third of the movie is the strongest, with Liman's cast, and Knight's lackadaisical screenplay, wallowing in the absurdities of quarantined life. Like that pair of pajamas or sweatpants you wore a little too often for the past 10 months, there is a weary self-loathing in the comfortable monotony here.
This can range from Pax's former employer (Ben Kingsley in the best of the movie's many cameos) having developed a seemingly secondary personality who butts into Zoom calls, to walking in on an ex with an exhaust hose in his bike helmet and not thinking it strange that it's for a selfie. In moments like these, Locked Down benefits from a slovenly disaffection.
It also comes alive again near the end when Pax and Linda decide to become the schlubiest thieves you've ever seen, committing a charmingly low-key theft where nine-tenths of the targeted department store is empty, and the London streets make for a barren getaway.
When walking through these paces, Locked Down works, even if there is not quite a feature length worth of story to string these two elements together. To be sure, Ejiofor and Hathaway are winsome enough, with Ejiofor really keying into the exasperation of a man who was already on a years-long lockdown before COVID happened, and who now worries he's run out of time to fix things. He and Hathaway develop a strained familiarity that plays like a pair of mates who are currently on the outs. However, if the chemistry is to suggest there was a long lost burning passion there, it's never found in the movie's running time.
And with them alone—plus a slew of Zoomed in cameos that include Mark Gatiss, Ben Stiller, and Mindy Kaling—left to bridge the narrative center between our strange reality and their whimsical heist, there just aren't enough raw materials available to close the distance.
If Locked Down is meant to be the first major release to come out of last year's quarantine, then Steven Knight's King Lear, this ain't. Additionally, as the trickle of this type of movie becomes an inevitable flood, it's doubtful this film will be remembered as anything more than a footnote. But hey, if you're bored during the actual ongoing lockdown—still—it is charming enough to pass the time with your own well worn sweatpants and cheap wine.
Locked Down is streaming on HBO Max now.