Features
London Action Festival 2023 Lineup Announced Featuring John Wick, Game of Thrones, The Raid and More
The second annual celebration of the action genre returns to London this June. We have the details on the programming lineup for The London Action Festival 2023.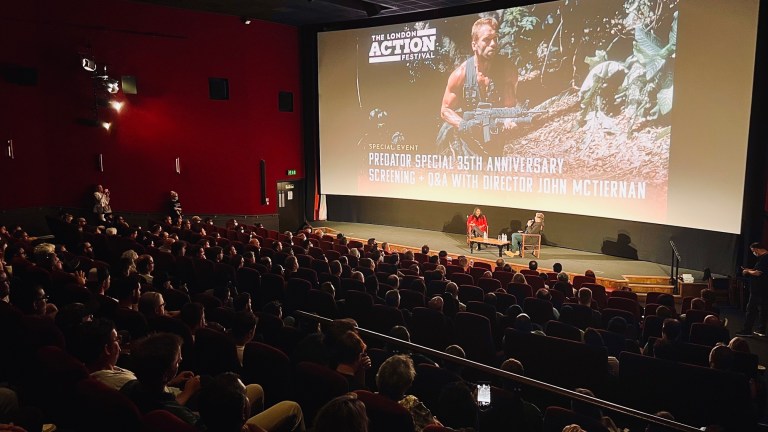 Den of Geek is the Senior Media Sponsor of The London Action Festival
If a lack of quality action movie content is a disease, consider the return of The London Action Festival the cure.
If you're in the London area or are planning to be between June 21-25, you won't want to dodge this bullet. The London Action Festival is returning for Year 2 locked and loaded with an impressive lineup celebrating the skills, creativity, talent and bravery required to create the world's most exciting content across Film and TV.
"THE LONDON ACTION FESTIVAL is back and bolder this year, once again championing the incredible talent both in front of and behind the camera," said Festival Co-Directors Julian Alcantara and Ron Fogelman in a release. "With exciting events already confirmed and more to be announced, festival- goers will be able to immerse themselves in all things Action. 2023 is shaping up to be a stellar year of Action with the global box office already dominated by the genre, we can't wait to welcome new and returning fans to celebrate all things action again."
Den of Geek returns as senior media sponsor for the 2023 installment of the festival with more exciting announcements of our involvement to come.
For now, say hello to the first round of programming for the Main Weekend of the 2023 Festival, taking place place across three prestigious locations in and around South and High Street Kensington, London, below:
Anatomy Of A Set Piece – with Gareth Evans & Others To Be Announced:

Last year's popular panel returns with leading directors from Film & TV discussing their favorite action set pieces that inspire them. Already confirmed for this year is Gareth Evans (The Raid, The Raid 2 and the hotly anticipated Havoc starring Tom Hardy).

The Showrunner's Story: Jed Mercurio – In association with World Productions: As the multi-award-winning ratings juggernaut Bodyguard celebrates its 5th anniversary, Writer and Executive Producer Jed Mercurio (Line of Duty, Bodies) explores the work of a Showrunner in its creation and production.

Car Chasers – presented in association The British Stunt Register: Renowned stunt professionals who have been behind the wheels of some of the fastest and most furious cars on screen discuss their adrenaline-fueled careers including moments from their work. Den of Geek will be presenting the Top #5 Car Stunts as voted for by their online audience. Director Masterclasses: Notable Film & TV directors talk about the approach to their work, their careers and what's coming next.

Cry Havoc – The Making of A Battle with a contribution from Miguel Sapochnik– courtesy of Warner Bros. Discovery: New for 2023, THE LONDON ACTION FESTIVAL brings together key members of the production team that have created one of the most memorable battle scenes ever seen on our screens. We will delve into the legendary "Battle of the Bastards" from Game of Thrones to find out what it took to bring this monumental piece of action to life with a contribution from director Miguel Sapochnik who received the Emmy Award for Outstanding Directing for a Drama Series for his work on this episode.


Special Screening – The Raid 2 + Q&A with Gareth Evans: The breathtaking Indonesian action thriller written, directed and edited by the Welsh action virtuoso filmmaker Gareth Evans. Like Evans' previous films Merantau and The Raid, the fight scenes showcase the extraordinary Indonesian fighting style of pencak silat. Gareth will join us for a Q&A on the film, his career and what's next with Netflix's upcoming action epic Havoc starring Tom Hardy.

The Villains of John Wick – Special Guests: Mark Dacascos and Scott Adkins, In association with Lionsgate: the London Action Festival extends the privileges of The Continental to two very special guests; Mark Dacascos (Zero in John Wick: Chapter 3 – Parabellum) and Scott Adkins (Killa in John Wick: Chapter 4) – two of the most memorable villains from across the $425 million worldwide box office smash-hit John Wick franchise. What does it take to take on Mr. Wick? Find out in this compelling panel event as we look at the making of those films and explore highlights from Mark and Scott's award-winning careers.
The Action Exhibition Chapter 1: The Incredible World of SPY-Fi presented by DannyBiederman, Action Festival Holdings and Nomad Exhibitions: A UK first, Danny Biederman author, filmmaker, and internationally recognised expert on pop spy fiction – has amassed the ultimate collection of props, costumes, original gadgetry, production notes and memorabilia from some of the leading Action franchises of all time. Unique items from Mission Impossible and James Bond to Britain's own hit Spy show The Avengers will be displayed and available to Festival Day Pass holders – the exhibit is only in the UK for 2 Days.

The Impossible Action Film Quiz: Fiendish masterminds Dick Fiddy and Martin Coxhead pit their command of trivia against both audiences and a special panel in a Film and TV Game Show. It's fingers on the buzzers time. Audiences should be prepared for a pop quiz challenge from co-host, Author Marshall Julius, with prizes up for grabs.

What's The Score…with Natalie Holt: Multi-award-winning Natalie Holt joins us to deconstruct the modern film score during a masterclass on music, the tools at composer's disposal and delving into the score to Marvel's acclaimed series Loki.

Write Club with Lesley Paterson and Steven E. de Souza: Lesley Paterson, BAFTA Award Winner and Oscar Nominee for the remarkable All Quiet On The Western Front and Steven E. de Souza screenwriter of Die Hard, Commando and The Running Man will be in discussion on how action and suspense is first conceived on the page to bring a film or TV show to life on screen.

Going Commando with Steven E. de Souza: A Special Screening of Commando, the film that proved Arnold Schwarzenegger was more than just a "Terminator", is presented on the big screen followed by a lively Q&A with legendary writer Steven E. de Souza discussing the film, his work with Arnold, Die Hard and his high-octane career.
Per the release, "Alongside all the above, Festival-goers will be able to step into some of the leading Action Franchises with a variety of immersive experiences, putting them right at the heart of the action. Tickets for The London Action Festival are currently on sale, with Day and Weekend Passes available. You can purchase them via www.londonactionfestival.com. In the lead up to the Main Weekend, the Festival will also be presenting 3 special headline ticketed events, including:"
The World's Greatest Screening Ever…(Probably!): A firm fan-favorite from the inaugural festival, this event will be back on Wednesday, June 21. Last year's sell-out Die Hard screening included special guests, actor and singer Robert Davi and Director John McTiernan. This year's chosen film will be announced soon.

The Friday Night Showdown: The entertainment spectacular featuring music, magic, comedy, a game show and special surprise guests is scheduled for Friday, June 23 at the Kensington Conference and Events Centre and also includes the Festival's "Moving Target Awards."

The Special Screening Event: Being scheduled outside of the Festival weekend, a special screening event will take place with guests in attendance.
Stay tuned to The London Action Festival on Twitter and Instagram for further programming announcements. Hasta la vista, baby! See you in London!