News
London Action Festival Returns With a Vengeance in 2023
After movies like Top Gun: Maverick and Avatar: The Way of Water dominated the 2022 box office, the London Action Festival returns to celebrate action in movies and tv.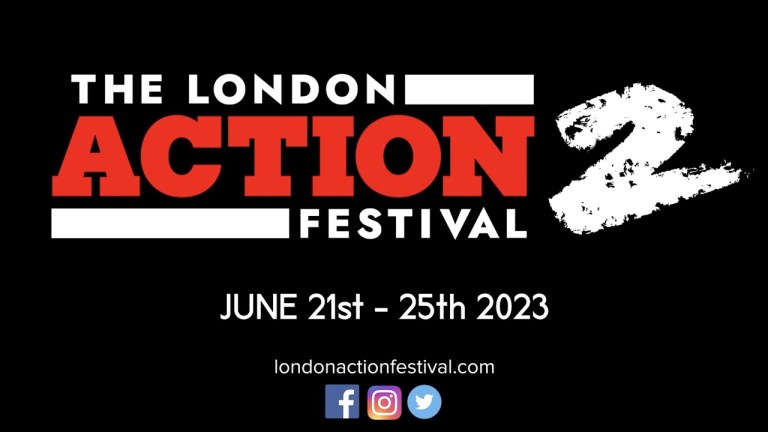 NOTE: Den of Geek is a media sponsor of the London Action Festival.
If there's one thing action fans love, it's a sequel. We don't want John McClane to have just one bad day dealing with terrorists. We want him to be in several wrong places at many wrong times. We don't expect Rambo to embrace pacifism after dealing with power-tripping cops. We want him to strap on a bandolier and wreak worldwide havoc again and again. And Jack Bauer fighting baddies over one 24-hour period? That's not enough. We want a whole week's worth of wreckage!
It's in that proud tradition that the London Action Festival returns to the heart of England this June 21 – 25. As shown in last year's inaugural event, the London Action Festival celebrates cinema and television at its most kinetic. And it comes at the right time, as action movies have once again claimed their spot atop box office charts, thanks to Top Gun: Maverick, Avatar: The Way of Water, and more. With John Wick: Chapter 4, Fast X, and Mission: Impossible – Dead Reckoning, Part One coming to screens this year, that trend will only continue.
The London Action Festival established itself in 2022 as the premier home for mayhem in media, with a star event that included appearances by Hot Fuzz director Edgar Wright, Gangs of London director Corin Hardy, and special keynote guest John McTiernan, who hosted a screening of his seminal work Die Hard. During the Q&A that followed, McTiernan set the record straight, declaring firmly and definitively that Die Hard is indeed a Christmas movie.
"'Art' movies are often just plays," McTiernan said in a statement about the return of the festival. "Action movies are movies!"
Attendees raved about the experience, and for the recognition it gave not only directors and lead actors, but also the stuntmen and choreographers who make the magic happen. Legendary stuntman Vic Armstrong expressed pride at the attention the Festival gives him and his colleagues, saying it "really highlights the importance of the work we do."
In particular, Armstrong expressed gratitude at winning one of the first Moving Target Awards, which recognize excellence in action movies and television. The Moving Target Awards showcases performers that are too often taken for granted by mainstream organizations, which makes them so important to people like Corin Hardy.
"It was a joy to be a part of and to watch legends like Vic Armstrong get awarded with a Moving Target Award and to celebrate this unique and important cinematic genre, which largely gets overlooked in the bigger festivals," Hardy said of last year's event. "And to acknowledge the incredible craft and skill of the many talented workers responsible for creating the explosive, dangerous and thrilling action-packed sequences we have loved and continue to love witnessing on the big and small screen."
The London Action Festival will continue doing this good work with its second annual Moving Target Awards. Also returning is the Friday Night Showdown variety show, an opportunity for fans to geek out about their favorite action moments.
But like a grizzled warrior called back into action, the Festival isn't content to rest in retirement. Founders Julian Alcantara, Ron Fogelman, and Lee Vandermolen promise more thrills, more stars, and more TV and movie chaos this time around. Because if there's one thing action fans know, it's that bigger is always better.
The London Action Festival will be held June 21 – 25, 2023. Visit the official website for more details.