News
Link Tank: The London Action Festival Set to Deliver the World's Greatest Screening of Die Hard Ever
Robert Davi will be at a special screening of Die Hard in London, all we know about Nope, Nintendo is buying an animation studio, and more in Link Tank!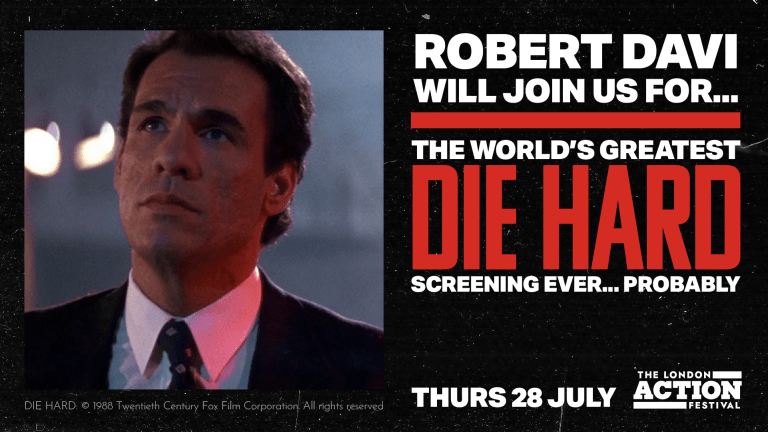 Announced today, award-winning actor, screenwriter, director, producer and jazz vocalist, Robert Davi will perform at the very special event and screening of Die Hard. We'll be there! Come join us in London for the first-of-its kind Action Festival.

"Davi is one of the film industry's most recognized and beloved tough guys. He is known for
his portrayal of the opera singing baddie in The Goonies and as one of the most popular James Bond villains Franz Sanchez in Licence to Kill. His role as FBI Special Agent Big Johnson in Die Hard remains a fan favourite."
Nope comes out next week, but the world around this film is still very mysterious. Here are all we know so far.
"If you're at all a follower of good horror movies, then you're probably just as excited as we are for Jordan Peele's upcoming scary-looking, sci-fi film, Nope. Set to release this month, on July 22nd, it certainly looks like it'll be just as much of a trip as his past films. There's, as expected, a lot of secrecy around this film, and we can probably expect some twists on our expectations. That said, watch the trailer below and we'll tell you everything we know!"
Ahead of the release of the Super Mario Bros. movie next year, Nintendo just bought their own animation studio.
"Nintendo's surprise collaboration with Illumination to bring about a new animated Super Mario movie a few years ago signalled a major sea change for a games publisher that has, for the most part, largely been reticent to bring its gaming icons to other media after an explosion of tie-ins in the '90s. Now, that might be about to change."
The Boys will crossover with The Boys spinoff series Varsity.
"Following the release of The Boys Season 3 finale last week, the series' showrunner Eric Kripke has confirmed that certain storylines from Season 3 will lead into the debut season of its The Boys Presents: Varsity spinoff, leading to the possibility of seeing familiar characters. 'There's definitely crossover, and we're doing our best to design a universe that sees some of the issues and storylines in Season 3 hand off to the first season in Varsity,; Kripke told Deadline. 'Like there's a presidential campaign happening in the background of that season, and there are certain things that are happening at that school that are both in reaction to Season 3 of The Boys. There's Soldier Boy, etcetera, but also some new storylines that are happening in that season of the spinoff that we have to pick up and take into Season 4 of the show.'"
Jeff Goldblum is replacing Hugh Grant as Zeus in an upcoming Netflix series.
"As reported by Deadline, the forthcoming Netflix project Kaos just got a serious shake-up. When Netflix announced the Greek mythology series just two weeks ago, Hugh Grant was attached to star as Zeus. Now, he has been replaced by Jeff Goldblum due to scheduling conflicts. Sure, the British actor's next announced project is Unfrosted: The Pop-Tart Story, but we can only hope that it's because he's returning to his Paddington 2 role for Paddington In Peru."
As Sony continues to compete against Game Pass, they've added a few fun new titles to their platform, including the cat-simulator Stray.
"A month after launching its answer to Xbox Game Pass, Sony plans to add a slew of new and old games to the PlayStation Plus Game Catalog on June 19. Stray, the highly anticipated cat exploration game from French developer BlueTwelve Studio, headlines this month's offerings alongside Final Fantasy VII Remake Intergrade and Marvel's Avengers. Assassin's Creed fans have a lot to look forward to with Unity, Black Flag, Rogue, Freedom Cry, and the Ezio Collection trilogy (for those keeping count, that's seven games) coming to the service."