News
Joker 2 Might Not Happen After All
A sequel to Joker was the center of rumors shortly after the film's release, but, two years later, even star Joaquin Phoenix is unsure about the possibility.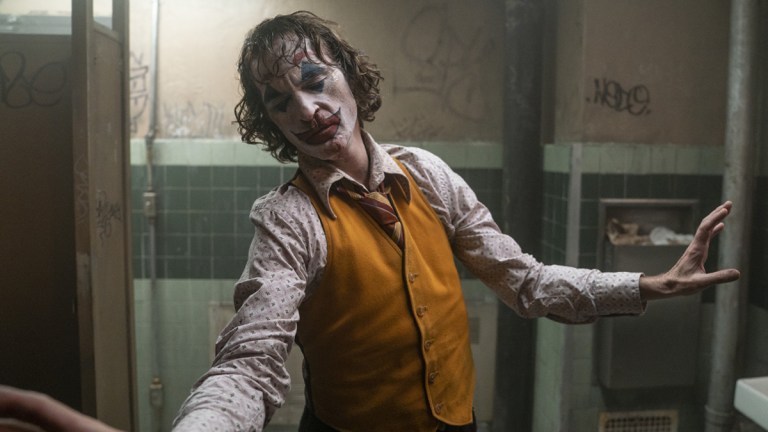 Joker first disturbed audiences on October 4, 2019—over two years ago already! Not only was it a dramatically groundbreaking outlier of a comic book movie but it was the last major genre offering to hit the big screen before the pandemic upended the theater industry. Moreover, despite its homicidal barrage of bleakness, the film grossed over $1 billion worldwide and even reaped mainstream accolades—notably star Joaquin Phoenix's Best Actor Oscar win. However, a potential sequel remains stalled, as Phoenix now affirms.
Make no mistake, Phoenix hasn't quite gone the post-Spectre Daniel Craig, "I'd rather slash my wrists" route regarding the possibility of reprising his Joker title role. In fact, he still seems somewhat intrigued by the notion of tackling a prospective Joker 2, which was the center of conflicting late 2019 trade reports about a studio green light, which were subsequently debunked by director Todd Phillips. However, with sequel rumors having been recently revived, the star's latest comments on the matter, made to The Playlist at this week's New York Film Festival, seem to belie the possibility… at least for the immediate future.
"I mean, I dunno. From when we were shooting, we started to —you know, uhh, this is an interesting guy," answers an ambivalent Phoenix. "There are some things we could do with this guy and could [explore] further. But as to whether we actually will? I don't know."
Of course, Joker is a solo film centered on the origin story of DC Comics' Clown Prince of Crime and Batman's signature archnemesis. However, Phoenix's massive legacy role starts out quite far-removed from its signature sinister splendor, as Arthur Fleck, a meek, emaciated specimen of a man whose aspirations to become a stand-up comedian are failing, forcing him to earn income to support his live-in mother by working as a party clown—and failing at that as well. What follows for the character—who suffers from a condition that causes him to randomly laugh uncontrollably—is a steady descent into madness and misapprehension that takes shape as a series of Fight Club-esque unreliable narrator elements, building tremendous tension toward a rampaging release. Although compelling, it is not a comic book movie that's compatible with conventional franchise aspirations by any stretch of the imagination.
Indeed, Joker doesn't offer crowd-pleasing balls-to-the-wall action. Rather, it is a morose showcase of the kind of dangerous delusions that come about from a combination of declining mental health, lack of support, and the general dehumanizing alienation of city life. In fact, when detached from its DC roots, the film—which Phillips co-wrote with Scott Silver—is a myopic, The Catcher in the Rye-inspired drama in the same tonal vein as offerings like Taxi Driver and The King of Comedy (a notion boosted by Robert De Niro's presence here) and Falling Down. Pertinent to that classification, the film gained a kind of notoriety, especially over its perceived call-to-action climax, in which Arthur finally goes full-Joker and inspires followers to go on a fateful nihilistic spree of death and destruction. It's the kind of concept that susceptible individuals tend to grasp and bizarrely fixate upon (almost like the cult admiration for A Clockwork Orange's Alex). So it's no surprise that any follow up would be a tall, potentially powder keg task, even from the standpoint of a script.
Additionally, Joker 2 has another notable obstacle: its canonical status, which doesn't quite fit anywhere in Warner's ongoing DC Extended Universe movies and television shows. While that was always true even from the first film's outset, the pandemic seemingly streamlined the studio's focus away from periphery projects like Joker, despite the film's overwhelming success. Yet, notwithstanding the gloom, Joker did firmly plant its roots in Batman lore with its Gotham City setting, and a direct connection to the Wayne family via Thomas Wayne (Brett Cullen), along with an appearance by Alfred Pennyworth (Douglas Hodge) and a child Bruce Wayne (Dante Pereira-Olson).
However, its early-1980s setting conflicts with the narrative of anything that the DCEU has on tap, especially with Jared Leto's unique version of Joker having just returned in Zack Snyder's Justice League. Plus, upcoming Robert Pattinson-headlined franchise reboot The Batman is notably set in another universe, potentially setting the stage for yet another Joker in a sequel—at least, barring the unlikely possibility of pulling a similar stunt as Sony/Marvel in Venom: Let There Be Carnage's canonically-consequential post-credits scene.
Regardless, while Joker 2 still has a chance, it is, for now, an unlikely proposition, especially given the state of the world in the last few years. In hindsight, the success of Joker might just be attributed to a pre-pandemic example of a movie managing to catch lightning in a bottle by riding a buzz-worthy wave of controversy. The film was an unforgettable experience, but, despite the undoubted potency, it's a tour de force of melancholy that mainstream audiences might not be up for revisiting.