News
Ben Affleck Opens Up About Batman Return in The Flash Movie
Ben Affleck confirms he's coming back at Batman in The Flash movie.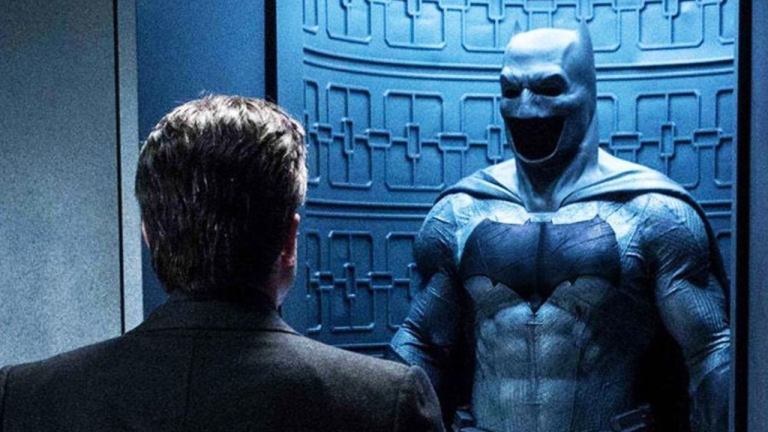 It's hardly a secret at this point: The Flash movie will see the return of not just one Batman but two. The first is Michael Keaton, who makes a shocking comeback as the original big-screen Dark Knight, this time to mentor Ezra Miller's Barry Allen during the speedster's adventure through the DC multiverse. It's unexpected, to say the least.
But even more surprising is the fact that Ben Affleck is also reprising his role as the DCEU's Caped Crusader for another go at the character he initially left behind just a few short years ago after 2017's troubled Justice League. The topic of many reports and much fan speculation, Affleck has finally set the record straight about his return, confirming that he's back — and recent set photos confirm it's indeed in the cape and cowl.
"It was a really nice way to revisit that as the prior experience had been difficult," he told Variety while promoting The Tender Bar, which stars Affleck and just so happens to be directed by another former Batman, George Clooney. The movie is out in December on Amazon Prime Video. "This was really lovely. Really fun," Affleck said of his experience filming The Flash. "I had a great time."
He stopped short of sharing any actual details about the extent of his role — rumor has it he filmed all his scenes in September behind closed doors. "I'm probably under some gag order that I'm not even aware that I probably just violated and I'm now going to be sued."
Affleck became Batman in what will probably be looked back on as one of the most tumultuous eras for the World's Greatest Detective on the big screen. After Christopher Nolan's Dark Knight trilogy brought respect back to the superhero that had become a laughing stock in Hollywood by the late '90s, largely thanks to Clooney's turn in Joel Schumacher's Batman & Robin, Warner Bros' fledgling DCEU took the Caped Crusader in yet another direction. Batman v Superman: Dawn of Justice presented a much darker version of the Dark Knight, a deeply paranoid fascist who had no problem branding and killing criminals or beating the Man of Steel to a pulp. If Clooney's Batman was too silly, Affleck's turn was the grimdark antithesis, made worse by a nonsensical script that saw the DCEU start out of the gate already limping.
While Batman lightened up for Justice League, in which he led the pantheon of DC superheroes against the forces of Apokoliptian villain Steppenwolf, the movie itself turned out to be a critical and financial disaster for Warner Bros. Although it can be argued that BvS didn't really set up this big team-up film for an Avengers-level success, strife behind the scenes certainly didn't help. Many reports have come out in the years since the movie's release about the events that led to original director Zack Snyder being replaced by Joss Whedon, whose own allegedly toxic tenure made working conditions for the cast and crew even worse. For better or worse, Snyder got another shot at his version of Justice League earlier this year, which at the very least adds much needed context and depth to some of the theatrical release's most confusing plotlines.
Affleck's Batman has yet to really get a win in theaters, but perhaps third time's the charm, especially in the hands of director Andy Muschietti, who recently turned Stephen King's It into a critical success and a major blockbuster — the first horror picture ever to give even the superhero genre a run for its money. At the very least, seeing Keaton and Affleck sharing the screen as two different Batmen should make for a memorable pop culture moment.
The Flash hits theaters on Nov. 4, 2022.