Features
Could Joker Show up in The Batman Movie?
There's a significant clue in The Batman trailer about the Joker, but which version of the villain will we see next on the big screen?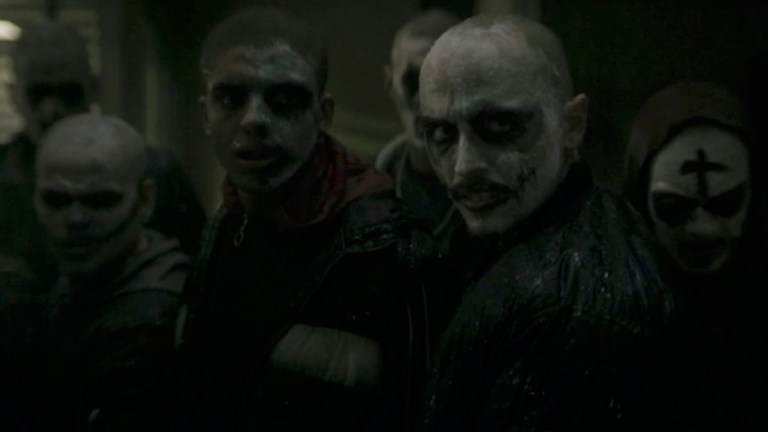 Matt Reeves' The Batman trailer does a lot of work introducing not one, not two, but three major Gotham City villains for the Dark Knight to face off with in the film. We get a look at Paul Dano's creepy, serial killer interpretation of the Riddler, Zoe Kravitz's understated Selina "Catwoman" Kyle, and an unrecognizable Colin Farrell as Oswald Chesterfield Cobblepot, one who isn't yet the crime boss of Gotham City, and who hates being called the Penguin.
That's three of Batman's biggest villains…but it isn't the biggest one. Conspicuously absent from The Batman is the Joker, not only the Caped Crusader's most famous foe, but one of the most terrifying and iconic villains in all of pop culture. But IS he really absent?
It doesn't exactly take the world's greatest detective to see that there's a gang with their faces painted suspiciously white, some with red "smiley face" lips added as well. One of them gets the business end of Batman's "vengeance" to the tune of multiple punches to the face…and a couple even after he goes down. But that's not the point…these guys look like the Joker.
But they're NOT the Joker, right? Right. Do they have ANY connection to the Joker? Well, that's why we're speculating a little. There are a couple of possibilities.
One is that they are indeed a Joker-related gang, and their yet to be revealed leader is this new reboot's version of Batman's biggest baddie. Remember, this movie is unconnected to the DCEU proper continuity, which means that Jared Leto's Joker from 2016's Suicide Squad isn't a factor or an option. Whoever it is would have to be a new actor offering a new interpretation of the role.
Ah, but what about Joaquin Phoenix's Oscar winning portrayal of Arthur Fleck, the downtrodden wannabe comedian turned cult villain in last year's Joker? Technically, that's not an option either. Joker is ALSO completely separate from the continuity they're setting up in this film. Not only that, but it took place roughly in the early 1980s (I'm pretty sure I nailed it down to 1981), which would mean Phoenix's Joker would be a little old to give Robert Pattinson's Batman a hard time. Also, Warner Bros. has been adamant that Joker took place in a different corner of the DC multiverse than both the DCEU and The Batman.
Unless…
In the Batman Beyond animated series (which we love) the Jokerz were a gang in the future of the DC animated universe who had been inspired by the Clown Prince of Crime. Is it remotely possible that The Batman will take a shortcut here and imply that the events of Joker happened, which is why there are still street hoods running around in face paint inspired by Arthur Fleck? That's um…that's pretty unlikely now that I've typed it out.
However, even though The Batman is in no way a sequel to Joker, and it's unlikely that Warner Bros. will try any kind of continuity merging shenanigans, don't think for a second that executives over there haven't had fevered conversations wondering how they can get the Oscar winner who led an R-rated movie about a villain to a billion dollars at the box office into the latest iteration of their most valuable piece of franchise IP. Phoenix's Joker sure looks like he'd be a perfect fit with the moody aesthetic of this movie, and we'd love to see him play off Pattinson's Batman.
Of course, if this were to happen, it'll be kept tightly under wraps, and we won't know for sure until The Batman opens on Oct. 1, 2021.