News
Joker 2 Set Photos and First Footage Reveal Joaquin Phoenix's New Clown Suit
Joker: Folie a Deux is now filming in Los Angeles and we have our first look at Joaquin Phoenix back in the clown suit!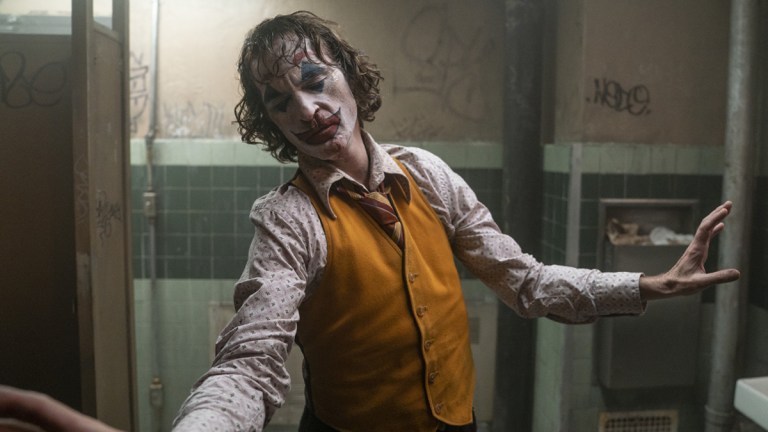 Time to put on a happy face. Joker: Folie a Deux is now in production, currently filming in downtown Los Angeles. Star Joaquin Phoenix is in town, and back in the heavy makeup, but he's not the only clown in town. And we're not talking about Lady Gaga's Harley Quinn.
The first footage and photos leaking out of the LA set show a total of three Jokers running around the city streets for a chase sequence involving a pursuit on foot as well as several patrol vehicles crashing into things. You can check out the scene being filmed below from several angles…
So what the hell is going on here? Why is Arthur being chased by…two other Jokers? In the sequence, Arthur jumps out of the back of a vehicle and into the middle of traffic, a cameraman following closely behind as the other clowns chase him. One assailant is wearing Arthur's Joker suit while the other has a clown mask on.
Is this supposed to be a dream sequence where Arthur is being pursued by other sides of his fractured mind? Or is this happening in real life? At the very least, it seems safe to assume director Todd Philips and co-writer Scott Silver aren't adapting DC's 2020 Three Jokers storyline by Geoff Johns and Jason Fabok.
Perhaps Arthur has been kidnapped by imitators who want him to lead their "movement" on a new reign of terror. After all, the way Arthur's actions inspired copycats all over Gotham City was a major plot point in the first film. It makes sense that others inspired by what the Joker "symbolizes" would continue making trouble even after he was locked away. Have they sprung a healing Arthur out of the psychiatric hospital against his will? And how does Harley fit into all of this? For now, we have no answers, just this frantic set piece.
Meanwhile, set photos also give us a better look at Phoenix back in the clown suit, although not quite how you expect. Arthur's given up the bright red, yellow, and green getup for a much more muted and dusty gray suit, with a mustard shirt to match. The clown paint has been applied but in a much sloppier manner than the first time around. Maybe Arthur's in his grunge phase this time around.
Phoenix and Lady Gaga will be joined in Joker: Folie a Deux by Brendan Gleeson, Catherine Keener, Jacon Lofland, and Harry Lawtey in undisclosed roles. Also returning is Zazie Beetz as Sophie Dumond, who seemed to meet an ominous end in the first film, although that was never made entirely clear. It's also possible we'll see Beetz back as Arthur's fantasy version of Sophie.
When you sit down to watch this one, don't expect a straightforward sequel. Folie a Deux is reportedly a musical, which is certainly an interesting choice. At the very least, a musical should prove to be an excellent showcase of Gaga's considerable talents as a performer. Phoenix is no stranger to singing roles either, having played Johnny Cash in the biopic Walk the Line. This should make for a very interesting duet, indeed.
With the new DCU taking shape under DC Studios co-presidents James Gunn and Peter Safran, you may be wondering where the Joker franchise fits into all this. According to the DC films heads, Joker: Folie a Deux will release under the new "Elseworlds" banner, which comprises stories that exist outside DC's main cinematic universe of movies and TV series. Matt Reeves' The Batman trilogy and the upcoming Penguin HBO series are also considered Elseworlds stories. Don't expect these two Batman universes to crossover, either.
Joker: Folie a Deux hits theaters on Oct. 4, 2024.