Features
Joker 2: Musicals That Could Influence Lady Gaga as Harley Quinn
Joker: Folie à Deux will reportedly be a musical likely to star Joaquin Phoenix and Lady Gaga. Here are some classic movie musicals that could be touchstones.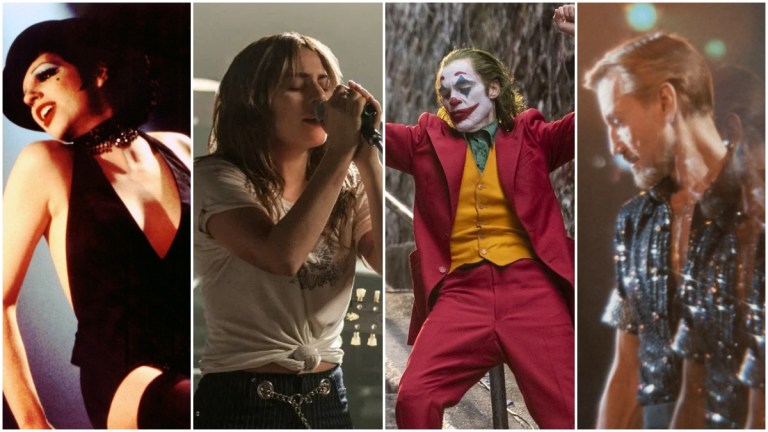 It's a funny world we live in when a single bit of possible casting news can turn Film Twitter on its head. Overnight, the fans of 2019's Joker and those more skeptical toward Todd Phillips making a sequel titled Joker: Folie à Deux switched places when it was confirmed by The Hollywood Reporter that Lady Gaga is in talks to play Dr. Harleen Quinzel, aka Harley Quinn… and that the movie is going to be a musical.
Suddenly those of us who were ambivalent toward the prospect of more Scorsese allusions in murderous clown makeup sat up and took notice while those eager for more of the same were left befuddled. A musical?! Sure! Why not?! Recall that in the climax of the first Joker, Joaquin Phoenix's titular character is literally dancing to music, if only in his own head, while winding himself up to shoot Robert De Niro on live television. And while we have reservations about how this appears to be benching Margot Robbie's already formidable interpretation of Harley Quinn—after years of Warner Bros. refusing to let her develop a Harley Quinn and Poison Ivy movie despite her vocal insistence—you can't ask for much better casting for a musical Harley than the Mother Monster herself.
So if history is prologue, and Phillips will soon look to classic movie musicals for inspiration as he did Scorsese thrillers for the first Joker, which toe-tappers could we see influencing Joker: Folie à Deux? Well…
Cabaret (1972)
An obvious place to start is with one of the greatest film musicals ever made. As with previous Phillips favorites like Taxi Driver (1976), this comes out of Hollywood's second, seedier golden age in the 1970s when New Hollywood blew up and deconstructed all the norms from the past, including the vaunted movie musical. No less than Bob Fosse directed and choreographed this thoroughly nihilist Broadway show, with music by Kander and Ebb, into an even bleaker onscreen film.
The movie is about Sally Bowles (Liza Minelli), a mediocre cabaret singer in 1931 Weimar Germany who's there at the eve of the Nazis' rise to political power—the story is based on Christopher Isherwood's real life accounts of Berlin as it descended into the abyss. Sally thinks she is going to one day be a great star of the stage, but she's really just deluding herself while killing time with a green tourist/writer (Michael York in the Isherwood role) and her other paramours. Few of them can even bother to notice Hitler Youth singing in the biergartens or how their charismatic but depraved Master of Ceremonies (Joel Grey) is beginning to slip horrifying Antisemitism into the cabaret numbers.
I'll eat my hat if Gaga doesn't get her own version of a "Mein Herr" number from this film, which was added for the movie to show off Minelli's voice and Fosse's gift for choreographing physical movement. It was subsequently put into all future stage productions. However, more than just the soiled grandeur of Harley imitating Sally Bowles, the film's vision of a culture so disengaged from the decadence and decay of their society feels very on brand for Phillips' vision of Gotham, and indeed the last six years or so of our reality. As does Joel Grey's Oscar winning performance as the M.C. The way Grey's M.C. comments on the events of Cabaret in song like a Greek chorus of devils could be an influence on how Phoenix's own Joker could carry a showtune, if only in his own head.
All That Jazz (1979)
Another 1970s Fosse musical that feels like it could fit the world of Joker like spoiled peanut butter and molding jelly is Fosse's other big screen masterpiece, All That Jazz. This Palme d'Or winner was co-written and directed by Fosse after his first brush with death and open-heart surgery. Here he casts Roy Scheider (yes that one from Jaws) as his onscreen doppelgänger, an award-winning Broadway director and filmmaker who's the most arrogant narcissist who's ever dared to challenge audiences' sympathies. Fosse also casts his real-life girlfriend and muse Ann Reinking as Scheider's paramour in the movie, plus a wider supporting cast who play figures from his own life, including Jessica Lange as the literal angel of death and the protagonist's fantasy BFF.
The film would go on to predict Fosse's own demise eight years later as Scheider's Joe Gideon refuses to change his ways after his first heart attack and continues to consume copious amounts of drugs, booze, cigarettes, and women while having nightmarish delusions of musical grandeur on death's door in which classics from Fosse's youth are given a macabre glow-up: He imagines his loved ones pleading with him through song and dance as he falls further into madness, and closer to Death Herself. If you don't think there won't be fantasy numbers in Arthur Fleck's asylum taken straight from this approach, well you obviously don't know the power of jazz hands!
Sweeney Todd: The Demon Barber of Fleet Street (1979)
Many film lovers today might think of Tim Burton and Johnny Depp when they hear the title Sweeney Todd, but any good fan of Stephen Sondheim knows it was originally the musical genius' grandest and most tragic epic. And we can count Phillips among Sondheim's admirers since he includes the Sondheim song "Send in the Clowns" (from the 1973 musical A Little Night Music) twice in the first Joker film; it is initially heard when some finance bros unconvincingly know all the words while picking a fight with the sad clown on the subway. It's heard again via Frank Sinatra's cover during the end credits.
So it seems like a good bet Phillips probably owns the original Broadway cast recording of Sweeney Todd, featuring Len Cariou as Sweeney and Angela Lansbury as his scheming landlady Mrs. Lovett. In that musical Sweeney is a figure of operatic tragedy when he returns to 19th century England after spending 15 years in the Australian penal colony for a crime he didn't commit. After discovering his wife is dead and that his daughter has been raised as the ward of the corrupt judge who framed him, Sweeney gives into nihilism and goes on a serial killing spree—Mrs. Lovett, ever the enterprising go-getter, doesn't let the opportunity go to waste and begins cooking the remains of Sweeney's victims into her apparently flavorful meat pies. The two soon became the toast of working class London, lovers and lunatics.
It doesn't require much imagination to squint and see a version of Joker and Harley in the most darkly humorous song in Sondheim's songbook, "A Little Priest." This is the tune where Sweeney and Mrs. Lovett indulge in cutting wordplay, and even sharper social satire, whilst musing on all the different flavors each social class offers.
My Fair Lady (1956/64)
In what could be more of a thematic or narrative influence than a tonal one, the story of My Fair Lady seems apt for the sad story of Harley Quinn. In My Fair Lady, and even more acutely in George Bernard Shaw's 1913 play Pygmalion, which inspired My Fair Lady, songwriters Alan Jay Lerner and Frederick Loewe put luscious music to the tale of Eliza Dolittle (Audrey Hepburn in the '64 movie). She's a young flower girl of the working poor who, after seeking betterment and self-advancement from an arrogant and erudite phoneticist, Henry Higgins (Rex Harrison), becomes his living doll in order to re-make her in his own image. He teaches her how to speak, yes, but also how to dress, socialize, and even think, creating the perfect companion.
Eliza eventually falls in love with the older man, but things do not exactly get romantic as she realizes she's as much a prized item for his mantle as an actual student or possible lover. The imbalanced gender dynamics this represents can easily be toyed with in a story about the Joker turning Dr. Harleen Quinzel into Harley Quinn, his living doll and ideal woman. Anyone who's read the comic book storyline Mad Love knows where this is going. Plus, I would love to see Phoenix sing, "Why can't a woman be more like a man?" And I can also almost hear the score putting a creepy or ironic version of "I Could Have Danced All Night" into Gaga's hands.
Fred Astaire and Ginger Rogers Movies
On the subject of dance, it's worth noting that Phillips and Phoenix have already threaded a fascination with arguably the greatest dancer in film history, Fred Astaire, into Arthur Fleck's DNA. In the first Joker, we see Arthur watch one of the more racially uncomfortable scenes from a classic 1930s Astaire musical, Shall We Dance (1937).
Taking this a step further and having Joker and Harley imagine they are replicating one of the great Fred Astaire and Ginger Rogers musical numbers from the '30s seems almost like an inevitability—and not that different from, say, having Margot Robbie's Harley Quinn imagine she's Marilyn Monroe in Gentlemen Prefer Blondes (1953) during Birds of Prey.