Features
Hidden Secrets in Disney's Original 1998 Mulan
Disney's 1998 animation Mulan is jam packed with cool facts and Easter eggs, here are our favorites.
It's been over 20 years since the original Mulan movie hit our screens and now Disney is blessing us with a remake of the princess-with-a-twist tale. Forget sparkly slippers and a true love's kiss, Mulan leads her army to victory in her fight for freedom.
The phenomena that became Mulan was originally set to be a short based on an oppressed woman who finds love with a soldier who sweeps her off her feet, but doesn't find independence. But Disney didn't want to work on that. The Mulan we all know and love wouldn't be anything if she wasn't the independent and resilient girl that we saw. Far from that of the typical princess, Mulan's love life even comes second to her ambition and drive to protect her family (and identity in doing so). With no need for frocks and fancy, Mulan was a girl who didn't want or need a man to save her, but was definitely a girl worth fighting for. The remake sees her even more independent, with no Li Shang in sight.
It's about time that a remake came around, with the first film being so successful that it was nominated for an Oscar for the score. Doesn't everybody love 'I'll Make a Man Out of You' and the tear-jerking 'Reflection' that rocketed Christina Aguilera to stardom?
In anticipation of the upcoming remake, reignite your love for this fiery heroine with some Mulan facts that even the biggest of Disney fans may not know!
Names are important
Chancellor Chi-Fu is beyond misogynistic and pompous – which doesn't bode well with Mulan's reluctance to stay within her female boundaries, or with General Li Shang who wants to make his own mark in protecting China. It's no surprise then that Disney gave the Chancellor a name that literally translates to 'bully'.
History plays a part
Mulan is based on a very old legend. 'The Ballad of Mulan' is the story of Hua Mulan. Hua Mulan fought for 12 long years in her father's place, disguised as a man. She was a powerful female warrior from the Northern and Southern Dynasties, and although she was highly praised, she refused to receive any reward for her war efforts, and retired to her hometown for a quiet life.
Comfort is key
Other than Princess Jasmine and Elsa in Frozen 2, Mulan is the only Disney princess to wear trousers, and she rocks them! Of course, it would be pretty tough to wear a skirt or dress in combat. When Mulan is forced to wear a dress for her Matchmaker she looks acutely uncomfortable, and in true girl power style, dismisses any authority over her and goes back to the comfies.
Bring honor to us all
In the scene with her Matchmaker, Mulan makes it clear how irrelevant she thinks gender roles are. She's scolded for 'speaking without permission' and is told she needs to be poised, silent and act calmly. The directors really emphasised the reality of the patriarchy vs women in this scene, and whilst most are happy to conform, Mulan finds it all far too overbearing. Mulan knows she may never be a 'perfect bride or perfect daughter' but follows her own dreams anyway – a woman of our modern hearts!
A princess without a crown
Technically, Mulan is not a princess. She wasn't born into royalty, her father was just a more well-off commoner, and didn't marry into it either. Even assuming that she married General Li Shang, she still wouldn't have been a princess consort through marriage. She does receive the Emperor's Crest though, and that definitely gives her a more regal edge.
Even so, she's one of the 11 classic princesses that doesn't wear a crown. It's a shame, because she would be a great ruler.
It took a whole army, literally
The film took over 5 years and a team of 700 animators and artists to make. While the original Mulan had an astounding number of people involved to make it happen, the remake is Disney's biggest gamble yet. The most expensive of any of the recent live-action remakes, Mulan was budgeted $200 million.
The original Mulan garnered a Golden Globe and Oscar nomination, bringing in more than $300 million, which is around $475 million in today's money. It didn't do as well in the Chinese box office however, so fingers crossed for the remake.
A voice so beautiful it had to be used more than once
Recognise that beautiful voice? The lovely Lea Salonga, who is the singing voice of Mulan, was also the lady behind Princess Jasmine's beautiful hits.
Lea also originated the role of Kim in Miss Saigon and was the first Asian to play Fantine and Éponine in Les Misérables on Broadway.
In 2011, she was recognised by the Disney Hall of Fame as a Disney Legend, meaning her handprint and signature is on show at Burbank Studios in California, and she gets a Disney Golden Pass – a lifetime ticket to all Disney parks. We think that Golden Pass is far better than a crown!
Mulan has a real personality
Mulan is so full of character. You may notice she fiddles with her hair a lot. The directors added this in because they noticed that the voice of Mulan, Ming-Na Wen, did this a lot while recording. Just 2 years ago, Ming-Na let her fans know that she still does this, a lot.
The directors got involved more than most
Tony Bancroft and Barry Cook, the directors of the film, made cameos as the firework lighting men at the end of the film.
Tony worked at Disney Animations for over 12 years during its Renaissance Period – a time that saw Disney producing critically acclaimed and commercially successful films that were usually based on old or well-known stories.
While they're not involved in the new Mulan remake, Bancroft is happy that the 2020 version isn't a carbon copy of the original, and loves that above all, it shows a girl who wants to bring honor to her family and protect her father.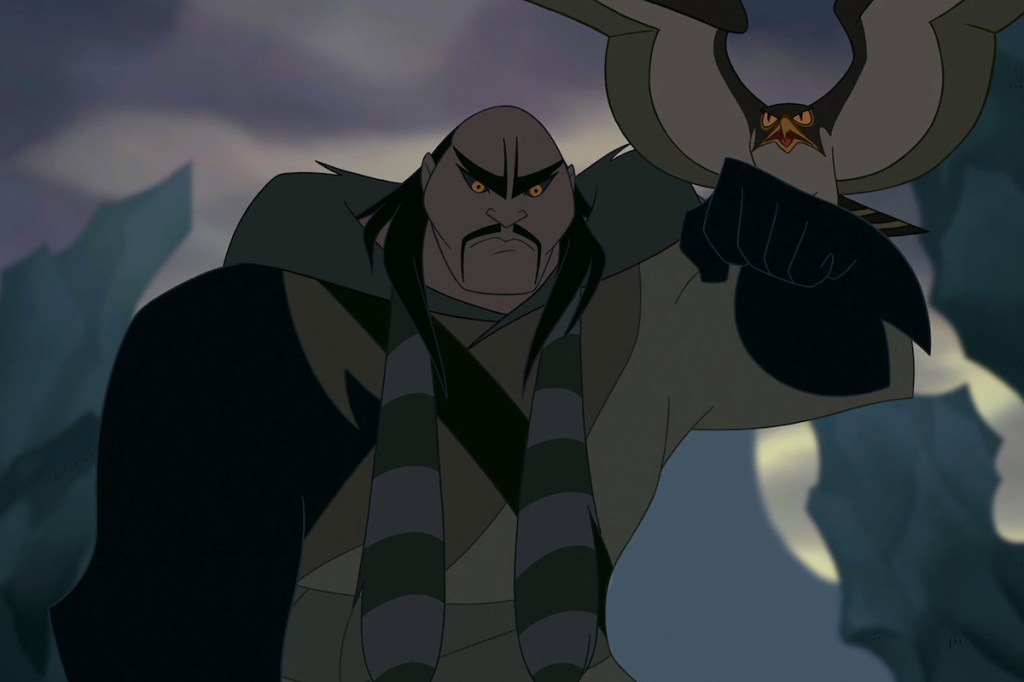 A bit of a coincidence
The software that the animators used to create the incredible avalanche that Mulan brought down, killing just under 4,000 Hun warriors, and leaving only 6 survivors, was called Atilla. Sounds like a coincidence? Well, yes and no. Although Atilla the Hun was the ruler of the Huns for nearly 10 years, Shan Yu is not based on him! Attila's many armies didn't invade the Northern Wei territory, so Shan Yu's army is most likely based on the Xiongnu Nomads who fought a lot with the Han dynasty in China during the third century onwards
Women are pretty badass
The film makes us believe that it's a huge shock for a woman to be a warrior, but actually, Hun armies often had women amongst them. Maybe that's why Shan Yu doesn't seem all that surprised when he finds out Mulan is a girl at the end of the film.
More Disney princesses are getting involved in combat these days, especially when it comes to protecting their family. Especially Merida who is better with a bow than any man, and Elsa who will do anything to protect Arandelle.
Imagine having things named after your legend? Pretty cool, eh
Mulan's father, Fa Zhou, is practicing some tai chi before we see him break down due to injury. The type of tai chi that he's practicing was Mulan Quan, which is a style named for the legend Hua Mulan herself!
The film is full of little nods to history, which is just one of the things it does so well.
The first of its kind
In the late 80s, a satellite animation studio was set up in the backyard of Disney's MGM Studios in Florida. This was where Mulan was created, making it the first feature film that Walt Disney Animation Florida created! The Studios went on to create Lilo and Stitch and Brother Bear just a few years later.
A special and secret thank you
Mushu calls out for the Fa ancestors to 'rise and shine' in their beautiful family temple and the glowing tombstones light with glistening Chinese calligraphy. In sweet sentiment to the talented creators of the film, the calligraphy actually reads a list of names of people who helped create the film. It's a beautiful nod to all those who helped build such a masterpiece and perhaps even more special that it's hidden away a little.
How else would we tell them apart?
The horses from the Hun army have red eyes – evil! It's classic Disney really, making the 'bad guys' look far more scary or unsavoury looking.
However, it's actually been reported that Hun parents placed binders on their children's heads so that their skulls would deform over time, making them look more menacing in appearance. Fear was after all, their main weapon.