Features
Furiosa: What's Going On With the Mad Max Prequel?
Anya Taylor-Joy and Chris Hemsworth jump into George Miller's Mad Max universe in new Furiosa set photos.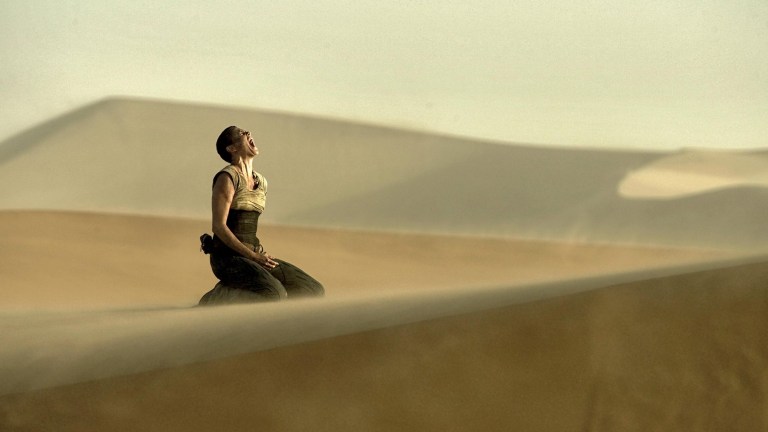 This Furiosa article contains potential Mad Max spoilers.
George Miller's Mad Max: Fury Road is simply one of the best movie reboots/resurgences of all time. The film was such an instant classic, in fact, that it garnered six Academy Awards in 2016 and has placed on countless Best-of lists since its release, including our ranking of the Best Sci-Fi Movies of the Last 15 Years. Speculation of a sequel to the Tom Hardy-led revival bubbled up immediately, and while a Hardy return isn't on the horizon just yet, what fans do have to look forward to is Furiosa, Miller's prequel focusing on the rebellious Imperator from Fury Road who helped take down the tyrannical Immortan Joe.
Originally played (marvelously) by Charlize Theron, Furiosa's backstory wasn't fleshed out onscreen in Fury Road, though Miller and Theron worked out what happened to Furiosa prior to the movie's events, which informed Theron's performance. But in May 2020, Miller announced that he would be bringing her origin story to the big screen in the form of Furiosa, though he would be recasting the role as opposed to de-aging Theron. Understandably, the South African Academy Award-winner was gutted, telling THR that it was "a little heartbreaking" to hear the news. "I really love that character, and I'm so grateful that I had a small part in creating her."
Finally in production seven years after Fury Road, and without Theron as its star, what exactly does Furiosa have in store for Mad Max fans when it finally releases in 2024? Here's what we know:
Anya Taylor-Joy as Furiosa
It's hard not to feel for Theron in this situation, but it's also entirely reasonable for Miller to go with a younger actress to take oon the role for a prequel. In October 2020, it was revealed that The Queen's Gambit and The Witch star Anya Taylor-Joy landed the opportunity to bring Furiosa to life in her own way, which is exactly what she's expressed she intends to do.
"[Charlize Theron] did such an incredible job," she told MTV's Happy Sad Confused podcast. "I can't even think about trying to step into her shoes. It has to be something different. I'm excited…to push myself past the limits of what my brain thought was possible."
The first photos from the film's Australian set leaked soon after principal photography commenced, giving us our first look at Taylor-Joy's younger Furiosa will look like in the film. Check the pictures out below:
Sporting long brown hair and a lack of face paint, it's clear this is still meant to be Furiosa in her formative years. But at least one aspect of the character will remain consistent with Fury Road. Judging from the green glove Taylor-Joy is wearing in the photos, likely in preparation for some heavy VFX work in post-production, it seems young Furiosa has already suffered the injury that claims part of her arm. It remains to be seen whether she'll don her iconic mechanical arm in this prequel…
Chris Hemsworth as Dr. Dementus
In addition to Taylor-Joy, Chris Hemsworth has been tapped to play a character named Dr. Dementus, a tyrannical wasteland warlord and leader of the Biker Horde. It's a bit of a departure for the Thor: Love and Thunder star to play a villain, who most fans are used to seeing defending reality as we know it from bulky big bads. Now, as a bulky big bad himself, it'll be interesting to see how he approaches the role.
So far, Hemsworth looks almost unrecognizable in photos showing his character walking around set. In preparation for one scene, he sports long auburn hair, complemented by a very thick beard and mustache. But this doesn't seem to be his final form in the movie, either.
The above actually seems to be earlier in Dementus' life, as the film will also give way to a grayer and more grizzled Hemsworth, as evidenced by the set photos below. You can see him chatting with fellow cast member David Collins aboard a modified monster tow truck that would fit right into Immortan Joe's convoy from Fury Road.
So, What Exactly Is Furiosa About?
Furiosa commenced filming on June 2, 2022, as announced by Hemsworth in a tweet. An official synopsis was released by Warner Bros. shortly thereafter:
"As the world fell, young Furiosa is snatched from the Green Place of Many Mothers and falls into the hands of a great Biker Horde led by the warlord Dementus. Sweeping through the Wasteland they come across the Citadel presided over by The Immortan Joe. While the two Tyrants war for dominance, Furiosa must survive many trials as she puts together the means to find her way home."
One of the most enticing bits of the blurb is that audiences will presumably get a chance to see Furiosa's home, the Green Place, in all its verdant beauty. An oasis of agriculture amid the sprawling wasteland, the Green Place was never shown in its true form in Fury Road. Furiosa spent a good chunk of the movie trying to find her way back home only to find it sapped of all its resources, rendered as dry and miserable as the rest of the wastes it once provided shelter from.
Meanwhile, Seeing Immortan Joe and Dementus duke it out at and around the Citadel should make for some spectacular battle scenes, and it'll be interesting to see who they cast to go toe-to-toe with Hemsworth. How Furiosa's story weaves into the inevitable "tyrant-bowl" is still yet to be seen, and the "trials" she endures might look nothing like what we've seen before, although you should probably expect the high-octane vehicular carnage that has long made this franchise a staple of blockbuster cinema. In fact, you can already see extras riding motorbikes and muscles cars all around the dusty set.
It goes without saying that the production will require a great deal of physical and mental effort from Taylor-Joy, Hemsworth, and the rest of the cast, which also includes Tom Burke, Nathan Jones, Angus Sampson, and Quaden Bayles. Miller's groundbreaking production on Fury Road involved so many vehicles, practical effects, and death-defying stunts that it drove the cast and crew to the point of extreme exhaustion. "There's a level of 'the body remembers' trauma related to the shooting of this film that's still there for me," Theron told The New York Times.
If the filming Furiosa turns out to be anything like its predecessor's production, Taylor-Joy, her castmates, and the crew should be prepared to get their hands dirty and go above and beyond. But it's important to remember that, while the making of Fury Road was fraught, the final product turned out to be a modern classic and one of the best action movies of all time.
Furiosa Isn't Mad Max: Fury Road 2
At a press conference for the film earlier this year, Miller commented that Furiosa's story will take place over "many years" as opposed to Fury Road's, which was set over the course of a few days. Most of Miller's comments thus far have indicated that he isn't looking to outdo Fury Road but rather make a new style of movie that stands on its own, telling the Los Angeles Times, "You're not looking for more, you're looking for it to be as good as it can be. You're definitely looking to not repeat what you've just done and you are looking to make it, if you like, uniquely familiar. It's got to be its own thing."
It's encouraging to hear that Miller isn't looking to simply make a bigger, badder version of Fury Road, but not surprising from a director who has often sought to experiment with each new installment in the franchise. As he told LA Times, his condition for making Mad Max sequels has always been to not just make more of the same.
"After I made the first Mad Max all those years ago, I didn't want to make another Mad Max film," Miller said. "Then I made a second one. And for me, personally, it was on the condition that I was able to overcome all the mistakes that I thought I learned from the first film. So the second film had to be different from the first. So it was a different film in tone, in style and everything. The only thing really in common was that it was Mel Gibson. The third film, the same, and that was Thunderdome. They had to be different."
Miller faced a similar challenge when setting out to work on Fury Road almost 30 years after the release of 1985's Mad Max Beyond Thunderdome, a film that is notably different in tone and setting from its more beloved predecessors.
"I remember on Fury Road, that had to be different again. People were saying, 'Oh, can you make it like Road Warrior? Road Warrior was really the best of those films,'" the director said of the pressure to just play his greatest hits. "And I thought, 'Well, wait a minute, that was 30 years ago. Everything's changed. If we were just to go back and I'm doing a remake of that film, we'd be fools.'"
It remains to be seen how Furiosa will stand apart from the rest, but it has at least one thing going for it in that respect. It's not about Max Rockatansky this time around, making this new installment more reflective of Furiosa's personality in the process, which will naturally make it a different feeling movie.
Furiosa Release Date
As far as when we'll finally get to see this long-awaited continuation of the Mad Max universe, it'll be a little while yet. On August 11, Miller tested positive for COVID in the middle of production and shooting was suspended temporarily as the director isolated.
Originally announced to release in 2023, the film has been postponed to May 24, 2024. While two years can definitely feel like a long time, at this point it's hard to question Miller's process–whatever he needs to do to make the film as good as it can be will hopefully be worth it in the end.