News
George Miller Confirms Details on Mad Max Furiosa Prequel
The Mad Max: Fury Road Furiosa prequel movie is confirmed to be in the works by George Miller, but it won't star Charlize Theron.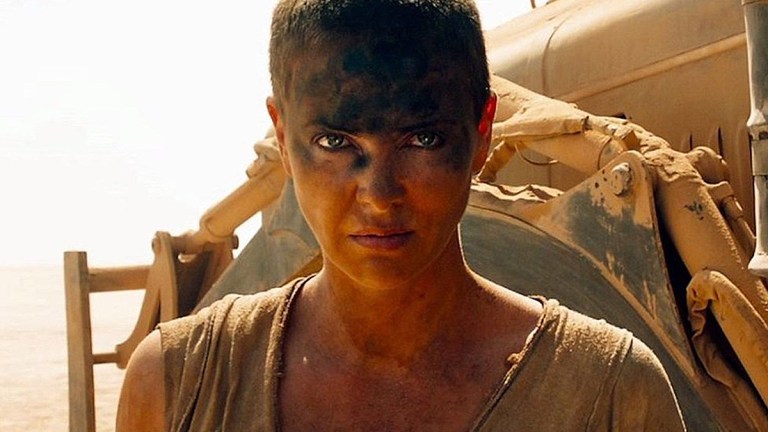 Furiosa is set for a grandiose solo return to the big screen… just not Charlize Theron's portrayal of the post-apocalyptic warrior woman who stole the show in 2015's Mad Max: Fury Road, according to franchise mastermind George Miller.
In a bit of news that essentially verifies what previous reports have come to accept, Miller, in an interview with The New York Times, confirms that his mooted prequel movie centered on Fury Road standout character Furiosa is in the works, having settled a highly-publicized legal dispute with Warner Bros. However, said sequel will not see a role reprisal by Theron. Thus, Miller's revelation definitively quells the long-held rumor that the prequel project would utilize digital de-aging technology (à la Netflix's The Irishman or Star Wars entries The Rise of Skywalker and Rogue One,) to make Theron about twenty years younger onscreen.
As Miller states of his nixing of the CGI idea:
"For the longest time, I thought we could just use CG de-aging on Charlize, but I don't think we're nearly there yet."
Miller also confirms that the Furiosa prequel film is a prominent part of his backlog. However, he won't get to tackle the prequel until after he's completed a different written/directorial effort in fantasy film Three Thousand Years of Longing, which stars Idris Elba opposite Tilda Swinton. Yet, like everything else, that project is locked in pre-production stasis, left at the quagmire mercy of the COVID-19 pandemic, after it was scheduled to shoot this spring.
As Miller explains of Furiosa's backburner status:
"So, after we finish [Three Thousand Years of Longing], and hopefully everything settles down with the pandemic, we'll see what the world allows us to do with Furiosa."
However, as mentioned, he won't be doing anything with Theron, who originated the role. While the actress—who is 44 and was 36 at the time principal photography commenced on Fury Road in 2012—could still feasibly pull off a reprisal set in the years that immediately preceded the film, Miller's prequel project will portray Furiosa's early exploits, set decades before she came across Tom Hardy's Mad Max, evidenced by Miller's search for a new starring actress in her 20s. While the director didn't get into any specifics regarding actresses in the running for the role, the confirmation does validate the context of a recent report of rising star Anya Taylor-Joy's audition for the coveted part (which she put in via Skype, for obvious reasons).
Interestingly enough, the story at the center of the script for the Furiosa prequel was spun concurrently with the production of Fury Road; a benefit from the film's years in developmental purgatory—after it was initially greenlit in 2003—giving Miller and co-writer Nick Lathouris time to flesh out the pathos of the Furiosa character with a secondary screenplay for Theron to digest by the time cameras finally started rolling in the Namibia desert in 2012. Pertinently, the NYT interview cites a comment from actress Rosie Huntington-Whiteley, who played Splendid—one of the "wives" Furiosa liberated in Fury Road—who revealed, "I got to read [the Furiosa script] when I was cast. It's genius. I've always wondered if that movie's going to get made."  
While specifics on said Furiosa script are scarce in the public ether, there is plenty of backstory to use, even based on what was covered in Fury Road, notably the character's history of hailing from roving matriarchal warrior tribe the Vuvalini. Yet, Furiosa's arc will inevitably land under the specter of warlord Immortan Joe (Hugh Keays-Byrne), who she served as Imperator (a captain,) in his belligerently eccentric band of paramilitary scavengers until going rogue in Fury Road's inciting incident. Also, with one of Furiosa's defining attributes being a menacing, robotic-looking prosthetic arm, we are more than likely set to see how she lost that limb. Moreover, the prequel might end up even bigger in scale than Fury Road, which returning production designer Colin Gibson revealed only showed 88 of 135 vehicles made for the film, promising even more this time.
For now, fans will have to wait even longer than they expected for the Furiosa prequel film. Yet, the film will still likely ride belated momentum from the 2015 success of Fury Road, which may have been a modest hit financially with a $375 million worldwide gross (off a budget of $150 million), but reaped widespread acclaim as a modern classic, along with awards season accolades in 2016 with six Oscar wins—in visual categories—off its 10 nominations.