Reviews
Thor: Love and Thunder Review – Christian Bale at His Most Evil and Underused
Thor: Love and Thunder feels like it's both more of Taika Waititi's movie... and less. Either way, it's a serviceable entertainment that coasts off a game cast who could've done more.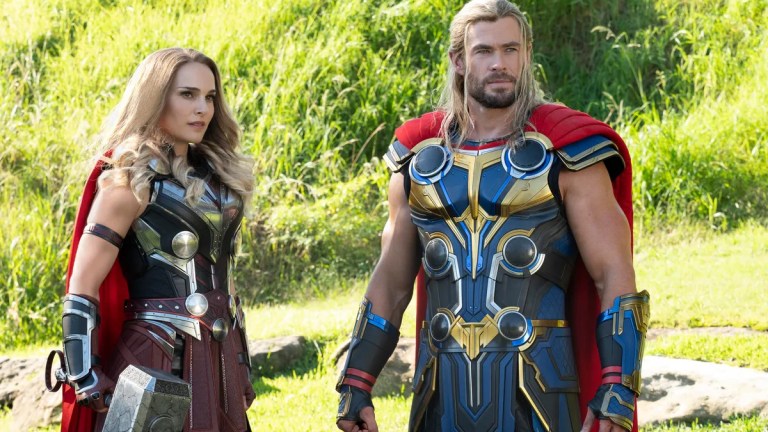 Thor: Love and Thunder begins with the image of a bald man, dehydrated and abandoned, walking through a desert with a small child limp in his arms. It's remarkable since before this sight, our only impression of the Marvel Studios fourthquel has been marketing that's reveled in the blithe and psychedelic. As the Love and Thunder title suggests, this is meant to be a goofy romantic comedy, with an emphasis on comedy. Right?
Yet the film starts not on chuckles or kisses; instead it opens with Christian Bale's forlorn and forgotten Gorr, an alien of nondescript origin who's been left to suffer by his gods. Taika Waititi, who returns as co-writer and director after Thor: Ragnarok (and winning an Oscar for Jojo Rabbit), still sprinkles in a few of his usual glib one-liners when Bale's proverbial Job meets his maker, a deity of scathing indifference. But as a whole, this is played straight.
It's startling and intriguing; a promise for a different kind of Waititi movie, and, more importantly, a different kind of Marvel Studios event. If only the subsequent story kept that covenant—or the many others set up by Thor: Love and Thunder's messy and often conflicting thematic elements. To be sure, Bale is phenomenal in this opening and thereafter, offering his villainous "Gorr the God Butcher" a performance so full-throated that spittle dribbles down his lips when he monologues. It's a nasty wonder to behold. But the character himself? There's not much to sink those filed teeth into; Gorr's just another Marvel baddie in a moderately threatening all-ages Disney amusement. He's not bland, but it's a bit like if Heath Ledger's Joker was never allowed to ask someone how he got his scars (and then show them).
Such are the downsides of an otherwise serviceable summer movie that is pulled in a half-dozen directions. Some of those competing byways are quite appealing, with another winner being the redeemed romance between Chris Hemsworth's Thor and Natalie Portman's Dr. Jane Foster. But when taken as a whole, Love and Thunder feels like a product determined not to rock the boat, even if that means it just treads familiar waters.
The general setup is that after defeating Thanos and joining the Guardians of the Galaxy (onscreen here for just enough time to tick a marketing department box), Hemsworth's goofy Thunder God has had enough of wandering. He's gotten healthy and traded in his Dad Bod for a "God Bod," as described by his returning BFF Korg (Waititi's still cheerful voice laid atop a CG rockface). But Thor's also a bit lonely and ready for something new.
That something turns out to be Portman's Jane, with whom he shared (off-screen until now) several years of bliss before she left him. Eight years on, her career has been successful, yet when we find her things are grim since she's beginning chemo for an unspecified type of cancer. Don't fret though, lest things sound heavy, she's ready with a smile and a quip to downplay her fear. She also has a plan, one which involves Thor's shattered hammer Mjolnir. Faster than you can say "Odinson," she has harnessed the power of Thor (and gained the muscle mass plus a foot in height to prove it), and is ready to defend New Asgard in Norway—a homeland that looks suspiciously like a Disney Cruise destination.
This proves fortuitous since Bale's Gorr the God Butcher shows up to town around the same time, eager to add a few more deities to his hit list.
When Thor: Ragnarok debuted to rapturous reviews in 2017, it felt like a spiked tonic to the MCU formula. After two mediocre Thor movies, Taika Waititi brought the same skewed sensibility he introduced to vampires in What We Do in the Shadows, or more recently to pirates in the delightful Our Flag Means Death, to the MCU. But as beguiling as Ragnarok is, I felt more excited about what Waititi would do next at Marvel since that 2017 movie had two gears: the traditional MCU one with an extra helping of mischievousness whenever it was on Asgard, and the truly weird decadence that's proven to be Waititi's muse, as glimpsed in any scene on Planet Jeff Goldblum.
Strangely though, Thor: Love and Thunder is both more Waititi's beast in its details and less so as a whole. The director/actor's Korg still breaks the fourth wall to the point of parody, commenting here on how forgettable the "Warriors Three" were, for example, and the term "orgy" is slipped into this script at least five times. Yet the broader narrative remains more constricted than ever by Disney formulae, preventing the filmmaker's higher ambitions from ever finding their footing.
That level of synergy contributes greatly to the movie's shaggy quality, and the first act suffers most acutely thanks to the inclusion of the Guardians of the Galaxy, who despite leading their own peculiar movie franchise (and my favorite corner of the MCU) still look befuddled here. That cast seems no more convinced than the script by the purpose they serve beyond an extended action scene.
Luckily, the movie drastically improves when it trades in the Guardians for Portman's Mighty Thor. More than a decade after being saddled with some fairly thankless material in the first two Thor movies, Portman is effervescent as an irrepressible Mighty Thor. She has just as much charisma as Hemsworth, but rather than play her Thor as a charming meathead, she's a green rookie frequently in awe of finally sitting with the cool kids. Their romantic banter is where Waititi's heart clearly lies and where the movie finds its most harmonious rhythm. For instance, there's a refreshingly mundane flashback montage that offers an extended slice of life look at what being a superhero's girlfriend means. It has a grace and subversive frivolity that's missing in the rest of the movie, and it just lets the actors' hair down.
But these humorous character moments ultimately act as ellipses—half-formed ideas spread across a movie where many jokes land… and many do not.
Among the triumphs is a proper comedy detour to Omnipotent City, the intergalactic meeting place of the gods (they're all real!), which is MC'd by a greasy and lecherous Russell Crowe as Zeus. The Oscar-winner plays the original lighting god with an allegedly Greek accent, but Crowe is so garish he sounds closer to Chico Marx. It's glorious, as is the portly deity's fascination with Thor's God Bod.
Other standouts remain Tessa Thompson's forever scene-stealing Valkyrie and a running gag about Thor's new weapon of choice, the battle ax Stormbreaker, being jealous of Mjolnir. If only these bits congealed instead of fought. But the comedy often amounts to a series of disjointed sketches, with all of them feeling like they're in a different movie entirely from Bale's villain.
I have never read the comic storyline that introduced Gorr or Jane's Mighty Thor, but I have it on good authority that it's great. Epic, even. But that is not a word that can be applied to Love and Thunder. At best, this is adequate. Perhaps that disparate quality is intentional since Thor and Jane live in a candy-colored CG world that, unlike most MCU movies, is actually colorful instead of muted gray (although much of the camera-framing remains flat). Conversely, Bale persists in a literal "World of Shadows," where everything is black and white save for Gorr's yellow eyes. But the movie fails to blend these elements in a complementary fashion. Instead they bleed out on one another, undercutting the final emotional epiphany Waititi is banking on.
In the margins, Thor: Love and Thunder is more Waititi than Ragnarok was, but its center remains rigidly formulaic, flattening the film's ambition and its discordant flights of fancy. The result is an affable product that's colorful, smooth as it goes down, and utterly disposable.
Thor: Love and Thunder opens on July 8.