News
Free Guy Trailer: Ryan Reynolds is a Video Game Character Trying to Save His World
The full trailer for Ryan Reynolds comedy Free Guy shows a satirical comedy aimed at open world video games.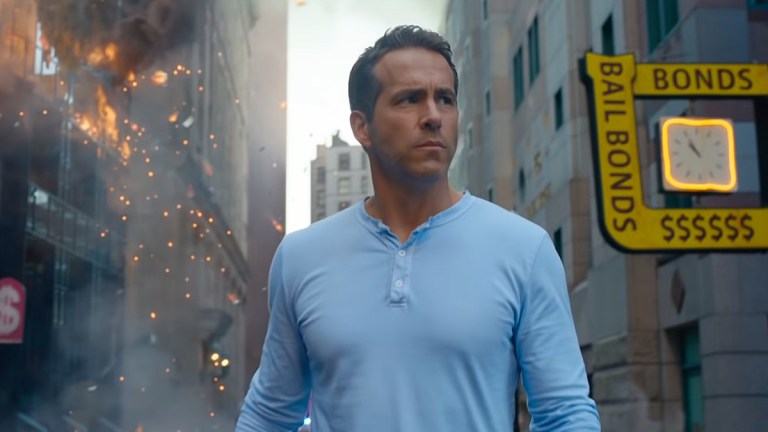 Free Guy, a comedy that centers itself in a socially-distant video game virtual landscape, ironically finds itself as one of the most prominent stragglers in the dwindling group of major movies still on schedule for a theatrical release in 2020. Indeed, the December-scheduled film continues to tout its plans to hit theaters with the release of a new trailer.
Shawn Levy (Stranger Things, Real Steel) directed the film off a script by Matt Lieberman (Scoob!, The Addams Family) and Zak Penn (Ready Player One, X-Men: The Last Stand). Ryan Reynolds stars as the eponymous Guy, a suddenly self-aware NPC (non-playable character) in a fictional open world video game who, upon forming a romantic connection with a player (Jodie Comer), starts living his best (virtual) life, eventually faced with having to save his world.
On that note, check out the new Free Guy trailer just below.
A frequent observation about this film in the duration of its now-year-long buildup is that Free Guy is the product of familiar multimedia elements, notably with its open world game setting being a dead ringer of sorts for games like the Grand Theft Auto series, which are hotbeds for consequence-free wanton violence and destruction. Yet, the A.I. with a heart of a gold idea certainly stems from virtual world-set offerings such as the Tron films, and even director Steven Spielberg's Ready Player One movie adaptation. Yet, there's even a dash of reality-altering tropes that make Guy's life resemble the voyeurism of The Truman Show, and the trailer even touts a scene in which he dies and abruptly respawns in bed to an alarm clock in what is likely a repeated sequence, à la Groundhog Day. However, in this case, the romance of Reynolds's NPC and Killing Eve's Jodie Comer role as player Molotov Girl seems to intertwine with an incredulous coder named Keys, played by Stranger Things' Joe Keery. The main cast also features Taika Waititi as Antoine and Lil Rel Howery as Guy's best friend, the also generically-named Buddy.
Should the film actually stick to its December release date, then Free Guy will stand as the only onscreen appearance from star Ryan Reynolds for 2020, having last been seen in last December's Netflix actioner, 6 Underground. However, he has plenty on his docket for 2021, notably August-scheduled sequel The Hitman's Wife's Bodyguard, and, on a date to be revealed, will co-star in director Rawson Marshall Thurber's Netflix comedy, Red Notice, in which he makes up an A-list triumvirate with Dwayne Johnson and Gal Gadot (and not for a DC movie hero collaboration). Of course, amongst other projects, Deadpool 3 is still on the backlog of the franchise's new Disney overseers, albeit without a production or release window.
Free Guy Release Date
Free Guy is set enter the non-virtual realm of theaters on December 11.