News
Tron 3 Title Possibly Revealed by Jared Leto
It seems that Tron 3 star Jared Leto might have let slip the secret title of the film in a now-deleted tweet.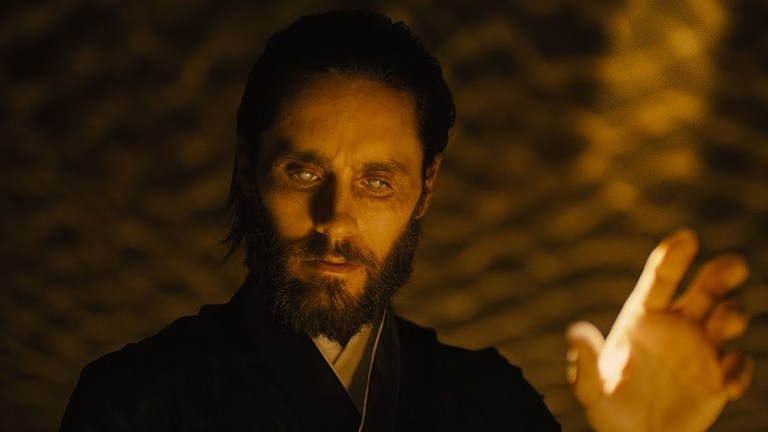 Jared Leto already has major movie franchises on his plate, but the pile just recently grew with the confirmation of his starring role for the back-on-track Tron 3. While the star's excitement over that film's latest development—the hiring of director Garth Davis—was palpable, it seems that said excitement might have led to a slip of Disney state secrets, specifically the film's official title.
Tron: Ares is the title that Leto cited, apparently mistakenly, in a recent tweet that—conspicuously enough—was subsequently deleted. Indeed, in the original version of the now-reposted (as seen just below,) and edited tweet, Leto similarly confirmed his starring role, but went so far as to divulge the full title of the film for which he has been cast. The tweet in question—seemingly designed as an impromptu title reveal—was a reply to another in which the star conveys gratitude for the role, citing his own personal experience as a fan.
While Disney has yet to confirm or deny the veracity of Leto's Tron: Ares slip, it does bear a certain ring of truth based on past information reported about the long-gestating threequel. Back in March of 2017, a report indicated that the project had started to take shape in 2015 as Tron: Ascension, which was to see the return of the 2010 Tron: Legacy triumvirate of director Joseph Kosinski and co-stars Garrett Hedlund and Olivia Wilde. Pertinently, the Ascension script, by Jesse Wigutow, was to feature a new character named Ares, played by none other than Jared Leto. However, while the Ascension iteration never made it past pre-production, its essence is rumored to have been preserved in the new, Davis-directed film. Thus, Leto's reported status for the now-on-track threequel seems to point to him headlining as a protagonist-upgraded version of Ascension's Ares.
As mentioned, Tron 3 is merely the latest addition to Leto's franchise plate, even if it's a belated one, seeing as he's been attached to the project since 2017. He will be seen playing the living vampire of a title character in Sony Pictures' Marvel Cinematic Universe-adjacent Spider-Man cold spinoff film, Morbius, which is currently scheduled to hit theaters on March 5, 2021; a COVID-caused delay to a premiere that was originally scheduled for July 31 of this year. Additionally, despite the success of 2019's Joker, which yielded star Joaquin Phoenix a Best Lead Actor Oscar statue, Leto is still rumored to reprise his own tattooed, grills-sporting version of DC's Clown Prince of Crime from 2016's Suicide Squad, presumably once again opposite Margot Robbie's Harley Quinn. However, no solid plans have manifested for that idea just yet.  
For now, we'll have to wait for all the major details about Tron 3, including confirmation of its title. However, just don't be surprised if Disney comes out—enthusiasm deflated with the cat possibly out of the bag—and unceremoniously declares it Tron: Ares.