News
Ryan Reynolds Has a Streaming Service with Just One Movie
A cheeky campaign for Ryan Reynolds' Mint Mobile takes shape as a streaming service that only carries his 2003 movie, Foolproof.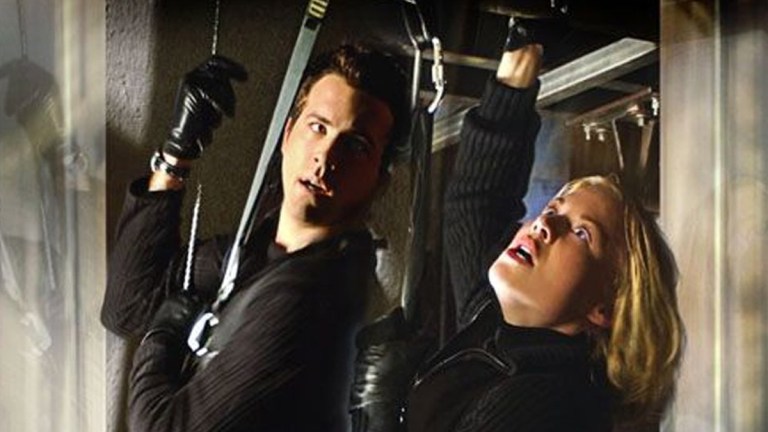 Ryan Reynolds never misses an opportunity to take hilarious self-deprecating shots at some of the more ignominious entries from his notoriously checkered CV of movies and television. The latest such example, a campaign for his Mint Mobile premium wireless company, takes a shot at his film flop, Foolproof.
Enter Mint Mobile+, a mock streaming service set up by Reynolds, bearing an accompanying website that entices would-be subscribers by showcasing the content available to stream. However, said content simply consists of one movie, Foolproof, which has been repackaged in numerous entries across the platform's entire (Disney+ imitating) interface. Reynolds spent the last week dangling this proverbial carrot with "80 minutes" of "bingetastic unoriginals" that will stream in "2003 DVD quality." Check out his "trailer" for the service just below.
The centerpiece of the pseudo-streamer, Foolproof, directed by William Phillips, is a mostly-forgotten 17-year-old Canadian comedic heist movie, in which Reynolds co-starred with Kristin Booth. The film premiered on October 3, 2003 at 189 theaters, going on to earn a worldwide gross of $779,036. While the film clearly had no ambitions beyond its designation as a conventional genre entry destined to enjoy life on DVD shelves, it clearly didn't arrive during a high point in Reynolds' career. Indeed, the film represented a period in said career shortly after the end of an initial claim to fame as part of the main trio of 1998-2001 ABC sitcom Two Guys, a Girl and a Pizza Place and a big screen breakout (of sorts) as the titular party fixer of 2002 frat house comedy National Lampoon's Van Wilder.
Now a megastar with money to invest, Reynolds purchased an ownership stake in the (very much real) Mint Mobile this past November. The service is being touted, per its website, as an idea to "deliver affordable, premium wireless direct-to-consumer," which puts into context some of the language he uses in the Mint Mobile+ parody, notably referring to it as "the world's most affordable streaming service," presumably drilling the "affordable" aspect—perhaps subliminally—into the general consumer public. Thus, in a subsequent tweet, Reynolds lets the cat out of the bag that Mint Mobile+ is not something that's legitimately moving forward… you know, in case there's actually someone out there who shouted "shut-up and take my money!" to the idea of paying to stream Foolproof in perpetuity (as opposed to picking it up in a discount DVD bin).
Interestingly enough, Mint Mobile+ isn't even the first major bit of trolling that Reynolds has pulled in the month of August. In a move that was similarly heralded with teaser tweets, Reynolds released what turned out to be a mock trailer for a "Green Lantern Cut" of Justice League, editing the superhero he portrayed in 2011 big screen dud Green Lantern into the fray with the rest of the DC Extended Universe A-listers, save for the twist reveal that the emerald ring-wielder is played this time by (a deepfake-conjured) Tom Cruise. The move seemed designed to poke fun at what seems to be an oncoming deluge of extended cuts of old films in the wake of HBO Max's recent order for the "Snyder Cut" version of the 2017 superhero megamovie. Likewise, this Mint Mobile+ stunt, besides promoting Reynolds' company, serves as a satirical statement on the confusing nature of the myriad streaming services that have popped up for the most esoteric of specialties.
Regardless, Reynolds is probably chomping at the bit to get back to work in a hopefully-imminent post-COVID world. His next film, video game comedy Free Guy, is scheduled to hit theaters on December 11, but the likelihood of that date holding diminishes by the day. Additionally, his return for a third Deadpool film, this time under the auspices of new Fox-owners Disney, is still alive, albeit put on ice as the company assesses how to effectively inject the R-rated, Fox-concocted franchise into the Marvel Cinematic Universe fray.