News
Everything Everywhere All at Once: Where to Watch and Stream
Everything Everywhere All at Once cleaned up at the 2023 Oscars. If you haven't gotten around to watching the Best Picture winner yet, here's where you can stream it right now!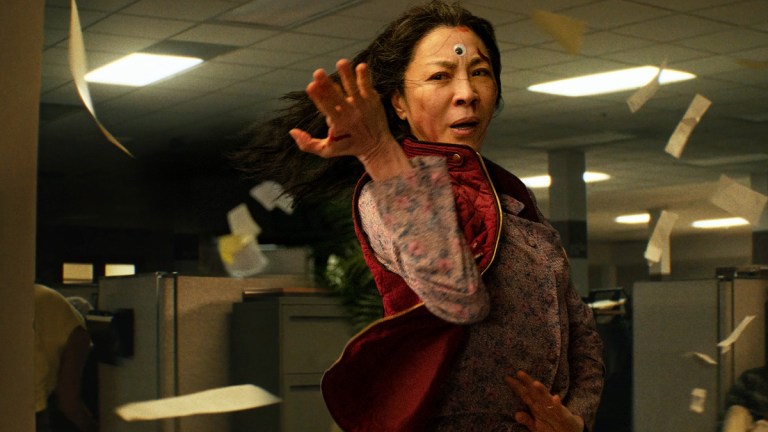 For all but the most hardcore movie buffs, Oscars night often brings a sense of déjà vu: for months, you've been meaning to watch all of the films nominated for Best Picture, but for whatever reason, you just didn't get around to it. Occasionally, one of the movies that passed you by even ends up sweeping the Oscars, like Everything Everywhere All at Once did at this year's ceremony. Your resolve has hardened – it's time to check out the movie everyone's been raving about!
After being nominated for 11 awards, Everything Everywhere All at Once won Best Actress, Best Director, Best Supporting Actor, Best Supporting Actress, Best Editing and Best Original Screenplay at the 95th Academy Awards, and there's never been a better time to hop aboard the hype train and find out why the movie has become such a runaway success.
What You Need to Know About Everything Everywhere All at Once
The film stars Michelle Yeoh as Evelyn Wang, a middle-aged Chinese American immigrant who runs a laundromat with her husband, Waymond (Ke Huy Quan). Evelyn is bored, unhappy, and about to be served divorce papers. She eloped to the US with Waymond when they were younger, and the pair have a grown-up daughter called Joy (Stephanie Hsu), who is frustrated with her mother's apathy and plain refusal to accept her relationship with a non-Chinese girl called Becky.
Emotions reach critical mass when the IRS (represented by Jamie Lee Curtis' inspector Deirdre Beaubeirdre) begins an audit on the laundromat, and Evelyn's demanding father Gong Gong (James Hong) comes to visit for a Lunar New Year party.
If that plot sounds straightforward, do not be fooled! This is a sci-fi movie full of multiverse-jumping events that will change Evelyn's life forever.
Everything Everywhere All at Once Cast and Directors
Yeoh won Best Actress at the Oscars for her portrayal of Evelyn. Her career first kicked off notably in the 1990s when she appeared in a string of Hong Kong action films, during which she often performed her own stunts. After moving to the US, she landed big roles in Tomorrow Never Dies (1997) and Crouching Tiger, Hidden Dragon (2000). In 2017, she joined the cast of Star Trek: Discovery, where her character Philippa Georgiou became a fast fan favorite.
Quan won Best Supporting Actor for his performance as Evelyn's husband Waymond, becoming the first Vietnam-born actor in history to do so. Until Everything Everywhere All at Once, Quan was best known for his roles as a child star, having played the iconic 80s characters Short Round in Indiana Jones and the Temple of Doom, and Data in The Goonies. Everything Everywhere All at Once marks Quan's return to acting after a 20-year absence from the screen.
Everything Everywhere All at Once is an A24 project produced by Mike Larocca, Jonathan Wang, Peter Tam Lee, the Russo brothers (Avengers: Endgame), and "the Daniels" – Daniel Kwan and Daniel Scheinert – who also directed the movie, having previously helmed the very weird Daniel Radcliffe outing, Swiss Army Man. The directing duo shared Best Director at the Oscars for this one!
Where to Watch and Stream Everything Everywhere All at Once
If you're in the US, you can stream Everything Everywhere All at Once on Showtime, Amazon, Apple TV, and Hulu. If you're in the UK, the movie is available right now as part of your Amazon Prime Video subscription.