Features
Dune 2 Delay Signals Entire Fall Film Slate Is in Doubt
Dune: Part Two is officially delayed, and with this action the entire fall film slate is cast in doubt.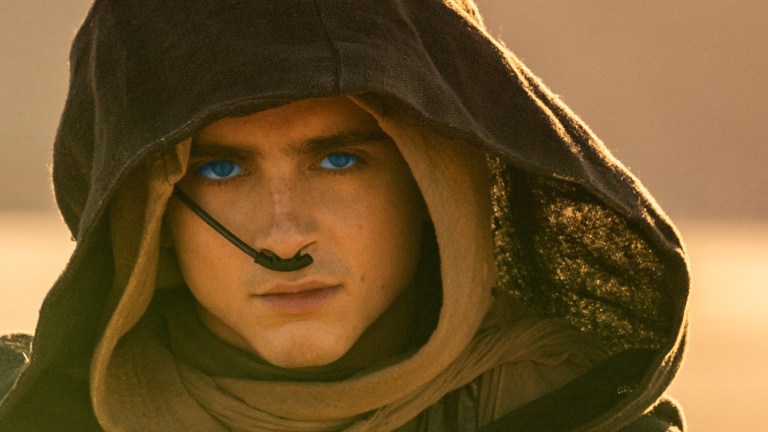 "He who can destroy a thing has the real control of it." So says Paul Muad'Dib Atreides in the latest trailer for Dune: Part Two. However, he might as well be talking for David Zaslav, because the Warner Bros. Discovery CEO seemed to take Atreides' logic to heart after the Dune sequel was officially delayed yesterday evening.
In what had become an expected inevitability, Warner Bros. Pictures made good on leaked intimations at the studio from a month ago: Dune 2 is abandoning its Nov. 3 release date and 2023 altogether, and it is now moving all the way to March 15, 2024—ostensibly because of the ongoing writers (WGA) and actors (SAG-AFTRA) union strikes. And just like that, the floodgates appear to be open for a mass exodus of the fall film slate.
To be clear, Warner Bros. has not completely abandoned the rest of 2023; the studio still has the Timothée Chalamet-led Wonka, The Color Purple, and Aquaman and The Lost Kingdom expected to arrive in December (for now). However, the choice to delay what was expected to be both the studio and industry's biggest blockbuster of the fall season casts a long shadow of doubt over the remaining fall schedule, particularly other films still slated for October and November of this year.
By pushing Dune: Part Two out of the fall corridor, WB would seem to be signaling that they are expecting the strikes to drag into October if not November (Dune would need at least several weeks in October for a proper global press rollout ahead of release). And while at a glance, WB's abandonment of November would seem to be a boon for other major studio releases in that month, it should be noted that they are part of the same AMPTP (Alliance of Motion Picture and Television Producers) bargaining group as Warner Bros., and are equally as invested at ending the strikes in the studios and streamers' favor.
So if WB is calculating the strike will drag into October and November, Disney CEO Bob Iger is probably looking at similar projections, and may worry about releasing The Marvels on Nov. 10 without Brie Larson available to go on The Tonight Show, just as WB clearly decided Dune 2 needed Chalamet and Zendaya to trip the light fantastic on the red carpet.
Dune 2 isn't the first film to be delayed due to concerns about the WGA and SAG-AFTRA strikes. The Zendaya-starring Challengers also moved from this fall to April 26, 2024, and Sony's Kraven the Hunter moved back nearly a year from October 2023 to Aug. 30, 2024, among others. However, the sci-fi epic is undoubtedly the highest profile film to thus far abandon 2023. That move thus seems likely to presage both other blockbuster events following suit, as well as smaller films that are dependent on familiar faces to draw attention to original ideas, such as Ethan Coen's Drive-Away Dolls, which moved to February 2024 because the studio estimated Margaret Qualley, Geraldine Viswanathan, and Pedro Pascal doing interviews for the film was critical to achieving audience awareness.
Unfortunately, this is overall a grim calculation by the studios, and one that appears to be made as much at their own expense as it is the striking actors and writers, who Iger previously described in the press as not being "realistic."
For instance, it is notable that the Dune 2 delay occurred the same week WGA representation announced the AMPTP's latest offer was "not yet good enough" in regards to demands, including that writers receive fair compensation for shows and films that are successful on streaming, and that there are guarantees against writers being replaced by artificial intelligence. While the timing might be coincidental, the message of the Dune delay (intentional or otherwise) is that studios are prepared to let this drag into the holiday season, past Dune's original Nov. 3 release date, and longer if it might end things in their favor.
To do this while the state of moviegoing is still incredibly fragile is extremely questionable. While the fate of theatrical distribution is far less of a priority for many of WBD's fellow AMPTP negotiating partners, such as Netflix, Amazon, and Apple, it is vital for traditional movie studios like WBD, Disney, Universal, Paramount, and Sony Pictures. As WB's previous flirtation with a year's worth of day-and-date releases in 2021 proved, the bigger event-sized spectacles that underwrite a traditional movie studio's fiscal year leave money on the table (if not lose it outright) when they pivot to a streaming or hybrid distribution model.
One of then-WarnerMedia's few successes in that woeful experiment was Dune, which made $400 million worldwide despite being online for both HBO Max subscribers and streaming pirates the same day it opened. Which raises the question of how much it might've made without being kneecapped by its studio—it did, after all, open lower than Halloween Kills in October 2021.
By pushing the sequel five months down the road after trailers, posters, and the marketing machine has prepared moviegoers for a November 2023 release date is likely adding tens of millions of dollars to Dune: Part Two's price tag, and is removing from the books what was easily going to be the biggest film of the studio's fourth quarter, and perhaps the biggest movie of WB's year outside of Barbie.
Yet the bigger damage is what a mass exodus could mean for moviegoers as a whole and the habit of… going to the movies. On a personal level, it's undoubtedly disappointing for sci-fi fans to have to wait nearly half a year longer for the second-half of Denis Villeneuve's adaptation of Dune. But in a larger sense, moviegoing habits are still unpredictable and recovering from the pandemic. Indeed, WB's own Barbie, alongside Universal's Oppenheimer last month, appeared to signal a possible sea change, both in terms of audience interests and audience enthusiasm for moviegoing. With a handful of exceptions, moviegoers have been reticent about returning to the cinema since the pandemic, and the movies they have been returning the most for were primarily sequels (Top Gun: Maverick, Avatar: The Way of Water, Spider-Man: No Way Home).
The Barbenheimer phenomenon was the best example since 2019 that audiences are hungry for original stories, or at least new IP that doesn't look like every other superhero movie they've already seen. It remains touch and go, but the industry might be turning a corner after years of audience ambivalence. So to then manufacture another mass delay of films because studios are hellbent on retaining the possibility of replacing actors and writers with A.I. (a conceit that the U.S. courts just made exponentially harder for studios) and so as to lock out talent from profit-sharing in streaming seems woefully misguided… especially for the studios whose profits right now are coming from theatrical distribution and not the money drain that streaming has proven to be for everyone not named Netflix.
In the meanwhile, it also might be exhausting for the talent both on strike and those seeing their work yanked around. First WarnerMedia put Villeneuve's dream project on HBO Max the same day it opened in theaters, and now the rechristened Warner Bros. Discovery is delaying the second half of that project due to hardball tactics that will almost certainly extend the strikes for several more months. One might wonder how eager Villeneuve is to helm an adaptation of Dune Messiah at this point. As Maud'Dib says, to control something, you might have to destroy it.