Features
Dick Tracy: The Long Journey of the 1990 Blockbuster
Before Warren Beatty, Madonna, and Al Pacino got colorful, the 1990 Dick Tracy movie had a tough road to the big screen.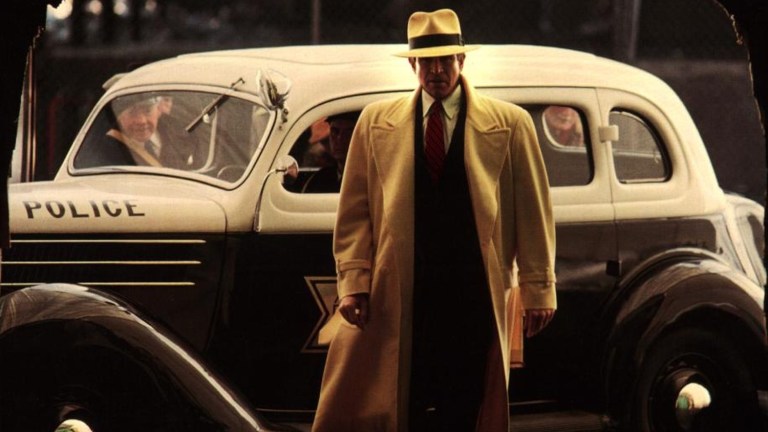 When Dick Tracy burst onto screens in June 1990, it was heralded as the heir to the previous summer's comics-to-page blockbuster throne, Batman. While the Disney film boasted similar star power (Warren Beatty and Al Pacino), intricate production design that evoked both colorful Sunday comic strips and classic gangster films, and even a tie-in album by one of the biggest pop music stars of a generation (Madonna's I'm Breathless), characters like Dick Tracy and Flattop were hardly the pop culture mainstays that Batman and the Joker were, even before that 1989 film revitalized their fortunes. Nevertheless, Dick Tracy made a box office splash (albeit not a Batman-sized one), and racked up three Oscars (for Art Direction, Makeup, and Original Song) as well as nominations for Best Supporting Actor (for Al Pacino's scenery-chewing turn as Big Boy Caprice), Cinematography, Costume Design, and Sound Design.
But Dick Tracy had a difficult journey. Bouncing around between studios and multiple directors before Warren Beatty finally optioned the rights and brought it to Disney, it took nearly a decade to bring the celebrated comic strip detective to the big screen. But through it all there were screenwriters Jim Cash and Jack Epps, Jr.
The Early Days
Long before the pair saw their star rise in Hollywood with the screenplay for 1986's Top Gun, which kicked off a run of notable '80s box office hits like Legal Eagles, The Secret of My Success, and Turner and Hooch, Cash and Epps were hard at work on Dick Tracy. Their work with the character began in the early 1980s after a meeting with director John Landis.
"We had just written a script called Whereabouts that was very well received all over town," Epps tells me by phone. "John Landis wanted to have a meeting with us because he was interested in directing it and he also wanted to talk to us about doing Dick Tracy. Jim really liked the idea of doing Dick Tracy. I was less enthusiastic at the time, but his enthusiasm was so great that I quickly got on board."
Landis hired the pair to develop Dick Tracy at Universal, although the film was intended at the time to be a co-production between Universal and Paramount. But even in the early 1980s, Dick Tracy had somewhat receded from the public eye. While the strip was still going strong under the guidance of writer Max Allan Collins, and artists Rick Fletcher and Dick Locher, the franchise was far from its glory days.
Tracy had been the subject of four successful Republic movie serials in the 1930s and '40s, four additional B-pictures, and a 1950s TV series, but the character hadn't been successfully translated to the screen in decades. A miserably unfunny and racist animated series from the early '60s is best left forgotten and a pilot made in the wake of the success of the 1966 Batman TV series never aired. Thus it was important to get the character right to reintroduce him to the largest possible audience, and that meant the screenwriters had to do their homework. Specifically, Epps got to dig into decades of Gould's original Dick Tracy strips
"Basically I said, 'Guys, I've got to learn more about this,'" Epps recalls. "I mean, I knew about it because I had read the strips as a kid." But Epps had grown up during an odd period in Dick Tracy history, when the characters spent a chunk of the 1960s solving crimes, not on the streets of a city that resembled Chicago, but on the moon, a setting and tone that couldn't be further away from the 1930s gangster movie that they were commissioned to work on.
"I never liked the whole Moon Maid thing with Dick Tracy…So I asked [Universal] to see if they could get me copies of the entire strip since they came out all the way through the '60s," he says. The studio obliged by getting San Francisco's Cartoon Art Museum to print out copies of the first few decades of Dick Tracy daily and Sunday strips and sent to the writers.
"I read them like a book in essence and it was an amazing experience because Chester Gould was brilliant," Epps says. "And of course by the time I got done with it, I was absolutely in love with it and fell in love with certain specific characters… especially the character of The Blank, that just jumped out at me and I wanted to make this an essential character of this story."
And while there were other influences Cash and Epps brought with them to the script, they kept returning to Chester Gould's strips for inspiration.
"Both Jim and I were huge fans of '30s movies, screwball comedies, gangster pictures, Warner Brothers movies, those sort of things," Epps says of the tone they were looking for. "So sort of just hearkening back to that world and trying to create that sort of nuance with these characters, and I really wanted to keep Chester Gould's vision there. Because once I had read all those strips, I was amazed at his creativity and the characters he created and his storylines. I wanted to do justice to this man's work."
The Story
The earliest drafts of Dick Tracy I was able to get my hands on while researching this article were the third and fourth, each dated in late 1983. And while there are some noticeable differences between these and the film that made it to the screen (including a completely different opening scene with Tracy taking down Shaky in the Mayor's office), the overall arc of the story was always in place: Big Boy Caprice makes a power play against his old boss Lips Manliss, The Blank makes moves on Big Boy, Breathless Mahoney tries to work both sides, all while Dick Tracy remains the toughest, most honest cop in town… who suddenly finds himself as the father figure to a nameless orphan.
But that wasn't always the case.
"We didn't want to do an origin story," Epps recalls. "We wanted to just deal with Tracy in the middle of this as an established figure. But part of the process was… we handed in a first draft, but actually didn't have Junior Tracy in it at that time."
Far from being a studio-mandated kid sidekick dreamed up for the film (where he was known as "The Kid" and played by Charlie Korsmo), the character of Junior was an early addition to the Dick Tracy mythos, first appearing in the strips in 1932, and he remained a regular fixture through the decades. It was natural that lifelong Dick Tracy fans would expect him to appear in the movie, and it was Landis who insisted that the character be included.
"That was John's big note," Epps says. "So that was the biggest change/rewrite I've ever done, because we realized to put Junior into it, we had to change the entire focus of the screenplay. Before it was Dick Tracy catching bad guys, and then the second draft was Dick Tracy having a family because the relationship with Junior is about a father-son relationship, and with Tess Trueheart, that becomes a triangle of a family there. That changed the emotional dynamics of the piece and made it richer and fuller. John was absolutely right. It was a great note."
However, Landis' biggest contribution to the film was one of his last, departing the project after a horrific helicopter accident during the filming of his Twilight Zone: The Movie segment in 1982 killed two child actors and Vic Morrow. The director was charged with and later acquitted of involuntary manslaughter. Landis' replacement was Walter Hill, fresh off the success of 1982's cop action hit 48 Hrs.
Walter Hill's Dick Tracy
"Walter was really good because a big change happened in the major second draft. We were just writing all over the place; we loved all the characters, and Tracy was not necessarily as strong in the draft as he needed to be," Epps says. "And Walter taught us a lesson, as a screenwriter, editor, director, that we need to have Tracy in every scene."
Specifically, the studio already had a name in mind for the title role: Warren Beatty. Hill wanted Cash and Epps to understand how important it was for the potential star to know he would be in as much of the movie as possible.
"With Walter's help, he taught us a great lesson as screenwriters and helped us tighten that movie into what the third and fourth drafts are," Epps says. "I can't tell you whether the third draft is Walter Hill or not. It probably is. And that's when things got much tighter. The ending changed. A lot of changes happened on that draft, but it was a great learning experience. I think Walter added a lot of elements that are in the final movie."
While the film's overall story was in place from the earliest drafts, the script was still evolving based on the directors attached to it.
"Each draft was different because of the different directors," Epps says. "A John Landis draft was wacky or had bigger characters since it was going to be John Landis. Walter Hill's draft was tighter with more action."
So confident was the studio in Hill's vision for Dick Tracy that they began building sets for the film. "They were moving forward with it," Epps says. But it may have been the movie's star who ended up preventing us from seeing a Walter Hill Dick Tracy movie.
"The story that I heard was Warren met with Walter and said, 'By the way, can I look at dailies?' And Walter said, 'I never let my actors look at dailies.' End of project with Walter Hill. Warren said, 'Not interested, thank you.' And so the script got dropped."
That may have been the end of Walter Hill's Dick Tracy, but it wasn't the end of the movie.
Budget Cuts
Enter actor/director Richard Benjamin, whose early directing credits showcased a talent for period pieces with projects like My Favorite Year, Racing With the Moon, and 1984's Tracy-appropriate and 1933-set, City Heat, starring Clint Eastwood and Burt Reynolds. Paramount Pictures was still interested in making the movie, but they wanted to see if they could do it for a smaller budget than what Landis and then Hill had started cooking up.
"We did what I called the cheap draft where we started cutting stuff out, and it's like cutting off toes because you're really cutting for money, not cutting for movie," Epps says. "Nobody wanted to move forward on that draft and it just sort of died."
Warren Beatty Gets His Man
It sounds like Dick Tracy was never destined to work as a small movie, but Cash and Epps were determined to represent as much of Gould's work as they possibly could. And here's where Warren Beatty finally gets his man. When the film rights reverted to Tribune Media Services, Beatty optioned the rights himself and brought it to Disney.
"We met with Warren several times and we talked about the picture," Epps says. "He wasn't even sure if he wanted to direct it at the time, but he's a quality director. He really has a vision. I was just saying, 'Warren, of course, you've got the vision, direct this movie, make this thing.' And then we started talking about tone, situations like that."
But by this point in the late '80s, Cash and Epps were in the midst of a series of high profile success stories of their own, and they found their involvement in the project starting to wane as things started to ramp up at Disney.
That production included taking the relatively grounded, Chicago-set gangster story of the scripts and adding Richard Sylbert's eye-popping, comic strip accurate six color production design, as well as a number of original songs meant to showcase Beatty's co-star, Madonna, at the absolute height of her powers. It's a sharp departure from the early drafts, which only vaguely reference Bix Beiderbecke jazz or a snippet of Breathless Mahoney singing George and Ira Gershwin's "Embraceable You."
"One of the things that I always say is that I didn't write a musical and this movie becomes almost a musical," Epps says. "We have Sondheim lyrics, you can't complain about that, but it suddenly changes the pacing of the movie. And in retrospect, I wish that we had worked together at things, because it feels like the musical scenes feel jammed in as opposed to woven in."
But that doesn't mean Epps isn't a fan of the finished product. "The art design is unbelievable," he says. "The look of the movie is fabulous. The colors, [production designer] Richard Sylbert, it's really amazing. They just went all out."
There's one scene in particular that Epps feels is most in the spirit of the work he and Cash did in the project's early days. It's the moment when Tracy confronts Steve the Tramp early in the movie and promptly beats the crap out of him. It showcases the two-fisted nature of the character and adds some wonderfully retro touches, like being slightly sped up in the style of the old Republic serial fight scenes, as the shack rocks back and forth from the force of their blows.
"The verisimilitude of that scene; the roughness of it, the toughness of it, was sort of closer to our tone. Then, I think the movie goes off in a larger than life style," he says.
The Villains
While the Dick Tracy mythology has no shortage of memorable bad guys to choose from, the movie's main villain was decided early on, back when Landis first enlisted Cash and Epps to write the film.
"John basically said, 'I want to set it in the '30s with Big Boy Caprice,'" Epps says. "He didn't have any other guidelines, just, 'I want it to be that sort of a movie.'"
There are more colorful and gruesome Dick Tracy villains, but none have the storied history of Big Boy, who holds the distinction of being the very first baddie Tracy ever took on in Chester Gould's earliest comic strips back in 1931. At the time, Big Boy was likely a stand-in for famed gangster Al Capone, who dominated the headlines of Prohibition-era newspapers. While grotesqueries like Flattop, the Brow, and Pruneface might be more memorable to some fans, Big Boy's place in history as Tracy's first nemesis, as well as the most frequently recurring one in the strips, made him a natural fit as the central villain of the film.
But he wasn't going to carry the movie on his own. Every crime boss needs his hoods, which allowed for many of Gould's famed villains to make appearances. An all star cast made themselves almost unrecognizable under makeup to bring over a dozen comic strip baddies to life.
"We loved the characters so much… We threw everybody into it because we saw that was the world of Chester Gould," Epps says. "And we didn't want to just hold back and only do two or three. That's why there's a whole bunch."
And at the center of it all, there's Pacino as Alphonse "Big Boy" Caprice. Pacino plays Big Boy as a malapropism-spouting wannabe; a small time hood desperate to prove that he can compete with, well, the big boys. But that isn't the seasoned crime boss from the comic strip, nor is it quite the more traditionally self-assured villain from those early drafts.
"I think an actor like Pacino, he's going to bring something to it, he's going to create a character," Epps says of Big Boy's more over-the-top nature in the movie. "And my guess is if I was involved with that, I guess that was performance-based; him working with Warren and trying to create this crazy, bigger than life character."
Pacino's scenery-chewing stands in stark contrast to Beatty's straight as an arrow Tracy.
"I think Warren was very much wanting to do a comic book and he wanted to create their scenes where Tracy is static and it looks like the hyper colors of a comic strip," Epps says. "I think it was an artistic choice he made."
The Hype Machine
All of these choices paid off. Dick Tracy raked in $103 million at the U.S. box office for a total of $162 million worldwide. Certainly a blockbuster by 1990 standards, where it was the ninth highest grossing movie of the year. But after Batman's $411 million worldwide haul the year before, it just didn't seem to have the same impact. Certainly not with Disney studio execs, who never moved forward with a possible Dick Tracy 2.
"I think that from Disney's point of view, it wasn't enough of the box office sensation that they needed to move forward with [a sequel]," Epps says (a sentiment borne out by then-Disney film head Jeffrey Katzenberg's infamous 1991 "Some Thoughts on Our Business" internal memo which mentioned Dick Tracy by name several times).
Still, the movie was a pop culture sensation that summer. Madonna's I'm Breathless soundtrack album was certified double platinum, thanks in no small part to the #1 hit "Vogue" (which, it should be noted, doesn't appear in the movie). Stores were flooded with Dick Tracy action figures, trading cards, bubblegum, bath towels, and more. Big Boy's "everywhere I turn it's Tracy, Tracy, Tracy!" tantrum in the film could very well have applied to the marketing barrage.
And while the notion of kids being fascinated by Prohibition-era gangsters with exaggerated facial characteristics might seem a little surprising today, one person who wasn't surprised was Jack Epps, the writer who was initially less enthusiastic about writing Dick Tracy.
"I actually fell in love with Tracy and I started buying some original comic strips, so I have about 10 Chester Gould originals," he says. "I just started collecting little stuff and I'd see things. There sure is a culture of Dick Tracy that was fun to see, and there was merchandise from the very beginning. I mean, stuff goes back to the '30s. He was much bigger than we realize today."