Features
What Dick Tracy 2 Would Have Been
The 1990 movie never generated a sequel, but we now know what the story of Dick Tracy 2 would have been.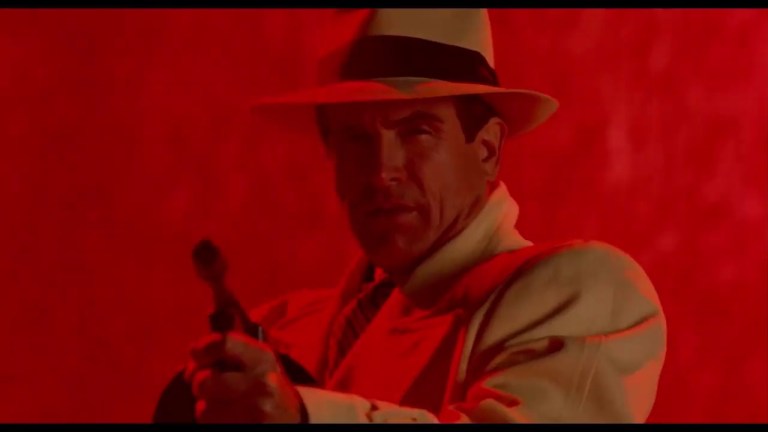 The character of Dick Tracy has been around since 1931, appearing daily in newspaper comic strips almost continuously since his debut, and achieving a level of popularity during his heyday that few other characters could aspire to. In just his first 20 years of existence, there were four Dick Tracy movie serials, four feature films, a TV series, and countless items of merchandise.
But many modern fans know the character best thanks to his portrayal by Warren Beatty in 1990's big budget summer blockbuster movie. That film attempted to kick off a wave of Tracymania unseen since the 1940s. It never quite took hold.
Despite being one of the highest grossing movies of 1990, and garnering a slew of Oscar nominations, Dick Tracy was a victim of expectations. The film that had once been envisioned as a gritty ode to 1930s gangster movies became a giant blockbuster with a merchandising bonanza meant to rival the previous summer's Batman. Despite that onslaught of publicity, the movie didn't instill enough faith in Disney executives to move forward with a franchise.
But that doesn't mean that there weren't plans for a sequel at one point. Dick Tracy screenwriters Jack Epps, Jr. and Jim Cash did have ideas for what Dick Tracy 2 could have been. While no script was written, Epps had some ideas, and he recently told us all about them.
"I met with Warren," Epps says. "I had an idea of of how to do Dick Tracy 2, which was a big jump in time like the strip. What [Dick Tracy creator] Chester Gould did as you read through it, he has big jumps in time and he mirrors the culture, he deals with the war, he deals with the '50s, he deals with the '60s."
The sequel would have seen a roughly ten year jump in time, featured an older Junior, and put Tracy in the midst of World War II.
"The sequel [would have been] something around munitions and war secrets," Epps says "I probably would have gone to factories, because I was always amazed at how America turned into this armament industry. We had no weapons manufacturers before the war began, and by the end, we were a juggernaut, turning out planes in two, three days and things like that."
To be clear, there were no plans to put Warren Beatty in uniform and send Tracy overseas to join the war effort on the frontlines. Dick Tracy 2 would have been strictly a domestic wartime affair.
"We probably would have dealt with some of that imagery of [manufacturing] plants, the size of [the war effort], and airplanes," he says. "Not going over to Europe or anything like that, but trying to do it at home, more spy and espionage."
Unfortunately, the villain who would have best fit the bill for Dick Tracy 2 was killed in the first few moments of the original movie.
"We blew a lot of the villains in the opening scene of Dick Tracy," Epps acknowledges. "I know the Brow was in there, otherwise, it would have been the Brow. We just would've gone to Gould, because his work was so good."
In the original Dick Tracy comic strip, the Brow was a Nazi spy operating in the United States by the name of Alfred Brau. The Brow first appeared in the June 13, 1944 strip, at the height of the US involvement in World War II. He aided and abetted the enemy via spying and sabotage for the next three months of the series before meeting his end on Sept. 24, 1944…by being impaled on an American flagpole.
Putting Tracy in a wartime setting and defending the homefront was exactly what Max Allan Collins did when he wrote one of two sequel novels to the film: Dick Tracy Goes to War, in 1991. But that was merely a coincidence.
"We'd never had any conversations with [Collins]," Epps says. "I did have a conversation with Chester Gould at one time, but no. When you're doing a project, we're hired to do it, so we're not going to reach out to other people…you get all sorts of issues with ideas and rights and all that sort of stuff, so you've got to be very careful about that. But Chester Gould wrote Dick Tracy as dealing with spies, and the Brow was the big spy guy in the series. So my interest in that as a potential sequel was based on the series, which I had read."
Not only was there no sequel, but Tracy has since been strangely absent from screen adaptations of any kind. Among other things, a live action TV series with none other than Bruce Campbell in the title role was vetoed as rights issues to the character between Warren Beatty and Tribune remain murky.
But inevitably, the most famous cop in all of fiction will find his way to the screen again. The question is how would he be received in our current moment as American society reevaluates communities' relationship with policing. It's a challenge that anyone hoping to revive Tracy for a modern audience will have to face.
"There's a lot of issues raised about how police are being depicted and not looking at a nuanced picture of them. Police in the movies are always right and never wrong." Epps says. "So I think an evolution of the character that reflects the times we're in, the times that we're hopefully moving forward to. It's just a matter of how is Tracy part of our world today? We have to take a new view of him in terms of culturally how we're going to deal with him. That becomes a problem maybe in terms of doing a detective story from the past right now, unless you're going to actually put it in historical context."
Epps does offer this advice to anyone trying to tell new stories with the character.
"I think the biggest question is who is he now? What does he do? And what does he represent in this day and age? Who is Dick Tracy of these times right now? And what does that mean? So much of Tracy was just his relationships and also it was cutting edge, because that was part of what Chester Gould was dealing with. So is that still part of Dick Tracy today? It asks a lot of questions that have to be answered."
As far as we know, there are no live action Dick Tracy projects in development, but hopefully the next time the detective hits the screen, some of these questions will be addressed.