Features
The DC Universe Deserves Better Than the Marvel Formula
Warner Bros. has a 10-year plan for a shared cinematic DC Universe. Again. But do fans need it?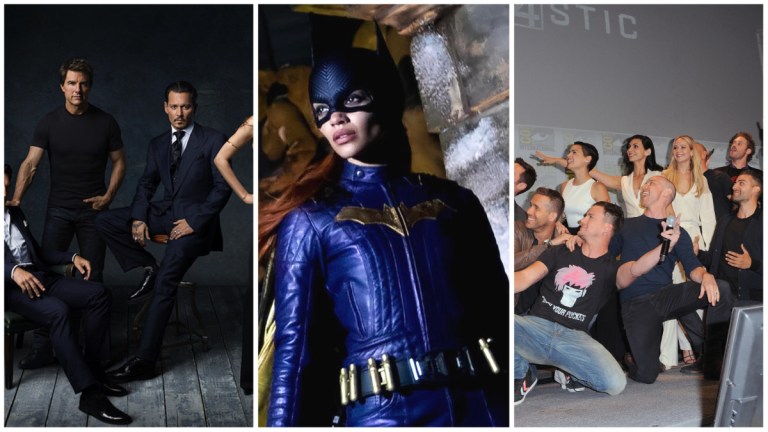 If you haven't already, please take a moment to examine the image above. It's a collage photo of three different moments at three different studios that were each chasing a "shared cinematic universe." On the left, we have the most infamous failure-to-launch story out of the Hollywood of the 2010s: Tom Cruise stands between Johnny Depp and Javier Bardem. Between them were the intended stars of new "Universal Monsters" movies (aka superhero movies in disguise). They were meant to be the Frankenstein Monster, the (new) Mummy, and the Invisible Man of the Dark Universe.
On the right of the collage, we have a different scene from 20th Century Fox's San Diego Comic-Con panel circa 2015. In retrospect, Fox's expectations appeared overly optimistic when they had Hugh Jackman, Ryan Reynolds, Channing Tatum, Jennifer Lawrence, and Miles Teller, among others, stand shoulder to shoulder for a selfie with Stan Lee, promising a glistening future of shared superhero movies like X-Men: Apocalypse, Deadpool, Logan, Fantastic Four (2015), and Gambit. Unlike the Dark Universe, most of those movies got made—but notably the one belonging to the actor front and center, and holding the cellphone, did not. Still, seven years later, the interconnected universe such corporate synergy was meant to herald never materialized, and the only two movies from this era anyone still talks about were the fairly standalone, R-rated wildcards starring Reynolds and Jackman.
The main image is of Leslie Grace, a breakout star from In the Heights who's big chance at movie stardom, Batgirl, was filmed and edited, but which just got put on a permanent shelf so Warner Brothers' new corporate owners could claim a tax credit. Like the other two images, it tells the story of a vision that will not come, and of a desperate attempt to emulate Marvel Studios' factory farm model of moviemaking falling into disrepair. And yet, unlike ghosts of the Invisible Man and Gambit movies that will never be, its cancellation has a ring of cruelty to it. Grace's movie was not killed because another vainglorious studio's dreams of a shared universe were dashed; it died so Warner Bros. could attempt to repeat the same mistakes again.
All of which begs the question: Is an interconnected shared universe of movies worth it?
Over the last week, a lot of industry insiders and prognosticators have said it is. We even noted this when news of Batgirl's cancellation first broke. From the perspective of new Warner Bros. Discovery CEO David Zaslav, it makes perfect nickel and dime sense to want to clean house and tear down the DCEU as we know it. If your goal is to have a brand that audiences show up for, year in and year out, regardless of their familiarity with the current product's main character or the filmmakers behind it, following the model that can turn a former B-lister like Doctor Strange into a franchise worth $954 million per entry has a lot of appeal. Certainly more so than the model that created a situation wherein three different actors are playing Batman at the same time, allowing online fans to divide into just as many factions as they snipe at each other about why their Caped Crusader is better than yours.
Yet the vast majority of the folks speculating, and perhaps even fantasizing, about WBD's new purported 10-year plan to build a shared cinematic universe—aka the altar upon which Batgirl was sacrificed—do not actually have any stake in the company, whether as employees, executives, or shareholders. Most of them just want good movies about their favorite superhero characters. To which I ask: Is the shared universe model the best avenue for truly good superhero movies?
In terms of making profit for parent companies and a board of directors, Marvel Studios' streamlined conveyor belt remains the gold standard. Doctor Strange in the Multiverse of Madness crossed $950 million this past summer and likely could've hit the arbitrary $1 billion threshold had Disney elected to not put it on Disney+ within 45 days of its theatrical debut. Meanwhile Thor: Love and Thunder has crossed $700 million. Both movies are riding high despite decidedly mixed reactions from fans. Each film received a "B+" CinemaScore from audiences polled by what's considered to be the industry standard. And in terms of generating positive word-of-mouth, a B+ is viewed as anemic. This was borne out as accurate by how both films dropped in their second weekends by 67 percent and 67.7 percent, respectively.
As with their middling Rotten Tomatoes scores (74 percent and 65 percent, respectively), the general perception appears ambivalent. They're still hits, but the brand loyalty Marvel has cultivated has not marked Marvel's "Phase Four" to be any stronger when one considers the also muted receptions for Eternals, Black Widow, and most of the Disney+ shows not named WandaVision or Loki. In fact, if not for the glowing enthusiasm around Spider-Man: No Way Home, one might suggest Phase Four has been a bit of a shrug. Yet to the rest of the industry, that "meh" looks like a pot of gold.
Once upon a time, Warner Bros. (under different management) also attempted to chase the Marvel formula like Universal did with the Dark Universe, and Fox did when they tried to tie Fan4stic into the X-Men movies. For WB, those brief hectic years are now described by fans to be "the SnyderVerse." The term acts like a partition around a an exclusive collection of somber, brooding, and highly interconnected DCEU films: Batman v Superman: Dawn of Justice, Suicide Squad (2016), and Justice League. Five years after that last film crashed and burned with both critics and audiences, some revisionist fans have reframed this era as a lost Camelot for superhero movies.
But in truth, a major reason director Zack Snyder was replaced on Justice League, and why the buzz on that movie was so bad even before it was butchered in studio-mandated reshoots, is because of how grim the reception was to movies like Snyder's BvS and David Ayer's Suicide Squad. Not unlike Universal cramming Dr. Jekyll and Mr. Hyde into The Mummy, BvS was an ungainly and chaotic studio product that attempted to be a sequel to Snyder's Man of Steel, a gloomy Batman reboot with actor Ben Affleck, a slapdash "Death of Superman" adaptation, and a rushed bridge to Justice League and (presumably) Marvel money.
It was part of WB's last "10-year plan" for a shared DC cinematic universe. It was savaged by critics and dropped like a stone at the box office after a solid opening weekend. This caused the panic on Justice League and triggered the downfall of a singular overarching vision for the DCEU.
In the wreckage of its failure, we reached a scenario where there are now three Batman actors, three Joker actors (and not all in corresponding Batman movies), and two Harley Quinns. In terms of brand management, it's a mess.
But in terms of cultivating an environment where talented filmmakers really get to try new things with these characters, it proved to be a fertile opportunity. Yes, there appears to be a general lack of corporate vision for the DC brand, but as a consequence artists have had more freedom to make it their own. It's how we got The Batman, a film that's so moody and distinctly the result of eccentric filmmaking voices—in this case Matt Reeves and actor Robert Pattinson—that it could never be made under the Marvel umbrella. It's too dour, downbeat, and slow-burning for that. It's also too insular for what DC was rushing toward five years ago when they introduced Affleck's Batman in the same movie where Superman was slaughtered and Wonder Woman made her cinematic debut. There's no time for Batman to vibe on Nirvana in guyliner when there are Mother Boxes to find!
The Batman is an animal removed from most other superhero movies; as is the more controversial Joker starring Joaquin Phoenix. Three years after Jared Leto's setup as the Clown Prince of Crime in Suicide Squad, Phoenix and writer-director Todd Phillips turned the same character into a Travis Bickle clone whose onscreen world has more in common with Rupert Pupkin's New York City than it does the one Superman flies through. Love it or hate it, the movie is impossible to square away with a "shared cinematic universe." It's a singular artistic vision of this character, that for better or worse, stands on its own.
Neither of those movies are part of the shared DCEU, and frankly, they're better for it. But even in the official canonized DCEU, there's been room to experiment in a way this genre has not seen since Fox let James Mangold and Hugh Jackman swing for the fences on Logan.
It might have flopped, but James Gunn's The Suicide Squad feels unencumbered in a way that's alien to even his own admittedly singular Guardians of the Galaxy movies at Marvel. With The Suicide Squad, Gunn had the freedom to make a superhero flick that is more tonally connected to the The Dirty Dozen than it is any of its studio's stablemates. Gunn was also given the authority to mercilessly kill off most of his cast while pitting the survivors against a giant space starfish.
That The Suicide Squad made a fraction of what its 2016 predecessor did probably has a little bit to do with the fact that it was released on HBO Max the same day it hit theaters. Even so, we imagine the takeaway from WB is less of that. And fair enough. But personally, as someone who just enjoys fun and subversive genre movies, I'm glad we live in the timeline that got Gunn's Suicide Squad movie instead of a direct sequel to the Ayer aesthetic.
The same applies to Patty Jenkins' nostalgic throwback to war melodramas through a female gaze in Wonder Woman and Cathy Yan and producer Margot Robbie's quirky Birds of Prey. Whether these movies all work for you or not, they each have a distinct style and vibe. They are not variations on the same flavor.
This brings us back to Batgirl. Sight unseen, it's impossible to judge the quality of the movie. This will remain true forevermore despite anonymous sources leaking to The New York Post that it's "a disaster." Perhaps. Or perhaps it was another departure from the now standardized superhero movie formula—which was the assignment when directors Adil El Arbi and Bill Fallah were tasked with making a "small" streaming movie for $70 million. It certainly would've been different and might have even stood on its own had the studio not also slipped Michael Keaton's Batman into the movie. Keaton's appearance was due to an attempt to "fix" the DCEU in The Flash, and to again chase that elusive shared universe golden goose.
A bit like the SnyderVerse, that idea is now being cut short. Maybe it's for the best if Batgirl is as bad as carefully placed leaks suggest. Either way, its death seems to have less to do with its quality than it does a desire to pivot back toward corporate hegemony and structure.
That makes sense in the C-suite, but for someone who'd rather have one movie as good as The Batman over three years' worth of Phase Four malaise, it feels like an ominous harbinger that history is going to repeat itself. If it does, that above image will soon have more company.