Reviews
Boston Strangler Review: Killer Thriller Which Puts the Spotlight on Hero Journalists
Keira Knightley and Carrie Coon star in this true crime movie that's all about the women who helped bring the Strangler down.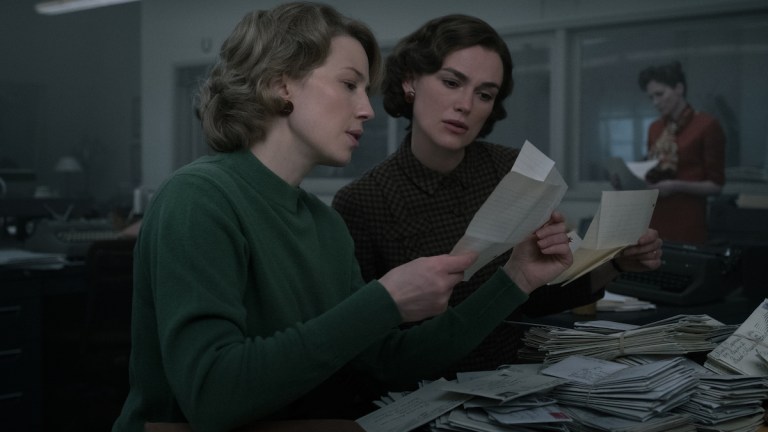 True crime is all the range. It has been this way for many years now, with Netflix seemingly tripping over its own feet to get the next serial killer mini-series out the door. Dramatizations are big business too with Ryan Murphy's Monster: Jeffrey Dahmer already planned for two more seasons focusing on "stories of other monstrous figures who have impacted society" (according to EW. The ethics of this are a discussion of another day, but the fact remains, serial killer tales, involving horrific deaths and incompetent police work are all the rage. Which is perhaps why this movie from director Matt Ruskin who made Crown Heights in 2017 which focused on a man wrongly convicted of murder and his best friend's work to prove his innocence, is called Boston Strangler, and not, for example, 'Loretta McLaughlin', who this film is really about. 
Keira Knightley plays journalist McLaughlin, who worked for the Boston American Record in the '50s and '60s initially working lifestyle desks, and was, with fellow journalist Jean Cole, played by Carrie Coon in the movie, the first writer to report on the murders of women occurring in the city and to find a connection between them, leading to the coining of the moniker "The Boston Strangler."
Inspired by, rather than slavish based on true events, McLaughlin becomes a kind of hero journalist, visiting potential suspects alone in their homes, and growing obsessed with the case at the detriment of her home life. It's in the model of great journalism movies like Zodiac and Spotlight (though it doesn't quite reach those heights), keeping the murders off screen for the most part. It's a wise choice both tonally and narratively – with the exception of one case that has a DNA link between Albert DeSalvo and 19-year-old victim Mary Sullivan – it's not entirely clear exactly who carried out all of the murders, with many theorizing it was multiple different killers.
Set in the early-mid '60s, period detail is recreated with care. However, the gray and beige tones give an almost sepia effect – evocative of the past, but a bit drab to look at. This is a story about gender roles as much as it is a story about the Strangler (or indeed Stranglers). Coon is stoic and strong as the seasoned journalist who has forced her way into a man's world and can negotiate it better than the idealistic McLaughlin who's fierce and low level outraged that the pair are constantly referred to as 'girl reporters' despite being in their 30s, while not being adequately backed by their paper. 
The real McLaughlin said she was fascinated by the case much because the victims were, according to an editor "nobodies", writing in the Globe years later, "Why should anyone murder four obscure women. That was what made them so interesting . . . sisters in anonymity, like all of us." Moments in the moving where McLaughlin receives repeated anonymous calls from a "breather" and gets death threats after her and Cole's pictures were published with their byline on the first story really hammers this home. She is no safer than the other victims, and the multiple letters the pair received from frightened women throughout the city shows the impact of these attacks making it even more shocking that the men in power did so little to end it – the editors who didn't think it was a story, the police officers who missed DeSalvo even though he was hiding in plain sight, and the city officials whose whole advice for women was to stay in and lock your door.
McLaughlin saw the story, connected the dots and made major headway on a case that was stumbling because of police departments that refused to share data. Watch any true crime doc, listen to any true crime podcast, particularly about America in the '60s and '70s and you will hear the same story – departments not sharing information across different states allowing killers to move away and carry on.
Boston Strangler is worthy and interesting, responsible and well-performed with a strong supporting cast including Chris Cooper as McLaughlin and Cole's editor and David Dastmalchian as DeSalvo. If it's formulaic and familiar, well perhaps that's because viewers are saturated with stories of men who kill women, and women who have to kick against the system to get their voices heard.
Boston Strangler is a straight to streaming release and that's the right place for it. If you'd spent an arm and a leg to see it at the cinema you might feel a bit short-changed but for a look at an area of sordid history with the focus on the women whose names should be better known than DeSalvo's, it's well worth your time.
Boston Strangler is available to stream on Hulu in the US and Disney+ in the UK from March 17.