Features
Bo Burnham: Inside Songs Ranked from Worst to Best
Is Bo Burnham: Inside a special or a musical film? A comedy or tragedy? Either way, it has some of the cleverest, and most haunting, earworms we've heard all quarantine.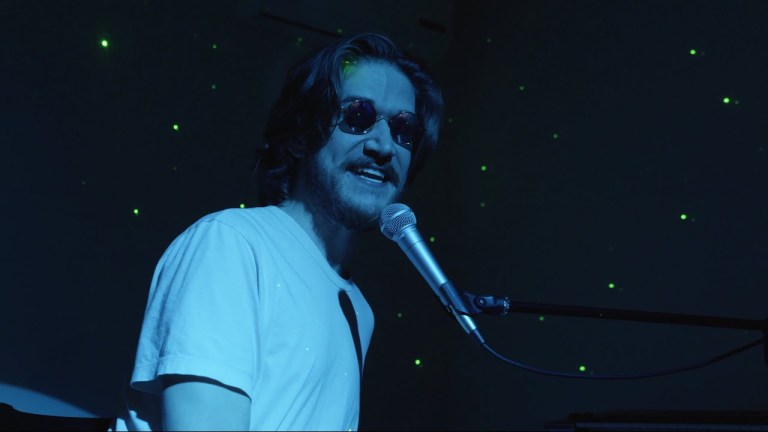 The musical of the summer was supposed to be a life-affirming celebration of one of New York's most vibrant neighborhoods, full of color, romance, and big group dance numbers. Instead for many viewers, the musical of the moment was filmed and performed by one man, alone in isolation from the comfort (or discomfort, really) of his own home, with songs centered on techno paranoia, mental health, and the fear of aging. Maybe after a year stuck in their homes, audiences could relate to the existential dread and general anxiety on display in Bo Burnham: Inside more than a conventional movie musical.
Billed as a stand-up special, Burnham's latest musical comedy endeavor finds the former wunderkind holed up and feeling more uncomfortable than ever. Writing, editing, directing, and performing from a claustrophobic studio, Burnham's stand-up special skews more toward being a straight-up musical, and not because the special is light on jokes and missing an audience. Rather this has all the hallmarks of a musical narrative and plays closer to experimental cinema than sketch comedy.
Burnham expresses his characters' inner-thoughts, fears, and desires via song throughout a contained narrative, in this case the narrative being one man trying to occupy himself during a pandemic. It has ballads, charm songs, comedy numbers, "I Am" and "I Want" songs, and a big reprise. By capturing his personal pandemic experience and putting the whole affair to song, Burnham has created one of the most compelling (and catchy!) accounts of life during 2020.
To celebrate the musical that we all needed after a year in our homes, we've decided to rank every song from Bo Burnham: Inside. You can stream along via the Inside (The Songs) album on the streaming platform of your choice.
20. I Don't Wanna Know
Merely an interlude, "I Don't Wanna Know" doesn't quite work outside of watching the special itself. However, it is a clever way to address the fact that modern audiences do not have the attention span to sit through a film at home without checking their phone or complaining about a runtime.
19. Bezos II
While certainly meant to poke fun at the real-life Lex Luthor, it's not that fun to listen to Bezos' name repeated. Stil, Burnham does elicit a few laughs with his over-the-top mock congratulations. "You did it!"
18. Any Day Now
A Sesame Street-like mantra that plays over the credits, "Any Day Now" suggests this could all end either hopefully soon or on a depressingly vague far-off date that will never come. We'd like to think it's the former, but it's safe to assume what Bo thinks.
17. All Time Low
While this number gets docked points for its short runtime, it absolutely packs a punch with its four-line, single verse. After Bo admits that his mental health is rapidly deteriorating, he describes what it's like to have a panic attack set to a chipper '80s dance backbeat. Unfortunately, we don't get to ride the wave long enough, and judging lyrics, that's probably a good thing for Bo.
16. Content
This strong opening number musically sets the vibe for Inside, letting us know that we're in for some synth-heavy throwback beats that would be best listened to underneath a disco ball. Also incorporating silly backing vocals, a hallmark of many of Inside's best tracks, Burnham declares he's back with some sweet, sweet content. "Daddy made you your favorite," he sings, and he ain't wrong.
15. Bezos I
Unlike the reprise in "Bezos II," "Bezos I" gets by off its increasingly deranged energy, with Burnham roasting fellow tech billionaires and working himself up into a manic frenzy by song's end. Musically, it sounds like the soundtrack to an intense boss battle on a Sega Genesis game before ending with a sick little synth solo and Burnham hilarious squawking. It's arguably the only acceptable thing that Bezos has ever been associated with.
14. Unpaid Intern
While "Unpaid Intern" is one of Inside's shortest tracks, it absolutely makes the most of its time. The jazzy tune scorches the exploitative nature of unpaid internships before Burnham breaks out into a laugh-out-loud worthy scat routine. It unfortunately ends too soon.
13. Shit
Inside's funkiest jam sounds like Burnham wrote the lyrics for a new Janelle Moane album cut. Bo show's off his vocal dexterity and plumbs the depths of his depression in a surprisingly danceable fashion. Throwing in a little faux crowd interaction helps bring home the fact that we have all felt like this at one point or another during the pandemic.
12. Sexting
This slow-jam details the complications of sexting, throwing out hilariously too-true punchlines like "the flash makes my dick look frightened." "Sexting" feels like one of a few songs that could most easily appear on previous Burnham specials. Proving that Inside's musical textures do not come exclusively from '80s synth pop, the outro of the song expertly mirrors modern pop trends by throwing in some trap-influenced "yahs" at the end of Bo's lines.
11. How the World Works
Influenced by comedian Hans Teeuwen and children's entertainment in general, "How the World Works" finds Burnham going back to the well by playing the ignorant, smarmy white guy who is oblivious of the real issues plaguing nonwhite Americans. What's even better though is Socko calling Burnham out on forcing others to educate him for his own self-actualization instead of doing the work on his own for the betterment of others.
Socko pointedly asks "Why do you rich f—— white people insist on seeing every socio-political conflict through the myopic lens of your own self-actualization?" Not to keep things too heavy, the song ends with an absurdist bit where Burnham returns Socko to the nether place that he goes when he's not attached to Burnham's hand. Scathing and bizarre, it's a great piece of social commentary.
10. FaceTime With My Mom
While most of the music of Inside feels directly transported from the 1980s, "FaceTime With My Mom" seems only inspired by the past decade's musical trends, updating the sounds in much of the same way that the Weeknd and Dua Lipa have. This is Bo Burnham as a hitmaker, and his attempt is convincing. "FaceTime With My Mom" earns easy laughs by getting to the seemingly specific, yet universal things that all our moms do over video chat.
9. Goodbye
Every good musical needs a good closing track, and Burnham nails it with "Goodbye," pulling off a reprise that weaves in many of the special's signature musical moments and touches on the special's core themes. A forlorn piano ballad before it soars through Inside's best motifs, "Goodbye" caps a triumphant musical achievement, coming back to "Look Who's Inside Again" just to punch you in the gut one last time.
8. Problematic
Addressing his past work and some aspects that have not aged well, while also skewering celebrity apologies, "Problematic" is self-aware critique by way of an '80s workout bop. From the specific Aladdin confession to the overall apology for being "vaguely shitty," Bo has never made accountability sound so good.
7. That Funny Feeling
This is Bo Burnham's version of Father John Misty's "Holy Shit," a laundry list of all the stupid things that are signaling the fall of culture and civilization as we know it. If Misty hadn't gotten there first, we may have had this one ranked higher. Still, Burnham manages to come up with a sticky chorus that you'll be humming the next time something makes you feel like you're living in the uncanny valley.
6. White Woman's Instagram
Perhaps the special's most playful moment, "White Woman's Instagram" uses the musical cues of an inspiring empowerment anthem to poke fun at the predictably, perfectly curated feed of a "girl boss" Instagram. The song is greatly enhanced by the accompanying visuals, which find Bo recreating the meticulously staged and glamorous portraits that women pass off as their everyday lives.
However, Bo always likes to sneak in some sentimentality, and imagines a genuinely heartfelt post to his white woman character's deceased mother. Don't worry, the emotional moment doesn't overstay its welcome, and we're soon back to laughing at horribly derivative political street art.
5. All Eyes on Me
The droning synth and pitch-down vocals make "All Eyes On Me" oddly hypnotic and beautiful. The song seems to be addressing Bo's depression along with his need for validation and attention, a juxtaposition that many performers deal with. It becomes clear that Burnham isn't addressing an invisible audience, but himself, trying to will himself up and out of his dreary mental state.
4. Look Who's Inside Again
A classic "I Am" musical song, "Look Who's Inside Again" just may be Inside's most emotionally resonant track that seems to hit closest to who Bo Burnham was and who he is today. This is the song that I will most likely regret the most for ranking so low.
"Well, well, look who's inside again. Went out to look for a reason to hide again," perfectly describes the cycle of depression and will, for me, be the special's most lasting moment. The downbeat ending "come out with your hands up, we've got you surrounded" is heartbreaking enough to send a shudder down your spine.
3. Comedy
The special's real first number is absolutely packed with hooks, from the "Call me and I'll tell you a joke" bridge to the "Should I be joking at a time like this?" change-up. This is Bo really flexing how far he's come as a musician, expertly utilizing autotune and a key change (us "stupid motherf***ers" can't resist them).
"Comedy" also finds Bo comfortably in the lane that we're most used to seeing him in, playing the egomaniacal white messiah with a wink. "Comedy" is the tone-setter and it's so good that it lets you know that you're in good hands for the next hour plus.
2. 30
Either I'm ranking this song too highly due to its personally relatable nature or the fact that I haven't been able to get "All my stupid friends are having stupid children" out of my head, but I really don't care. "30" is Inside's biggest earworm and addresses the existential terror that comes with no longer getting pats on the back for being a young wunderkind.
"30" also examines generational differences, showing how 30 year-old people are more infantile than ever. However, at the end of the day it all comes back to those shimmering keys and that irresistible refrain. Apologies to my friends with children.
1. Welcome to the Internet
No matter how deep and emotionally rich some of Inside's other tracks may be, "Welcome to the Internet" is the one that will live on the longest. If this were a traditional musical, this would the antagonists' showstopper; a vaudevillian romp through the alluring chaos that is the internet. Speeding up and slowing down the pace to mirror the manic, addictive nature of surfing the net, Burnham pitches the negative aspects of online culture as they are: a feature, not a bug. Promising "a little bit of everything all of the time," "Welcome to the Internet" is almost as enticing as the dark tool itself.