Features
Black Panther: Wakanda Forever Post-Credits Scene Explained
Black Panther 2 has one of the greatest post-credits scenes in the MCU, and it doesn't even set up a movie for next year.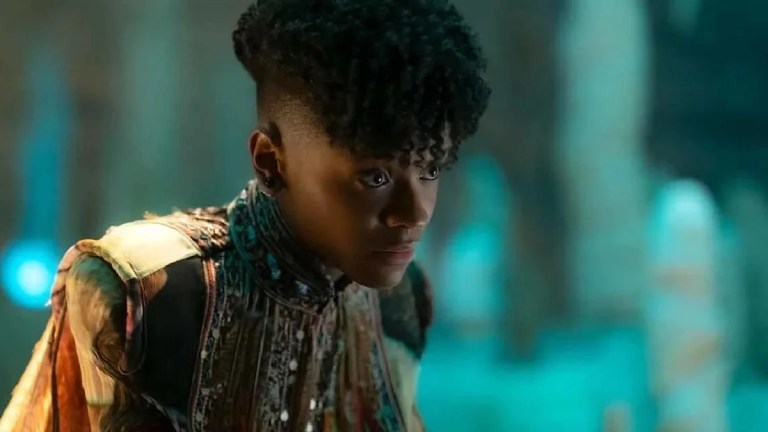 This article contains Black Panther: Wakanda Forever spoilers.
We've long known the second Black Panther movie would be something of a wake. After making such a profound impact on the culture with 2018's Black Panther, the loss of star Chadwick Boseman felt like a genuine blow to our collective psyche. A young, gifted, and exceedingly warm screen presence, Boseman influenced the way an entire younger generation could see themselves in our most popular modern fairy tales (i.e. superhero movies).
So it felt crucial that Black Panther: Wakanda Forever addressed that loss honestly. And, indeed, Ryan Coogler's second MCU picture both begins and ends by eulogizing Boseman and what he represented as King T'Challa, the first big screen Black Panther. The earliest moments of the sequel thus explain (in the vaguest of possible terms) how T'Challa died, while the closing moments before the credits roll are about the character most impacted by this loss: younger sister Shuri (Letitia Wright). At the end of things, Shuri at last accepts T'Challa (and therefore Boseman's) legacy. Within the narrative, this means she recognizes she is a true Black Panther, but it feels right that the movie also ends with her embracing the spirit left by those who are gone.
Still, this is not the true end of the movie. The picture opens and closes its narrative by reflecting on what was lost. But in an especially appropriate post-credits scene, the actual final scene of Black Panther: Wakanda Forever is not wasted on a setup for a sequel, nor does it act as a teaser for an upcoming Disney+ show. It is about celebrating those who are still here—and permanently affected by that character's legacy.
Before the credits begin, we watch Shuri burn a shirt and reminisce on what was taken. When we return to her on a Haitian beach, midway through the credits sequence, and with the sunshine and tide washing in, we're at last allowed to gain something precious in return.
From off-screen, Nakia (Lupita Nyong'o) approaches with a child… her child. Nakia introduces the boy with a Haitian name, but the lad soon admits to his auntie that his real moniker is Prince T'Challa. He's named after his father. This late surprise is achieved because of a questionable subterfuge: Before his death from an unspecified illness, T'Challa and Nakia agreed in secret to hide the birth of their child so that the boy could grow up with a normal childhood in Haiti, away from the pressures of the Wakandan throne and line of succession. T'Challa apparently also prepared his distant family for his death.
Admittedly, it's a little dubious that T'Challa would feel the need to hide the birth of his child from even his mother and sister. The idea also raises questions since the boy's age suggests he (and Nakia) survived the snap from Avengers: Infinity War (2018) while T'Challa and Shuri clearly did not. Does that mean T'Challa didn't even know about his son until he returned from beyond "the blip?"
However, to nitpick such details is to get lost in the weeds. What matters is this reveal is an emotional haymaker that hits you in several places. On a story level, it allows Shuri to find not only closure but renewal. For the last several movies, Shuri's life has been marked by a never ending parade of loss: the death of a father, the death of a brother, and the death of a mother. And even before her onscreen exit, Angela Bassett's Queen Ramonda delivers chills when she intones, "I am queen of the most powerful nation in the world, and my entire family is gone!" Yet it really is Shuri who becomes the last one left. Everyone else is gone to the Ancestral Plane.
At the end of things though, the universe gives something back. Suddenly, Shuri's family has a future, and she is not so alone in this world.
Additionally, it is once again a way for Coogler and Marvel to acknowledge the beautiful role Chadwick Boseman played in pop culture. As T'Challa, Boseman presented a new and wildly popular symbol for Black strength and courage. Millions of children around the world, perhaps for the first time, could see themselves in the visage of Hollywood's currently most powerful myth: the superhero.
Boseman is gone, but there are many children who can look up and aspire to be like T'Challa, to even say they are heirs to his legacy. The real ending of Black Panther: Wakanda Forever recognizes this in a sweet and emotionally poignant way.
It also perhaps, amusingly, raises several questions about the line of succession in Wakanda and just who really is next in line for the throne. No matter what, however, the mantle of Black Panther has a future—and in some ways it has already been passed to the next generation.
Black Panther: Wakanda Forever is now playing in theaters.