Features
How Justice Society: World War II Creates a Perfect JSA for DC Animated Movies
Justice Society: World War II is the newest addition to the lineup of DC Universe animated movies, and it nails a perfect version of the JSA.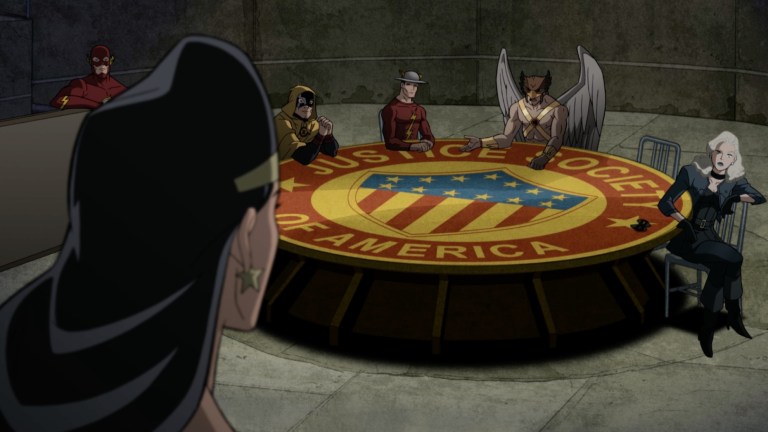 It seems like a universal experience with Justice Society: World War II is to come into it excited about seeing characters like Jay Garrick and Wonder Woman in action during the war, and to walk away from it stunned at how amazing Black Canary was. This isn't just an experience for the film's viewers: it's one held by the movie's creators, too.
"[Black Canary was] such an example of when you're writing something and the character is like, 'Hello I am present!' She just continued to persevere through the entire script," says Justice Society:World War II co-writer Meghan Fitzmartin.
She wasn't alone.
"When I saw the movie, the thing that rocked my world was Elysia [Rotaru]'s portrayal of Black Canary," co-writer Jeremy Adams agrees.
It's a very slight reinvention for Black Canary, and it's one that really helps cement her as a central figure in this version of the JSA.
"The take that Meghan and Jeremy did with her by making her more of a tough chick from Brooklyn was definitely great, and her character arc with Hawkman was excellent," says supervising producer Butch Lukic. "Once [we] put the actors in and visualized it, it really came together."
This isn't to say that Wonder Woman has been short changed. The point of view character of the movie may be Barry Allen's Flash, but Wonder Woman is unquestionably its heart.
"We built the movie around Wonder Woman," Lukic says. She's functionally the leader of the team, and the steely spine of the movie. Pieces of her story were adapted from an older pitch Lukic had for a World War II Wonder Woman animated series, with Fitzmartin and Adams helping build this new world, and the actors filling in the lines. "Stana (Katic, voice of Wonder Woman) knocked it out of the park," Fitzmartin tells us.
The film sees Barry Allen (Matt Bomer) early in his superhero career, having his first run in with the Speed Force, which flings him back in time to World War II, where he meets the Justice Society in the European Theater for wartime adventuring. It's obviously deeply influenced by old adventure serials and their descendants, like Raiders of the Lost Ark, with that core of DC's classic (and arguably best) superhero team standing it up.
Lukic, a bit of a war buff, knew how he wanted it to feel. "Obviously this is a fantasy version of World War II," he says. "But I wanted to see accurate tanks and vehicles and planes, how they should sound."
Lukic's attention to detail paid off.
"You can tell that [Butch] is a lover of classic cinema and World War II cinema," says Adams. "He and Jeff [Wamester, Justice Society:World War II's director] put that polish on there and from the credits you just felt wow, they really leaned into it."
That adventurous energy enables the JSA to shine as a team. That team – Wonder Woman, Hawkman, Jay Garrick's Flash, Hourman, and Black Canary – have lived-in relationships when Barry first meets them that make the viewer feel as if they're picking up a long-running comic. These are timeless classic characters: there's a reason DC and DC fans keep coming back to the Justice Society as a touchstone era.
"I grew up learning to read with values and morals in large part because of superheroes," says Fitzmartin. "I think the JSA represents so much of the backbone of all the comics we have."
That drove some of the movie's big moments: "To have them all sit around that table that has the symbol of Justice Society, that was a big thing," says Lukic.
Of course, Justice Society:World War II isn't just about emotional resonance. It's also about punching – the latest wave of DC animated features have had some of the most impressive action sequences of any of their recent projects, and this movie is no different. The fluidity of movement, scope, and scale of some of the fights are among the best in any DC movie, animated or live action. Lukic says that's in part because of the continuity of staff.
"A lot of these guys on the crew worked on Superman: Man of Tomorrow," he tells us. "They continued on with this and got into the characters and environment. If you don't keep giving board guys something different to do, they'll get bored and go nuts."
With DC animated continuity undergoing a reset after the events of Justice League Dark: Apokalips War, it's no longer a given that we'll get a chance to revisit the universes of particularly resonant movies. Should that opportunity arise, these creators tell us they're ready. Lukic would love to explore the characters who ended up cut for time and space. Fitzmartin would just be happy to get this team back.
"I would love to play in this world forever. I would love to tell every story about the JSA because I think that they're great," she says.
Justice Society: World War II is now available.