News
Black Adam: Dwayne Johnson Hints at Dark Tone for New DC Movie
The first official look at Dwayne Johnson as Black Adam comes with the actor talking about the dark history of the character.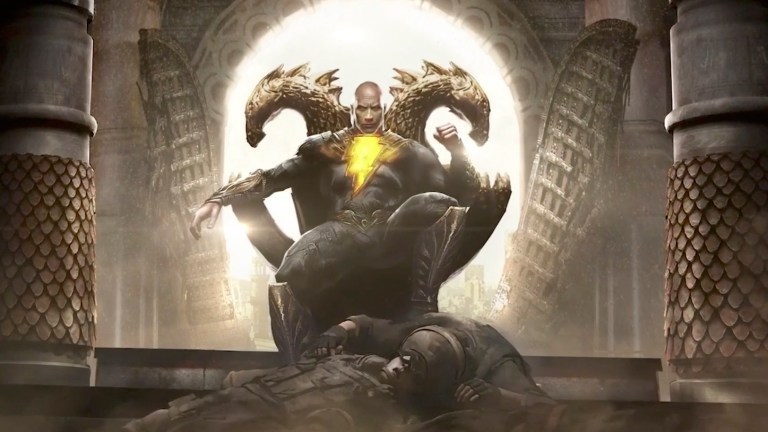 The long-awaited Black Adam movie is now filming in Atlanta, and Dwayne Johnson, in his typical style, is letting fans know exactly what's what.
"If you know the comic book mythology, then you know where his pain comes from," Johnson wrote in an Instagram post. "His rage. His wife and children killed. His people brutally enslaved. He is not a superhero, but rather a champion. Champion of the poor and beaten down. Champion of the people. And he is the most unstoppable force in the DC UNIVERSE."
Johnson has been attached to the role of Black Adam for many years now, and it's clear he has both done his homework and put considerable thought into what makes the character tick. And with that ominous message came the first photo of Johnson in costume as Black Adam. Check it out…
There's a lot here, and it would seem that the Black Adam movie is going to encompass many elements of the character's comic book history. Note the reference to "his wife and children." It's likely that co-star Sarah Shahi's Adrianna Tomaz is the reincarnation of Adam's love.
Take a closer look at this image and you can see Black Adam's boots, which are similar in look to the boots on Zachary Levi's Shazam costume. This makes sense, of course, as both Adam and Shazam are empowered by the same magical source. But the fact that Adam hides his costume beneath a ratty old robe hints at his current status. Is he a humble "champion of the people" or is he an exiled, disgraced anti-hero trying to keep a low profile?
Black Adam's origin and fate were hinted at in the Shazam movie, when Billy Batson first received his powers from the ancient wizard. There, it was revealed that Adam's powers either corrupted him, or were used for revenge. It's pretty vague, and Black Adam is never referred to by name, but this was the first glimpse of the shared history of the characters in the DCEU.
This isn't the first look from the set of Black Adam we've had, either. Johnson had previously revealed a first look at the set itself, apparently depicting the destruction wrought in ancient times by the titular hero. Is this the first look at the DCEU version of longstanding DC Comics fictional nation (and Adam's homeland) Khandaq?
It's also worth noting that Black Adam and Shazam: Fury of the Gods are both filming at the same time in Atlanta right now. Perhaps we'll get some crossover teases for these characters in their respective movies after the studio (perhaps wisely) decided to leave Black Adam out of the first Shazam film.
Black Adam will be released on July 29, 2022. The film is directed by Jaume Collet-Serra. And just in case Adam's millennia-spanning story isn't enough for you, this movie will also introduce the Justice Society of America to the DCEU. That team consists of Noah Centineo as Atom Smasher, Aldis Hodge as Hawkman, Quintessa Swindel as Cyclone, and Pierce Brosnan as Dr. Fate.