Features
The Best Scott Adkins Movies to Watch
If you liked Killa in John Wick: Chapter 4, you need to check out Scott Adkins when he's not in heavy makeup but still kicking ass via these underrated martial arts flicks.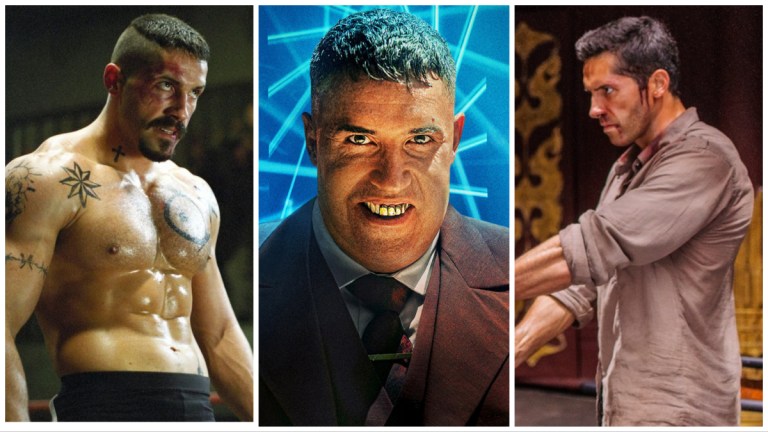 When casting the hottest action stars for John Wick: Chapter 4, Scott Adkins was a natural choice. Director Chad Stahelski has tried to get Adkins into all the John Wick movies, but due to scheduling conflicts it hasn't worked out until now. Cast as Fat Killa in the new movie, Adkins is almost unrecognizable under the heavy makeup, gold grill, and fat suit. In real life, Adkins is devilishly handsome, so much so he often plays villains. He's also built like Adonis but even more yoked. It's a body he's earned through a lifetime of martial arts practice.
In real life, the Adkins family are butchers by trade. Adkins was born and raised in England, and his first exposure to martial arts began at age 10 with Judo. When he was 13, he was the victim of a robbery, and that experience hardened his resolve. After that, he dedicated his life to training, starting with Taekwondo, then progressing to kickboxing, and eventually to a myriad of styles that martial actors must learn to meet the demands of any and every casting call.
Adkins was discovered by the Hong Kong Kung Fu film industry, and his first theatrical film was Jackie Chan's Accidental Spy (2001). There he played a bodyguard and a thug. He was almost typecast into these sorts of roles. He worked in Hong Kong cinema for a few years playing henchmen, notably in another Chan film, The Medallion (2003), as well as Jet Li's Unleashed (2005). After that, Adkins got some roles in Hollywood productions like The Pink Panther (2006), The Bourne Ultimatum (2007), and X-Men Origins: Wolverine (2009).
But where he truly began to shine was direct-to-video actioners. There he became a leading man, consistently delivering solid performances, backed with sharply choreographed fight scenes. His work is always a cut above what most might write off as B-grade cinema, earning him supporting roles in larger productions like The Expendables 2 (2012) and Zero Dark Thirty (2012).
Now, with nearly 70 films to his credit, Adkins has amassed a hefty filmography of thrilling actioners. To truly appreciate his talent, here are some of his lesser-known films starring Adkins that we've selected.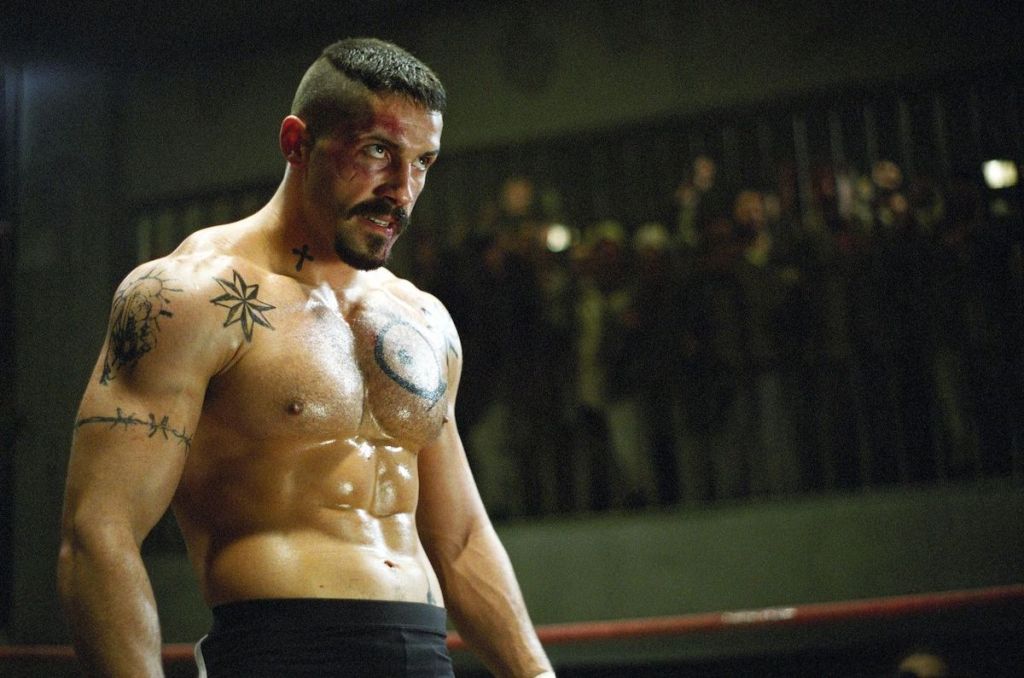 Undisputed 2: Last Man Standing (2006)
The Undisputed franchise began as a boxing-champion-in-prison series with Ving Rhames playing the lead, imprisoned champ George Chambers. The sequel replaced Rhames with Michael Jai White and relocated to a gritty Russian prison. Adkins portrays the villain Yuri Boyka, the reigning Russian prison champion who is backed by a Russian crime lord and Chambers' adversary.
This was Adkins' breakout role, the one that caught the attention of martial art movie fans everywhere. He is dazzlingly acrobatic and lands punishing blows. The fight scenes are riveting. Adkins versus White results in a punishing beatdown that showcases the agility and physicality of both actors. Adkins steals the show with his menacing portrayal of Boyka, so much so that Boyka takes over as the lead for the next two films in the franchise, Undisputed 3: Redemption (2010) and Boyka: Undisputed (2016). Meanwhile the character of Chambers is abandoned. Notably in Undisputed 3, Adkins' Boyka faces off against Raul "Dolor" Quiñones, played by Marko Zaror (Chidi in John Wick: Chapter 4).
Ninja: Shadow of a Tear (2013)
Although Ninja: Shadow of a Tear is the sequel to Ninja (2009), it's a stronger film in terms of story and action. Adkins plays Casey Bowman, an orphan who gets adopted and trained by a ninja clan. The first film follows several white savior clichés—there's a master who believes in Casey despite him being an outsider, a master's daughter who becomes the love interest, an envious Japanese rival who becomes the villain, and a clan treasure that everyone fights over.
The sequel is a classic revenge tale where Bowman hunts down his wife's killers in Thailand. His fight scenes are superb, long complex oners where Adkins switches from solid traditional Karate-like fisticuffs to big air "tricker" kicks with some brutal falls. His moves are tight and clean, displaying a high level of precision that only a true martial artist can demonstrate. It's also a gun-show and an ab-show, and a pec-show. There's lots of shirtless fighting of the highest caliber. The screen can hardly contain Adkins' chiseled physique.
These Ninja films and Adkins' Undisputed films were directed by Isaac Florentine who is an avid martial arts practitioner and specializes in action cinema. He first cast Adkins in supporting roles in Special Forces (2003) and the Jean-Claude Van Damme vehicle The Shepherd (2008). Florentine and Adkins collaborated on two more martial arts movies: Close Range (2015) and Seized (2020).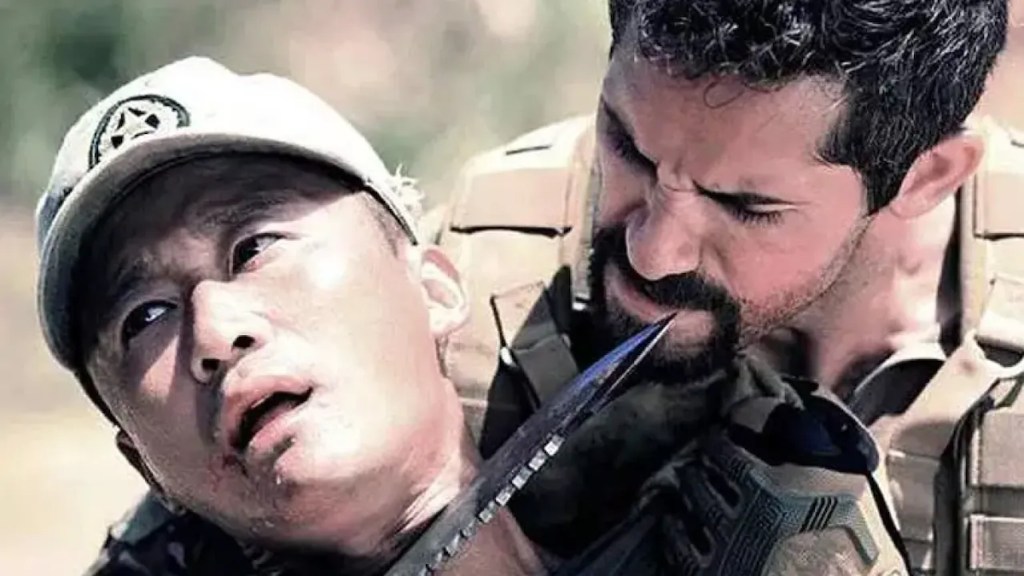 Wolf Warrior (2015)
Wolf Warrior is one of the biggest films you probably haven't heard about. It became the highest grossing movie in China at the time, and its sequel, Wolf Warrior 2 (2017) still holds the title as China's second highest grossing film as of press time. Both films were written by its leading man, former Wushu champion and China's biggest star, Wu Jing (the current highest grossing film in China is Wu's The Battle at Lake Changjin from 2021).
Wolf Warrior is a Chinese propagandist epic, which some non-Chinese audiences might find distasteful. However, the advantage of being a propaganda film is the filmmakers had full use of the resources of the People's Liberation Army. It's a gun show of a different caliber deploying over 30 real tanks and a variety of military aircraft. Allegedly more than 30,000 rounds were fired during production as well as five real missiles.
But despite all that fire power, it still comes down to a fist (and foot) fight between Wu Jing as Leng Feng, a Chinese special forces soldier, versus Adkins as Tom Cat, a former U.S. Navy SEAL turned mercenary assassin. Because of the overwhelming success of Wolf Warrior, more people in China know Scott Adkins than in North America, and probably Britain too, combined.
Doctor Strange (2016)
This is an outlier of this list. In all the other recommendations, Adkins is the either the main hero or villain. In Doctor Strange, he returns to being a henchman. Mads Mikkelsen plays the lead villain Kaecilius. Adkins is Lucian Aster, one of Kaecilius' henchman, a zealot of Dormammu. Adkins stands out amongst his accomplices because he's the only one who gets to wear a muscle shirt robe to show off his pumped-up guns.
Despite all the magical action, Lucian gets to go mano-a-mano with Strange (Benedict Cumberbatch) when the zealots attack the New York Sanctum. It's a gravity defying sequence as magic distorts the architecture, but Adkins gets off one of his signature flying kicks, one akin to what he used against White in Undisputed 2: Last Man Standing. Lucian stabs Strange and would have killed him had not the Cloak of Levitation thwarted him. When Strange seeks help for his stab wound from his ex, Christine Palmer (Rachel Adams), their battle continues in the astral plane at the hospital. That portion of Adkins versus Cumberbatch is more like all the rest of the MCU fights—too effects-laden to stand next to the rest of Adkin's work—and Strange's coup de grâce comes from a defibrillator.
Adkins has expressed regret for taking the role of Lucian. In retrospect, he felt that he might have secured a more significant MCU role had he held out longer. He holds a borderline membership to the MCU two-fer club because he also played Weapon XI in X-Men Origins: Wolverine (2009). Perhaps someday he could still make that more exclusive three-fer MCU club, because if anyone is built like a superhero, it's Adkins.
Savage Dog (2017)
Savage Dog is another somewhat hackneyed underground death match flick, the sort that's so ubiquitous in the martial arts movie genre. However, the film populates the pack with leading action stars and the martial arts genre is seldom where you look for great plots. Set in Indochina after World War II, Adkins plays Martin Tillman, a former boxing champion who joined the French Foreign Legion to escape persecution but got sent to prison for assault. That's right. This is another boxing-champion-in-prison film like the Undisputed franchise. What's more, it's the rematch of Adkins versus Zaror, as seen in Undisputed 3. Zaror plays the crime boss rival boxer Rastignac. Filling out the pack are martial actress JuJu Chan and former MMA champion Cung Le.
The dialogue is steroid-ically stilted, so much so that the film resorts to a narrator. It's all about the fights. Adkins, Zaror, and Le can all sell a punch. It looks like they are really hitting each other, perhaps not at full force, but hard enough to hurt. And Savage Dog eschews the cinematic trend towards CGI blood splatter.
This film has old school pumping blood spurting, so much that it's almost Monty Python's Black Knight levels of absurd. It should've been called Sanguineous Dog. There's amputation, decapitation, arterial gushers, and a tiny bit of cannibalism. It's gritty fighting in jungle mud pits. There are knife fights, machete fights, shotguns, machine guns, grenades, and some excellent martial arts battles. Where the story fails, the action provides a nice fix for action junkies.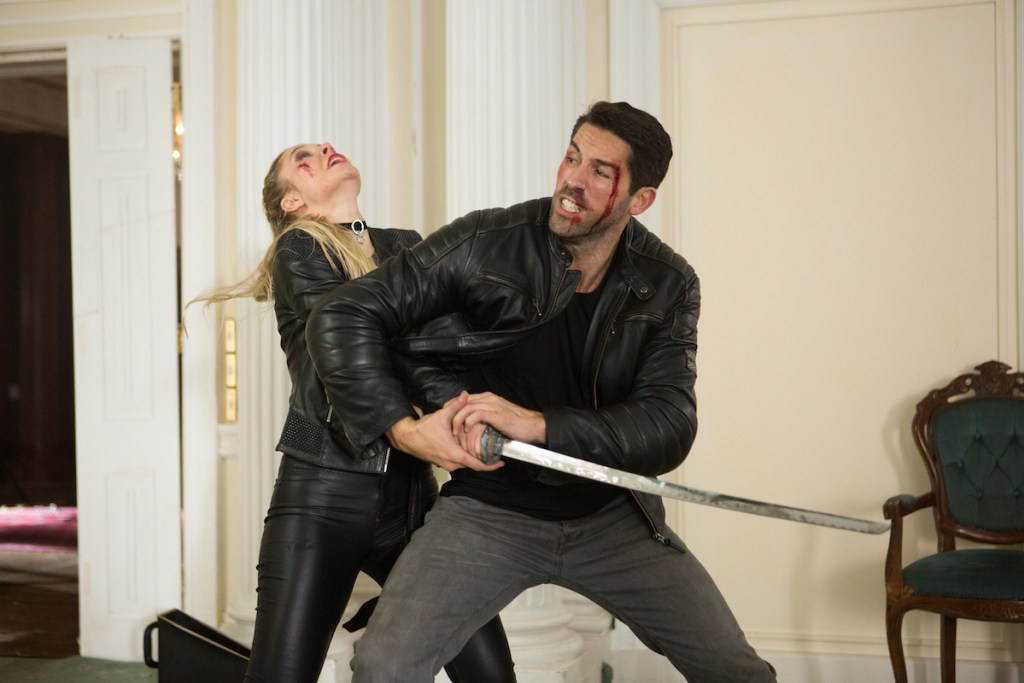 Accident Man (2018)
Based on a British comic, Accident Man is like the poor man's John Wick. Instead of the posh Continental, the assassin gang meet at a local pub. And instead of classy, tailored suits, it's common blokes in casual wear. Adkins plays Mike Fallon, a leather-clad biker hitman who always makes it look like an accident. It's a nod and wink, tongue in cheek, black comedy with a healthy dollop of British sass. It's sanguineous, and it's got bollocks.
Adkins stacks the deck with some top-notch martial adversaries like fight queen Amy Johnston and Sith Lord Ray Park, plus there's a rematch between Adkins and Michael Jai White. The fight scenes vacillate between copiously expanding pools of blood and kinetic combat with dozens of complex moves per single shot. The shaky-cam cinematography is done right so it accentuates the action instead of obscuring it. The fight sequences are the centerpieces, surrounded by a good sense of humor.
Accident Man: Hitman's Holiday (2022) is a true sequel that picks up shortly after the previous film ended. Fallon is tasked with protecting an entitled brat kid of a crime boss, and ultraviolent hilarity ensues. Send in the clowns. Seriously. One of the hitmen that Fallon must faces is a mad clown with a hammer that has a cinder block for a head.
It's all action as Adkins fights duel after duel against other assassins. There's just enough threadbare plot to hold together the tremendous fight scenes. Adkins' martial skills along with his comic timing are on point.
The Debt Collector (2018)
What happens when the owner of a struggling traditional dojo can't make rent and thus decides to take a side hustle as a mob debt collector? When it's Adkins, hilarity and ultraviolence ensue. Adkins plays French, a war veteran sensei who's not French at all. He partners with guy named Sue (Louis Mandylor) for a buddy action-comedy from the other side of the tracks. It's an inventive twist on action cinema because seldom are the debt collectors the "good guys."
Mandylor is a former boxer with a 14-0-4 record, so he can sell a punch as well as Adkins. And his jaded grizzled Sue is the perfect foil for the fresh-faced French. Their chemistry is good fun both with their acerbic repartee and melees as they bust the heads of people that owe their boss money.
Both Adkins and Mandylor reprise their roles in the sequel Debt Collectors (2020). It's more of the same, as funny as it is bloody, although some of the freshness of the premise has faded after the original. Both films are written and directed by Jesse V. Johnson, who also directed Savage Dog. Like Chad Stahelski, the director of John Wick: Chapter 4, Johnson got his start as a stuntperson who worked his way up to become a second unit director before sitting in the director's chair. Consequently, Johnson has a keen eye for fight choreography and cinematography. Coupled with copious comic relief, the fight scenes showcase Adkins virtuosity as an action star.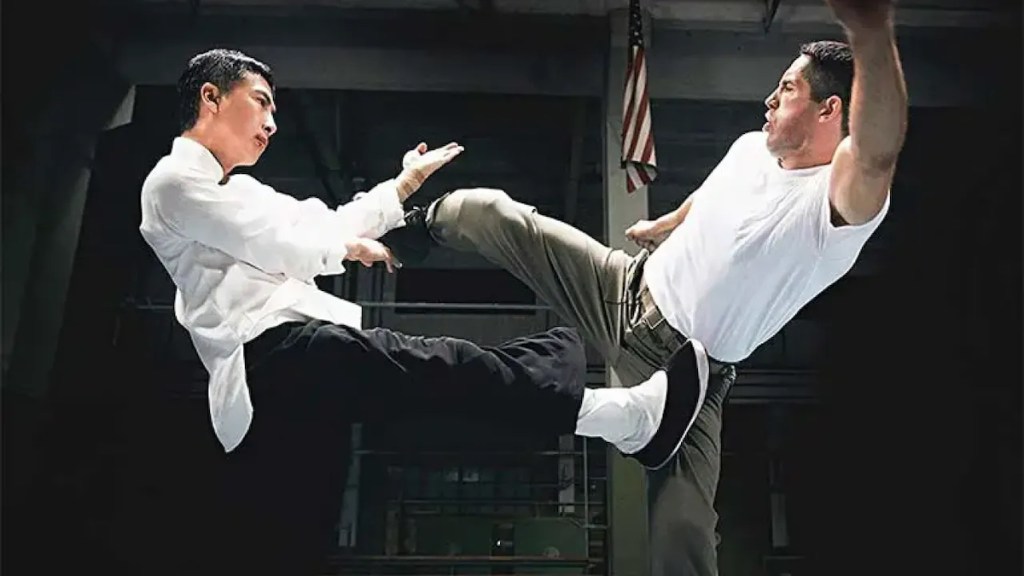 Ip Man 4: The Finale (2019)
The Ip Man franchise is Donnie Yen's tour de force. Yen, who plays blind Caine in John Wick: Chapter 4, reinvented himself to play the titular role, catapulting this tetralogy into one of the biggest martial arts franchises of the last decade. Ip Man was the real-life Wing Chun grandmaster of Bruce Lee, but these films follow his actual life events very loosely. Ip Man 4: The Finale is completely fictional as it dramatizes Ip Man's trip to San Francisco, which never really happened. Remember how popular Adkins is in China because of Wolf Warrior? Setting him up as the ultimate villain for the finale is a popularity play. And Ip Man 4: The Finale has that filial nationalism so pervasive in Chinese film today. It makes the film feel like propaganda, although not a heavy handed as Wolf Warrior.
Adkins plays Barton Geddes, a racist U.S. Marine Corps hand-to-hand combat instructor. It's a stereotyped role in Chinese cinema, the "evil gwailo" (gwailo literally means 'ghost man'—it's a slang for non-Chinese foreigners). Adkins takes it to the hilt with his racist portrayal. Geddes is so despicably offensive, so over the top, that when Ip Man 4: The Finale finally gets to the ultimate showdown, audiences can hardly wait to see Ip Man beat his ass.
Ultimately, Ip Man 4: The Finale delivers as a solid Kung Fu film with excellent action and engaging dramatic pacing between fight scenes. It's a satisfying conclusion to a landmark series of films that spawned so many imitators and reinvigorated worldwide interest in Wing Chun Kung Fu.
The Intergalactic Adventures of Max Cloud (2020)
A teen girl named Sarah (Isabelle Allen) falls into a video game, a la Tron, only it's one of those 16-bit games like in the '90s (although the film is set in the '80s). Once inside the game, the characters come alive and Adkins plays Max, the captain of the video spaceship who is the ultimate macho caricature, like Captain Kirk on cocaine and steroids. The video game world looks like an '80s sci-fi movie, something Golan-Globus might have ground out back in those days. On one level, this is a kids' flick if you can overlook a few curse words. On another, it's a retro flick for people that lived through the 1980s. And then there's the fights which are shockingly violent. It struggles to make its self-mocking quirkiness into something cult cinema worthy.

Adkins does his best video game fighter impersonation and it's spot on—textbook straight snap kicks always off the same leg. He fights ninjas and it's gloriously violent. He threw a gruesome move where he stabs a ninja in the shoulder and then runs the knife down the arm like filleting a fish. He shanks another ninja with an uppercut strike to the jaw, sticking his head to the ceiling.
Honestly, this film fails. Little bits are amusing, but it never decides what it is doing, who the audience is, or what the point of it all might be. What redeems it is Adkins. His over-the-top performance reveals another aspect of his acting range and he sneaks tidbits of his signature ultraviolence into a funky YA film.
John Wick: Chapter 4 is playing in theaters now.