Reviews
Palm Springs Review
Palm Springs, Hulu's new irreverent, time-looping rom-com starring Andy Samberg and Cristin Milioti, is the devastatingly cute comedy 2020 needed.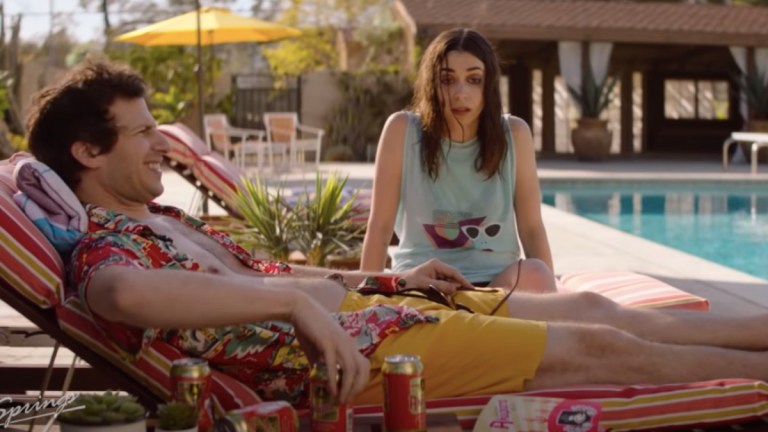 In Palm Springs, the new romantic comedy starring Andy Samberg and Cristin Milioti, things couldn't be any better, but they certainly couldn't get much worse. Have you ever been to a resort so idyllic that you never wanted to leave? Well, what if you couldn't leave even if you tried?
First-time director Max Barbakow and screenwriter Andy Siara are probably feeling that same "this could be heaven or this could be hell" dichotomy; on the one hand, the coronavirus pandemic kept their Sundance hit, which broke the previous record for the highest sale from the film festival, from premiering on big screens where it belonged. However, if there's a bright side it's that the sheltered existence most people have been living since mid-March has added strange new weight to the film's Groundhog's Day concept.
Samberg plays Nyles, a shaggy nihilist caught in the midst of a time-loop. Nyles has been reliving the same destination wedding for a long, indeterminate amount of time. Coasting through the endless days like a detached, perpetually drunk Bill Murray, Nyles decides to spend one of his countless nights at the wedding reception saving the bride's drunk, cagey sister Sarah (Milioti) from a potentially disastrous maid of honor speech.
The two misfits hit it off, and just when you think they're going to banter their way into being your new favorite indie rom-com couple, a "sick fuck" named Roy (the always wonderful J.K. Simmons) crashes the party, arrows a-blazing, to "hunt" Nyles. Sarah gets just as confused and caught up in the chaos as the audience, and inevitably finds herself mixed up in the same time loop that Nyles, and the ominous Roy, are sharing.
Palm Springs certainly didn't invent the time loop concept, but it approaches it with an irreverence that breathes new life into a now well-worn premise. The fact that we join Nyles deep into his repeating situation allows the story to progress and avoid expected beats, ultimately helping the 90-minute film sustain a fun, breakneck pace. Instead of watching Nyles endlessly attempt to learn the rules of the loop, we get to spend more time having existential conversations, mushroom trips, and seeing Nyles' prolific hook-up history.
Besides the fresh approach, Palm Springs sizzles due to Samberg and Milioti's performances. The pair have undeniable, easy chemistry, with both actors delivering career-best performances. Milioti is given the space to be funnier and darker than ever before, while Samberg taps into a somber, nihilistic side that's always been slightly present in his goofball characters but has never been so front and center.
An infinity together breeds cruel pranks, ill-advised tattoos, and moving heart-to-hearts. As expected, the pair fall for each other and their nightly adventures become unexpectedly sweet without losing their subversive edge. There's no film without conflict, so withheld information, natural character flaws amplified by time and mundanity, and the fear of commitment they can choose throws a wrench in their forever (Oh, and don't forget about Roy). But time affords wisdom; a devastatingly cute "final sentence" comes saddled with clarity about love and the importance of connection, and Palm Springs sticks the landing like an arrow to the chest or a fork to the face.
It's a shame that Palm Springs didn't have the chance for a theatrical run. Samberg and his Lonely Island cohorts, who served as producers but outsourced the writing and directing duties for the first time, have consistently made great comedies — Hot Rod and Popstar can hang with any comedy released in the past 20 years and are dependably rewatchable — but they've never found box office success. Not only does Palm Springs feel like a level-up for the troupe, but it also seems like a crowdpleaser with an odd mean streak rare enough to be a hit that stays authentic to the cult comedy brand. As the days seem to repeat in real life, don't be surprised if Hulu subscribers fire up Palm Springs for an extended stay time and time again.