Features
Best Movies Coming to Netflix in December 2021
Netflix is ready to spread some cheer this December with a collection of cinematic gems.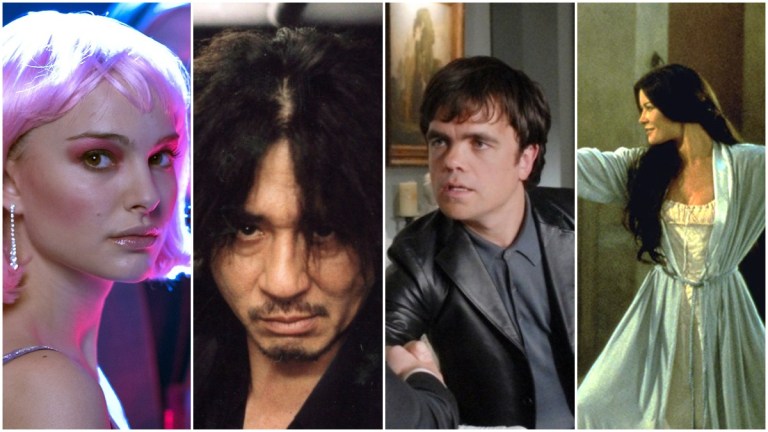 Ho, ho, ho. And like that 2021 is (almost) over. It went by fast, didn't it? But even as the year that was begins its final 30-day run on your calendar, we cannot deny being happy to see the broader holiday season here, and all the good cheer it brings—including on streaming services.
Netflix, for one, is committed to spreading happy tidings, as judged by their glut of new Christmas movies. However, if you're someone who isn't looking for more cinematic trifles this December, and rather just want to know about the best non-original film content coming to your living room, well we've comprised the list below!
Closer (2004)
December 1
No one would mistake Mike Nichols' brutally cynical adaptation of Patrick Marber's play to be a holiday movie, and yet there are few better films you could watch on Netflix this December. A blunt force meditation on relationships—and the ties which unbind us from our significant others—Closer is the tale of two couples who switch partners repeatedly over several years, and learn each others' nastiest secrets and worst vulnerabilities.
It's an acting showcase for its ensemble which includes Natalie Portman, Jude Law, Clive Owen, and Julia Roberts. It was a particularly important role in Portman's career, marking her first major adult success post-Star Wars, and one which netted her an Oscar nomination for her disruptively disarming interpretation of Alice, a young woman whose innocence is as much a weapon as a liability. Still, we are also particularly taken by Owen, who made his first major Hollywood picture by playing Larry after previously portraying Law's Dan character on stage. As Larry, he is a neolithic savage among the quartet of otherwise intellectual characters. He's also the only one who dares to tell the truth. What a monster.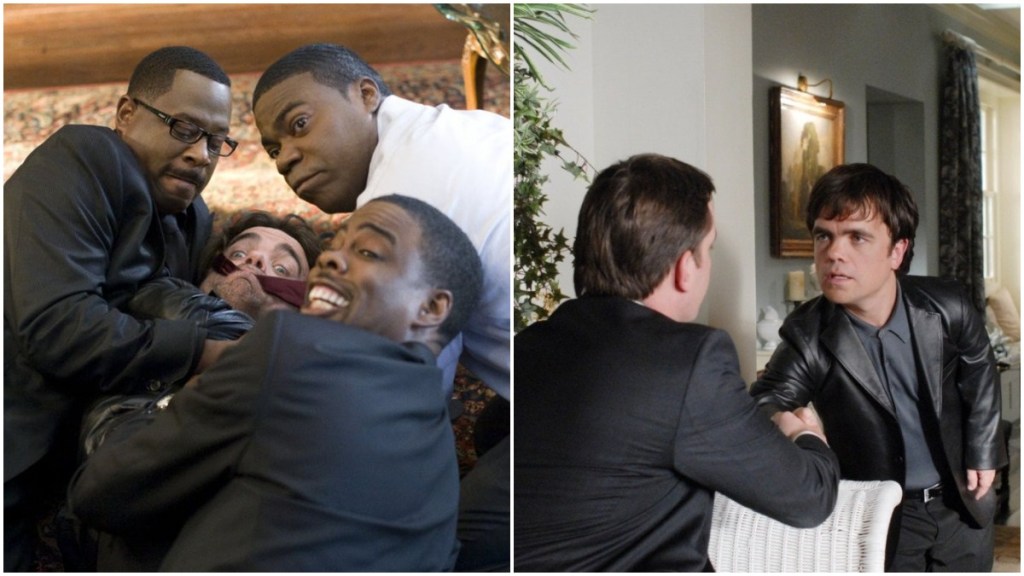 Death at a Funeral (2007)
December 1
We're not entirely sure (yet) which Death at a Funeral is coming to Netflix, but either way you're in for a humorously good time. Made first as a dry British comedy in 2007 by Frank Oz and then remade fairly well by Chris Rock a few years later stateside, both films feature a winning screenplay by Dean Craig and an all-star cast of performers getting involved into all sorts of unexpected hijinks at a funeral. But perhaps the most amusing thing is they each co-star Peter Dinklage as the scariest funeral crasher you've ever seen on a screen. Twice.
Looper (2012)
December 1
Sorry, Knives Out and The Last Jedi fans (yes, I know you're out there), but for my money Looper remains writer-director Rian Johnson's best film to date. Joseph Gordon-Levitt and Bruce Willis both play a hired killer named Joe; the younger Joe dispatches targets who are sent back from the future by his crime organization bosses there, and is surprised one day when the next victim sent back in time is his own future self. Their path leads them into some unexpected places involving a mysterious future figure called the Rainmaker and a young woman and her son with powerful psychic abilities.
Incredibly smart, and tightly written and directed, Looper remains one of the best science fiction films of the past decade and the 21st century in general. Gordon-Levitt is great; Willis actually shows up for a change; and the time travel premise doesn't get lost in the weeds as can so often happen. Genuinely surprising and moving, Looper is a modern classic of its genre.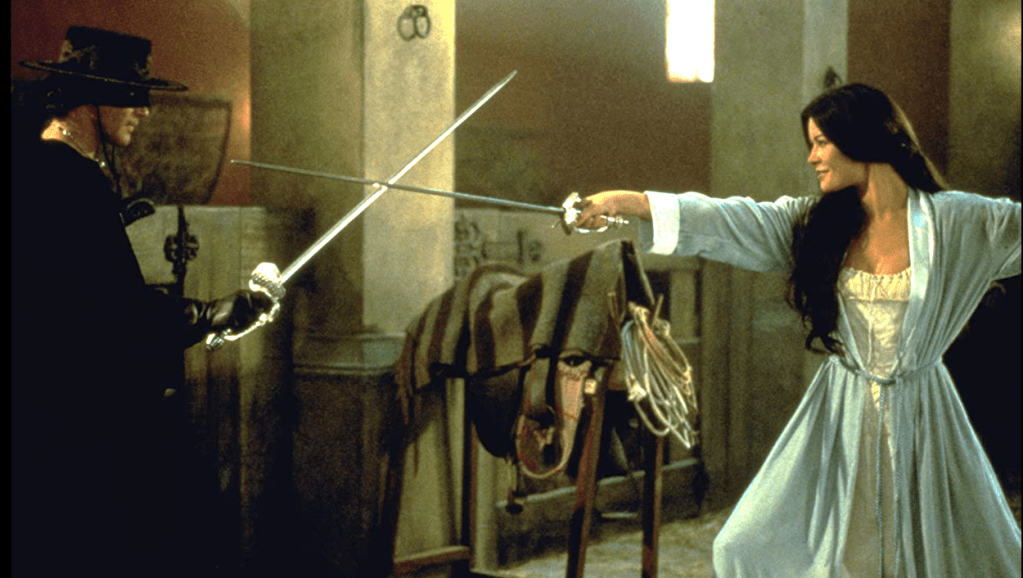 The Mask of Zorro (1998)
December 1
While film historians might disagree, for our money there has never been a finer Zorro adventure, on page or screen, than the first time Antonio Banderas slipped under the mask in this rip-roaring 1998 classic. Directed by Martin Campbell fresh off GoldenEye (1995) and at the height of his powers, this is is a '90s blockbuster engine firing on all cylinders. It reimagines the famous Zorro pulp stories into a multi-generational saga about the original Zorro (Anthony Hopkins) seeking biblical revenge on the nemesis who killed his wife and raised his daughter as his own—a fetching Catherine Zeta-Jones in her star-making role. Thus Zorro the First trains Zorro the Second (Banderas), finding a true heir among the impoverished and disadvantaged his mask had always served.
But beyond plot mechanics, this is simply an irresistibly charming swashbuckler where swords clash, horses neigh, villains scowl, and James Horner's bombastic score introduces literal flamenco dancers into the soundtrack to its action scenes.
Minority Report (2002)
December 1
Steven Spielberg is often at his best in the genre of science fiction, and Minority Report certainly ranks among the best films from the second half of his career. Based on a story by Philip K. Dick, the film is set in a future where certain humans have the ability to see events yet to happen—leading to the creation of a special branch of the law called Precrime, which arrests criminals before they commit their acts. Tom Cruise stars as a Precrime officer who uncovers a conspiracy in which the Precogs, as the psychics are called here, are being used by powerful people to manipulate the timeline.
Cruise is outstanding, the film is fast-paced and unrelenting, and Spielberg creates a plausible yet still chilling 2054 in which surveillance of all kinds infiltrates every aspect of our lives. With the exception of the action thriller format, and an ending that works too hard to go out on an uplifting note, this is perhaps also the best adaptation of a Dick story since 1982's Blade Runner. All in all, this is top-tier Spielberg, or close to it, which makes it top-tier filmmaking.
Pet Sematary (1989)
December 1
The first film based on Stephen King's ultra-dark 1983 novel (and far superior to the dismal 2019 remake), Pet Sematary follows Louis Creed (Dale Midkiff), a young doctor who takes a position at the University of Maine and moves there with his wife (Denise Crosby) and their two young children. The Creeds soon discover a pet cemetery in the woods behind their house—and beyond that, even deeper in the wild, another burial ground, one with powers that soon wreak horrifying havoc on the Creeds.
King's novel was about many things: grief, folklore, how we deal with death, and, in the end, the most unspeakable choice a parent can face. Directed by Mary Lambert, with a screenplay by the author himself, Pet Sematary surprisingly captures much of the tone and thematic content of King's book. Some of the acting is uneven, but Lambert tightens the noose around the neck of the Creed family with impressive results. This one is underrated in the King cinematic canon.
Wyatt Earp (1994)
December 1
As the other '90s Wyatt Earp/Doc Holiday movie, Lawrence Kasdan's Wyatt Earp frequently goes overlooked. There is of course little denying that Kurt Russell's faster paced and slightly rougher around the edges Tombstone from a year earlier turned out to be the more entertaining and memorable Earp picture, not least of all because of Val Kilmer's iconic turn as Doc. But Kasdan's generally more historically accurate interpretation of these mythic figures from the Old West is no slouch either.
For starters, Wyatt Earp is told on a vastly more sweeping canvas, tracking Wyatt from boyhood to old age, and from Missouri to his brief stint as a gold prospector at the turn of the 20th century in Alaska. It also provides a somewhat fuller portrait of Wyatt's gloomy family history of lawmen and failed dreams. And it does so with a hell of an ensemble, including a pretty great Dennis Quaid as another memorable take on Doc Holiday—although Kevin Costner's extremely laconic interpretation of Wyatt leaves something to be desired at over three hours. Indeed, there is too much in Wyatt Earp, but in the modern era of all-day television binges, that might not be such a bad thing. Plus, the James Newton Howard score is terrific.
Darkest Hour (2017)
December 16
The movie that won Gary Oldman as an Oscar. Not that it was a surprise won Oldman won that Oscar. After all, he played Winston Churchill, and if there's one thing the famed British Prime Minister is good for in the 21st century, it is winning actors awards. Nevertheless, Joe Wright's Darkest Hour is a pretty good biopic made in this fashion. Zeroing in on Churchill's darkest, but also finest, hours inside of the old tunnel systems beneath London as the Dunkirk evacuation unfolds and the Blitzkrieg attacks loom, the movie does a worthwhile job of reminding modern audiences just how close Great Britain came to falling before Nazi Germany—and how hard Churchill had to fight with his own cabinet to stay in the fight.
Also: no one yells on-screen louder than Oldman.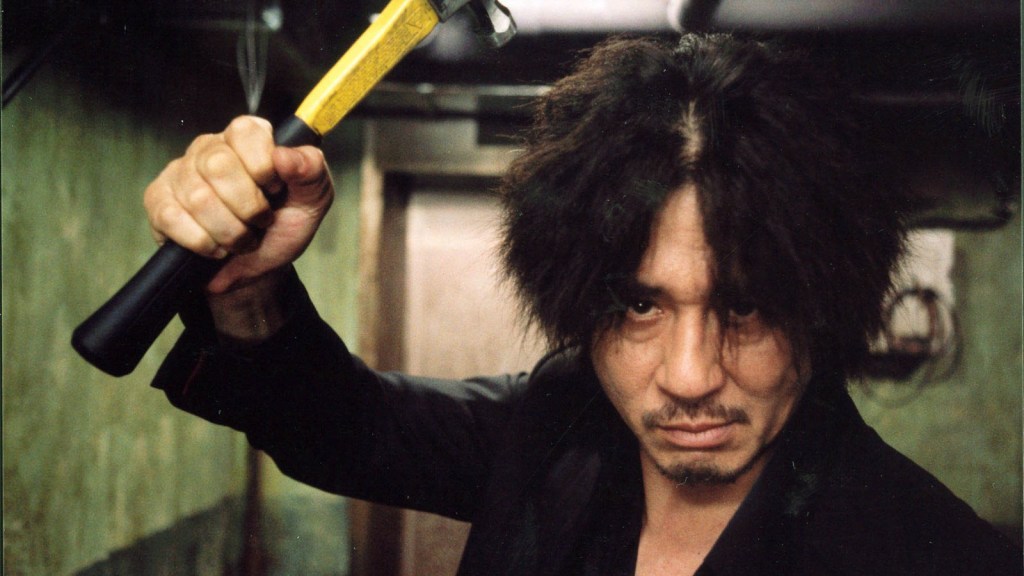 Oldboy (2003)
December 18
So you watched Squid Game and think you know how dark Korean fiction can get. Oh sweet summer child, if you haven't seen Park Chan-wook's Oldboy yet, you know nothing of winter. Indeed, this masterpiece of noir and twisty criminal dramas is the stuff of Greek tragedy and unshakable sorrow. How could it not be when it begins with Oh Dae-su (Choi Min-sik) waking up in a cheap, windowless motel room in which there's no way to exit… and 15 years then pass.
One day, long after madness has come and (maybe) left, Dae-su is inexplicably released from this hell and allowed to walk the streets of Seoul again. But as he begins to piece together who locked him up—and why—he soon learns his hell is only getting warmed up.