Features
How Batman: Soul of the Dragon Pays Homage to 70s Kung Fu and Bruce Lee
Mark Dacascos, who voices the lead role of Richard Dragon in Batman: Soul of the Dragon, talks about how his own experience as a martial artist prepared him for the animated role, and the influence of Bruce Lee's Enter the Dragon.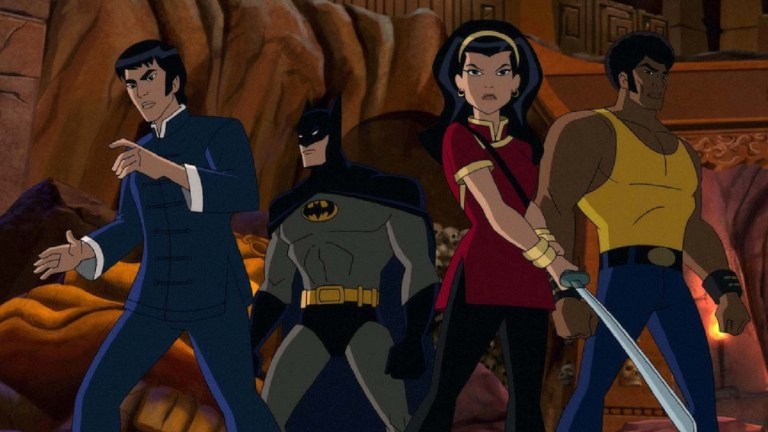 Batman: Soul of the Dragon sets Gotham's caped crusader in a vintage martial arts homage. Directed by Sam Liu, who also directed the animated movie version of one of the greatest Batman graphic novels ever published, Batman: The Killing Joke, this is the 42nd project in the ongoing DC Universe Movies series.
However, Soul of the Dragon is an original tale, not based on a precedent comic. Like the eye popping anime-style film Batman Ninja, this is a completely stand-alone story. Batman: Soul of the Dragon is yet another chapter in the many creation tales for Batman. It tells of his martial indoctrination and joining him on this adventure are three of the best martial artists within the DC multiverse: Lady Shiva (Kelly Hu), Ben Turner a.k.a. Bronze Tiger (Michael Jai White), and Richard Dragon (Mark Dacascos).
"It's a 70s martial arts action-adventure drama with a great sense of humor," says Dacascos. Like so many Hollywood martial arts stories, Batman: Soul of the Dragon is told in two time periods: the present-day problem and in flashbacks to the original martial arts lessons that offer solutions. It's a storytelling motif that can be traced back to the pioneering David Carradine's Kung Fu TV show and Bruce Lee's iconic Enter the Dragon.
In many ways, Batman: Soul of the Dragon is a tribute to Enter the Dragon, when the Kung Fu and blaxploitation genres were at their height. Richard Dragon is an homage to Bruce Lee's character 'Lee' in Enter the Dragon (just like in so many Jackie Chan films, the name of Lee's character was the same as his real name). In some scenes, he dons a similar black catsuit as Lee wore when infiltrating Han's subterranean lair but stops short from yelling 'Wataaah!' when fighting.
Enter the Dragon was a game changer for martial arts movies, but it was also in the wake of the popularity of spy films of those days, specifically James Bond. Enter the Dragon is also a spy film, and it came out at a pivotal time for the Bond franchise, the same year that Roger Moore took over 007 in Live and Let Die. The spy film genre was immensely popular during the Cold War of the '60s, but by the '70s, it was looking to reinvent itself to remain popular. Enter the Dragon had the potential to launch a spy franchise for Bruce Lee, but his untimely and shocking death cut that short. Tragically, he died just prior to the release of the film. In some ways, Richard Dragon makes us ponder what a sequel to Enter the Dragon might have been like.
With his groovy afro and jive talking banter, Ben Turner steals a page from the character of Williams (Jim Kelly) from Enter the Dragon too. Batman is faintly akin to Roper (John Saxon), a token white guy amidst a diverse cast. Even the funky soundtrack by Joachim Horsley echoes the music of Enter the Dragon's composer Lalo Shiffrin.
"In the 70s I was very impressionable," reflects Dacascos. "The music brings you right back to that time. I love it. I love Enter the Dragon."
It's ironic that Batman would honor Bruce Lee in this way. For many, the Batman TV show of the mid-60s was their first exposure to the Little Dragon. Lee's earliest Hollywood role was Kato, the chauffeur of The Green Hornet, which became a spin-off series of Batman, running for a single season on NBC in 1966-67.
Who is Richard Dragon?
Batman: Soul of the Dragon is a complete reimagining of Richard Dragon. In the original comic storyline, Dragon was Richard Drakunovski, a Caucasian character. He first appeared in the novel, Dragon's Fists: Kung-Fu Master Richard Dragon by Jim Dennis, which was published the year after Enter the Dragon premiered (Jim Dennis was a pseudonym, the combination of the two authors' names Dennis O'Neil and Jim Berry). The character was later adapted to comics by DC.
In the original DC version, Dragon was a classmate of Ben Turner, both of whom trained under O-Sensei (played by the venerable James Hong in Batman: Soul of the Dragon). Lady Shiva was also part of this Kung Fu lineage. O-Sensei's goddaughter Carolyn Woosan was Lady Shiva's sister. After Woosan was killed, Lady Shiva was tricked into thinking Dragon was at fault and hunted him to take revenge. Eventually, the trick was foiled so Shiva and Dragon became allies, united against a common foe.
In the comics, the world of Batman doesn't cross with Dragon's until much later. Dragon goes on to become a trainer of many DC heroes, notably the first Batgirl, Barbara Gordon. In another story, he helps Batman rehabilitate after sustaining injuries from Bane.
In a later alternate narrative arc, Dragon's title is usurped by his villainous student, Richard Diaz Jr. This is akin to the Richard Dragon depicted in CW's Arrow and portrayed by Kirk Acevedo. Bronze Tiger also appears in the Arrowverse portrayed by Michael Jai White, so Batman: Soul of the Dragon marks his reprisal of the role in the animated DC universe (As a side note, David Giuntoli voices Batman for Batman: Soul of the Dragon; Guintoli is married to Elizabeth Tulloch, who plays Lois Lane in the Arrowverse, including the forthcoming Superman and Lois).
However, neither Drakunovski nor Diaz figure into this latest incarnation of Richard Dragon in Batman: Soul of the Dragon. Here, he's more like a Bruce Lee clone, only cooler. Dacascos didn't follow the comics or the Arrowverse depiction.
"Yeah, I did not know that at all," he confesses. "The script was so good that everything I felt that I needed to portray him was already on the page….All of my information for the character I found in the brilliant script that Jeremy Adams wrote and the information that was given to me by our producers and our director Sam Liu."
Nevertheless, Dragon was a dream role for Dacascos. As a longtime fan of Batman, his favorite live action portrayal was Michael Keaton.
"I love his interpretation," he says with a laugh. "There's a sense of humor that he has and he stands out."
As soon as his manager and agents sent him the script, he was hooked.
"I saw the description of DC Comics, Batman, Richard Dragon. And then I just jumped right into the script and after just a couple of pages, I knew I loved it. And the more I read, the more passionate I was about it. Before I even finished the script, I'd already emailed my representatives back and said, 'Yes, please, please, please. I want to do this.'" Dacascos was tickled to be cast as his Kung Fu brother. "I've been privileged to play a character that is friends with Batman," gushes Dacascos.
Beyond being a bat-buddy, what really appealed to Dacascos was Dragon's strong moral compass.
"He's not ignorant to the fact that evil is there, always has been, is, and will be," explains Dacascos. "But with his training and his apparent good heart, he is able to maintain that battle with the negative, with the evil and take it on, maintaining his open heart and his sense of humor. I think his sense of humor is a part of his armor. He's able to deflect with whimsy of the situation. He is a very loyal student, he is a very loyal friend, and I think his force – what drives him – is his love."
From Stunt Work to Voice Work
By casting Dacascos, White, and Hu, Batman: Soul of the Dragon goes that extra step by placing genuine martial artists into animated roles. Throughout his teen years, Dacascos was a genuine martial arts champion.
"The thing is," says Dacascos humbly, "my parents are both martial arts teachers."
That's an understatement. His father is Grandmaster Al Dacascos, a pioneering master in America who founded his own style of Wun Hop Kuen Do. His stepmother is Malia Bernal, a noted champion and coach of many other champions like Karen Shepherd. "My brother and I were basically forced into our first martial arts tournament at age six."
Dacascos began his acting career in martial arts films, several of which were groundbreaking. His earliest lead role was in Only the Strong which was the first film to showcase the Brazilian martial art Capoeira. Brotherhood of the Wolf was a unique French period horror Kung Fu mash up that completely broke the mold for the martial arts genre. Having such an extensive background in the martial arts informed Dacascos on how to approach the fight scenes.
"As a martial artist, all I have to do is just think about it and I'm feeling it again," he says. "So that part felt like going back home. When we were doing the action sequences, I just gave myself space to move around and then take the direction from Sam Liu and went for it…It's all in your head and in your heart, and of course in your breath."
Dacascos loved how the fight scenes in Batman: Soul of the Dragon came out, so much so that he's contemplating bringing it to live action in his own way.
"I thought what would be really fun for me to do is actually in real life physicalize the forms, that form that Richard Dragon does," he says. "So I'm going to maybe make it a little challenge for myself and learn those moves in real life…I would love to be Richard Dragon in real life. He's really cool."
In many ways, Batman: Soul of the Dragon feels more like a creation story for Richard Dragon than a typical Batman story. Batman is almost a secondary character. With Marvel making such strides in diversity with Shang-Chi and the Legend of the Ten Rings anticipated for summer 2021, DC needs to up its inclusion game. Could this be a stepping stone for Richard Dragon to become his own franchise?
"I hope so," confesses Dacascos. "I hope that Batman: Soul of the Dragon continues and we do a sequel or series."
While he is hopeful that there's a future for Dragon, it's the spirit of Batman: Soul of the Dragon that he finds most motivating. Like the title says, it's got a lot of soul. "The thing is, it's so much more than that because of the lessons that the students learn in the martial arts sequences taught by the wonderful James Hong who plays O-Sensei. The lines that Jeremy Adams wrote are so profound, and like any great teachers, they transcend the martial arts. It's so much more philosophical and deeper. So, the story has the martial arts action, but it has heart, and it's sexy, and it still has a great sense of humor."
Batman: Soul of the Dragon is a direct-to-video film produced by DC Entertainment and Warner Brothers Animation premiering on digital platforms on January 12, 2021.