Features
How Ant-Man 3 Became the Most Important Marvel Movie Since Endgame
Paul Rudd's Ant-Man has gone from Baskin-Robbins jokes to being the character the entire future of Marvel Studios' Phase 5 rests on. How did that happen?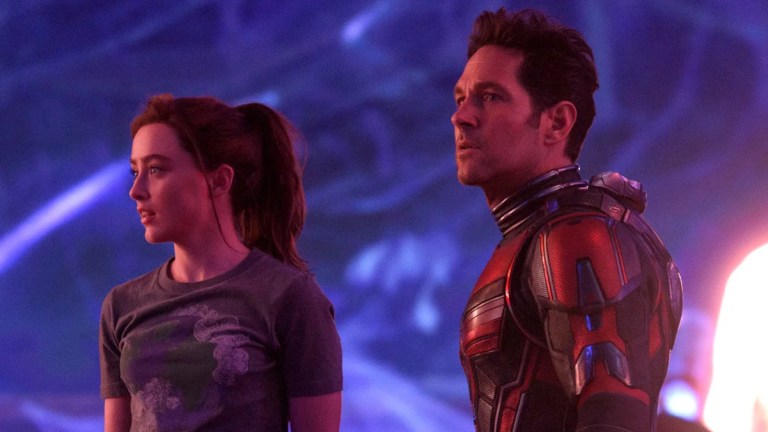 Ant-Man and the Wasp: Quantumania is an enigma—a wild swing from Marvel Studios that has put an almost inordinate amount of pressure on director Peyton Reed's shoulders. Not only has the filmmaker been tasked with delivering a serious, tone-changing sequel to two of the MCU's funniest (and arguably most overlooked) movies, but also launching the next phase in the Multiverse Saga by introducing a new Thanos-level threat to mass audiences. Considering how much is on the line, it's no exaggeration to call Quantumania the most important Marvel movie since Avengers: Endgame. Not bad for the little guy…
If you've not been closely following Marvel's every move, you may be surprised to find that studio head Kevin Feige has put so much weight behind an Ant-Man movie. After all, Ant-Man and Ant-Man and the Wasp were both palette-cleansers following major Avengers instalments, acting as comedic breathers within a more serious overarching story. Only after escaping the Quantum Realm in Endgame did Scott Lang become slightly more serious.
But putting Paul Rudd's character on a different trajectory—turning him from comic relief to bonafide superhero—has been on Peyton Reed's mind for a while. On the set of Ant-Man and the Wasp, the filmmaker started discussing what was next. "[We said] if we ever do another one of these—which at that time, we didn't know whether or not we would—it would be fun to take a big swing," he told Total Film. "And I always thought that that was one of the really fun things about [2017's Taika Waititi-directed] Thor: Ragnarok. It was the third Thor movie, and it was totally different than the other two."
Unlike Waititi's Ragnarok though, Quantumania's not just a fun, relatively self-contained detour within the MCU; Quantumania's launching Phase 5. Of course every phase in the Marvel Cinematic Universe has been opened by something. Iron Man had that honor three times (should you include Captain America: Civil War along with Iron Man and Iron Man 3), while WandaVision had the unenviable task of being the first of the MCU's Disney+ series and the start of Phase 4 after a pandemic-caused "blip" in production. Quantumania has equally as much to prove—if not more.
Here Comes Kang
Firstly, there's the introduction, proper, of Kang the Conqueror. Before Thanos snapped half the universe away, no one really had any expectations of Marvel's villains. If anything, Marvel villains were a bit of a joke. Only a few, namely Loki and Killmonger, had any lasting impact on audiences. Now we're craving another huge threat to tie the MCU's disparate threads together, and with the next Avengers movie subtitled The Kang Dynasty, there's no guesswork required when working out who that threat will be.
A Variant of Kang, He Who Remains, was first introduced in Loki, although Quantumania will be the first time Kang himself acts as a true adversary. You have to wonder whether Kang's power levels will suffer should Scott Lang and Hope van Dyne do some serious damage to the time-traveler—which really begs the question: Is Ant-Man, as the somber trailers have hinted,going to die? Whatever the case, Quantumania will undoubtedly play a huge part in setting up The Kang Dynasty (both have been written by Rick and Morty alumni Jeff Loveness), and that makes Quantumania wildly important to the overarching MCU story.
And Kang's not the only new person being introduced in Quantumania. Characters played by Bill Murray, William Jackson Harper, and Katy O'Brian will have their moments while Quantumania also marks our first proper foray into the weird, psychedelic Quantum Realm, a world that could prove a lucrative new playground for future Marvel stories.
"It was a massive world-building endeavor, figuring out the laws of physics, the looks of these environments, the ecosystems, the creatures and sentient beings down there," Reed told Total Film. "It's just teeming with life and civilization, but [it] also has politics and oppression."
Getting the Ant-Family Back Together
However, Ant-Man and the Wasp: Quantumania's not just about beginnings. We've had two Ant-Man movies before, and there's a story to continue. Janet van Dyne, Hank Pym, and Cassie Lang are all back, along with various other minor characters from Ant-Man's past—and one villain who's been completely reimagined. In other words, Quantumania's still trying to fulfill the role of sequel, keeping any Ant-Stans happy they bought a ticket to an Ant-Man movie. Altogether, Reed has a lot of juggling to do to make a coherent movie.
And, frankly, Quantumania needs to be coherent. Marvel has, by most accounts, lost a fair amount of standing with cinemagoers thanks to Phase 4. Spider-Man: No Way Home, Shang-Chi, and Black Panther: Wakanda Forever were winners; Black Widow, Eternals, and Thor: Love & Thunder proved tougher challenges for some audiences and critics. Meanwhile Doctor Strange and the Multiverse of Madness played like Marmite; you love it or you hate it. Whether the scattershot quality will damage the brand in the long-term remains to be seen, but should Quantumania prove a dud, it's another strike against Marvel right as it's trying to start a clean slate. And at what point, after a few missed shots, will people stop watching?
The first reactions are, thankfully, positive. The most prominent comments on social media regard Majors' Kang, early viewers calling him "terrific" and "endlessly compelling". Others have said, perhaps surprisingly, that Quantumania has "Star Wars vibes" and that the threequel locked them "back into the MCU". At the very least, Quantumania will be an ambitious start to Phase 5 that sees a new Thanos-level villain emerge. That's wildly exciting. What's either odd or ambitious is the fact the future of the MCU rests on the franchise's smallest heroes. Can Scott Lang and Hope van Dyne pull off the near impossible? We'll find out soon. Godspeed, Ant-Man and the Wasp.
Ant-Man and the Wasp: Quantumania opens only in theaters on Friday, Feb. 17.