Features
Al Capone: 9 Actors Who Played the Original Scarface
Real life gangster Al Capone inspired dozens of portrayals, some were accurate, many were laughable.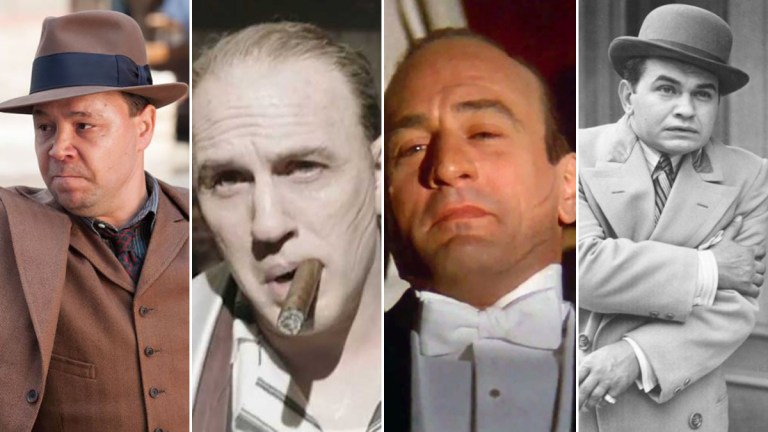 Mother of mercy, did the movies mark the beginning of RICO? The Racketeer Influenced and Corrupt Organizations Act was named after the character Rico Bandello in what is largely considered to be the first gangster movie, Little Caesar. While Edward G. Robinson's Rico wasn't specifically Al Capone in that film, the real-life gangster's signature cigar fumes are all over it. Josh Trank replaced the Cuban Corona with a carrot in the recent Vertical Entertainment film Capone, which stars Tom Hardy as the title character in his twilight years, suffering from a premature burial. The aging mobster's memories were buried by the syphilis microbe, and along with it went the clues to his buried treasure.
That speculative biopic also depicts Capone as a film aficionado. He sings along with Bert Lahr's incomparable "If I Were King of the Forest," from The Wizard of Oz, and educates his gangster friend Johnny (Matt Dillon) as to the importance of screen legend Judy Garland. The real Capone was also a screen legend and a bit of a critic. When Howard Hawks' Scarface: The Shame of a Nation came out in 1932, Capone got his own print for private screenings. Too bad he didn't get to enjoy it, spending the better part of the 1930s in Alcatraz where inmates had to strike to get movie privileges. Capone inspired quite a few movie and TV gangsters, even if he was usually glossed over to the point of not really being a person at all. We look at some of those movies which helped make Capone a legend.
Edward G. Robinson in Little Caesar (1931)
Edward G. Robinson isn't playing Al Capone in director Mervyn LeRoy's Little Caesar (1930), he's just playing a character from W.R. Burnett's novel about Capone. Rico Bandello doesn't have a scar but he enjoys the luxury of a fine cigar and exhales like he knows he's earned it. Bandello heads from New York to Chicago with friend Joe (Douglas Fairbanks, Jr.), a fancy fella who wants to be a dancer. Capone was sent to Chicago with his real pal Frankie Yale, the Beau Brummel of Brooklyn.
Rico and James Cagney's Tommy Powers from The Public Enemy (1931) are the two sides of the gangster movie archetype. Robinson stood in for the all the New York families and their Jewish mob associates, while Cagney hoofed it as the Owney Maddens and Bug Morans. The situation Robinson's later Johnny Rocco faced in John Huston's Key Largo (1948)–where he booked a room under a false alias in a Florida hotel–was closer to Charles "Lucky" Luciano's deportation than Capone's imprisonment. But the Cuban cigar he chomps on in Key Largo's bathtub scene is the same brand as Rico's. And therefore it's all Capone.
Little Caesar has been both lauded and vilified for its homoerotic subtext, but Robinson puts in a fully rounded performance of greed, betrayal, and charm. This role spawned a thousand impressions and even a recurring character on the Bug Bunny cartoons. Considered extremely violent for the time, it squeaked by before the Code could touch it.
Paul Muni in Scarface (1932)
Paul Muni didn't take the name Al Capone, but his Antonio "Tony" Camonte character was the first to wear the wounds that branded him "Scarface." Scarface: The Shame of the Nation was slated to be the most graphic portrayal of the then-living gangster that movies allowed. But even in the pre-Code era, they wouldn't let it be done.
Howard Hughes was an independent filmmaker who navigated his own set of rules, whether they were aviation or cinematic. He hired director Howard Hawks to turn in the best gangster movie ever made up until that time. It had heavy competition with Little Caesar starring Edward G. Robinson and The Public Enemy with James Cagney already setting high standards for the genre. Scarface garnered a different mantle though. It was the most censored film of all time. It may still be.
The Hays Office was vehemently opposed to any kind of glamorization of crime and demanded criminals be punished or redeemed by the end of a movie. They wouldn't have the power to censor movies for another two years, but the office had a specific vendetta against this picture. "Screw the Hays Office, make it as realistic, and grisly as possible," Hughes demanded of the other Howard. Screenwriter Ben Hecht knew Chicago and had met Capone. He even had to promise the mobster's henchmen the film he wrote wasn't about their boss, but a parody of a lot of bosses.
The parallels were fairly obvious. The cops in the movie mention that Camonte belonged to a Brooklyn gang called the Five Points Gang, which was true about Capone; Johnny Torrio was renamed Lovvo; "Big Jim" Colosimo became "Big Louis" Costillo in the film. There is a mass murder in a garage which looks like the St. Valentine's Day Massacre, and the Doran character barely dodges it, just like "Bugs" Moran in real life. Dean O'Banion became O'Hara, and he gets it in his own flower shop. Fred Pasley and W.R. Burnett, who wrote the novel Little Caesar added additional material to the screenplay, which was based on the books Al Capone: Biography of a Self-Made Man and Armitage Trail's novel Scarface. The movie opens at the Chicago intersection of 22nd Street and Wabash Avenue, this was Capone's territory on the South Side.
Muni's Tony Camonte may be the most unhinged and inhuman character not in a horror movie. His eyes dance around objects but his attention is forever diverted and warped to match a vision only he can see. Muni brings charm and humor to Tony but also a very dark and perverse interest in his sister Francesca, played by the vivacious Ann Dvorak. George Raft may still have been learning to act, but he brings a street authenticity to the part. The former club dancer actively listens to the other characters' dialog, but he only takes orders from Muni's Capone. To the death if he has to and when he goes down he doesn't put up any fight.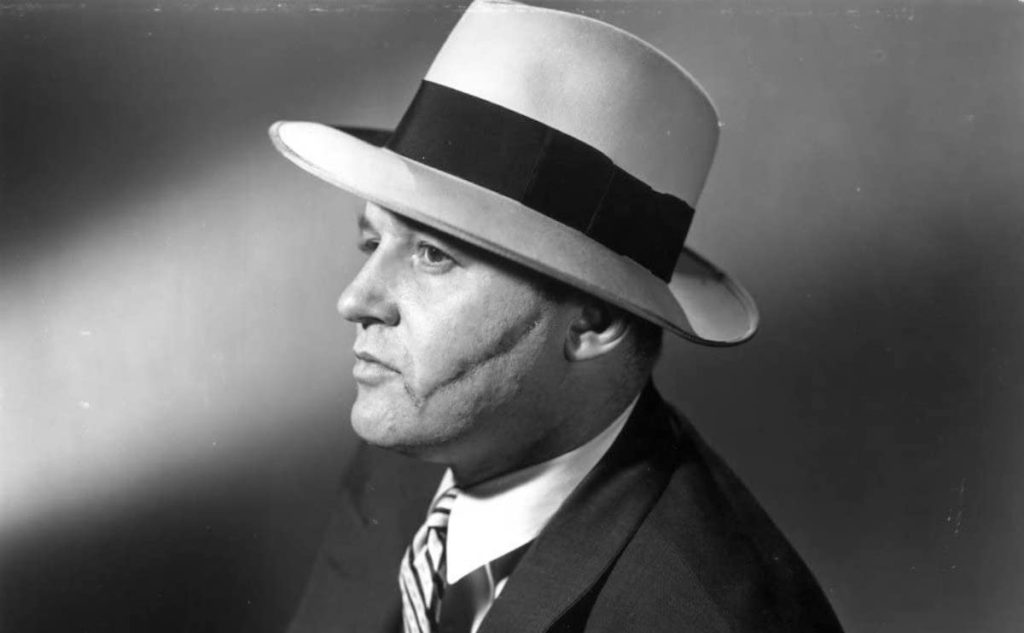 Rod Steiger in Al Capone (1959)
Al Capone was directed by Richard Wilson and written by Malvin Wald and Henry F. Greenberg. Rod Steiger turned down the title role three times before the iconic mobster was deglamorized enough to suit the actor. Steiger is one of the graduates of New York's Actors Studio. He was nominated for an Oscar for the McCarthy era mob parable, On the Waterfront (1954). He played Charlie, the gangster brother to Marlon Brando's former boxer Terry in that Elia Kazan movie.
Steiger portrayed quite a few real life roles though. He played Napoleon Bonaparte, Pontius Pilate, W.C. Fields, and did Benito Mussolini twice. He also co-starred with Humphrey Bogart in his last film, The Harder They Fall (1956), as well as called Sidney Poitier Mr. Tibbs in Norman Jewison's In The Heat Of The Night (1967). His Al Capone is not up there with these masterful portrayals.
The movie spans from Capone's stint as a bouncer at Johnny Torrio's South Side Chicago club, the Four Deuces, and ends in Alcatraz where the head of The Outfit is taking a beating from his fellow inmates who don't remember he's Al Capone. The film shows how Capone kept newspaper men and politicians like Mayor Big Bill Thompson on his payroll to pave his way as he breezed through the Windy City, and took out anyone else who didn't accept his financial largesse.
The film includes the St. Valentine's Day massacre and the tax laws which got him thrown into federal custody. Steiger plays Capone like an arrogant brute, vulgar and vain. Capone's sister sued the filmmakers for $10 million over invasion of privacy but the case was dismissed.
Neville Brand in The Untouchables (1959-1963) and The George Raft Story (1961)
The Untouchables is called a crime drama but a lot of mobsters from the era it ran considered it a comedy. And not just because it was produced by Desilu, the studio started by Desi Arnez and comic legend Lucille Ball. Neville Brand, probably best known for his role in Stalag 17 (1953), played Capone like he was taught to speak the English by Chico Marx between pasta dishes in A Night at the Opera (1935). And Capone loved opera.
Running from 1959 to 1963 on ABC, the series was loosely based on the memoirs of Prohibition era U.S. Treasury agent, Eliot Ness. Ness did not remember Capone fondly. His agents were perfect for '50s TV: courageous and white-bread, they were incorruptible, morally upright doers of good fighting evildoers. It was so stereotypical, Frank Sinatra openly called it offensive.
Capone's estate sued CBS, Desilu, and Westinghouse Electric over it. Maybe it was fitting payback that Brand played a prison guard in the 1962 film, Birdman of Alcatraz, set where Capone called home for four years. Capone wasn't Brand's only criminal role. He was the first actor to play Butch Cassidy, opposite Alan Hale Jr.'s Sundance Kid, in the film The Three Outlaws (1956). Brand also threw a Riot in Cell Block 11 (1954). But this series wasn't the last time he'd play Capone.
Brand scarred his face for a supporting role as Al in the biographical picture about Hollywood bad boy, George Raft. The George Raft Story starred Ray Danton as the title character, and featured Jayne Mansfield as Betty Grable. Though Brand got to play Capone again, he was always just playing a tough guy with a clipped delivery.
The real Raft spent most of his career turning down gangster roles because they hit too close to the guys he knew at home. The actor had to pass on a two percent share in his friend Bugsy Siegel's folly, the Flamingo Hotel, because the gambling commission said he had "too many associations with underworld figures." Raft went from being Owen "The Killer" Madden's personal driver and dancing the tango in speakeasies to becoming one of the most iconic big screen tough guys of the 1930s. Sure he knew Capone. But he wouldn't have recognized him in Neville Brand.
Jason Robards in The St. Valentine's Day Massacre (1967)
Jason Robards is a blast to watch as Capone, all his lines come sliding out of one side of his mouth while the other side enjoys a good Cuban cigar. Roger Corman originally wanted to cast Orson Wells for the role, but 20th Century Fox said the Citizen Kane director would take over the picture. Corman took a semi-documentary approach to the St. Valentine's Day Massacre, having renowned voice actor Paul Frees using his best newscaster narration tone to read all the players' vitals before they are all-too-quickly dispatched in some kind of hail of bullets or bombs.
The lead-in to the massacre follows the newspaper accounts. The history's a little choppy, but it gets the point across in big brush strokes. We don't know if the screenplay captures what these guys were saying but Robards' grinning delivery keeps it grounded in one place.
Ralph Meeker plays the crummy George "Bugs" Moran, and George Segal looks like he's having fun playing Peter Gusenberg. Corman calls the 1967 film based on the 1929 mass murder "the most accurate, authentic gangster film ever." You might think it's shot in Chicago itself, unless you've ever been there, and then you realize it's all done on backlots. Albeit very expensive backlots, even by Corman's standards, which were nil. This is the longest he ever took to make a movie and his most expensive. Fox recycled whole sections of it for Corman's 1975 movie, Capone.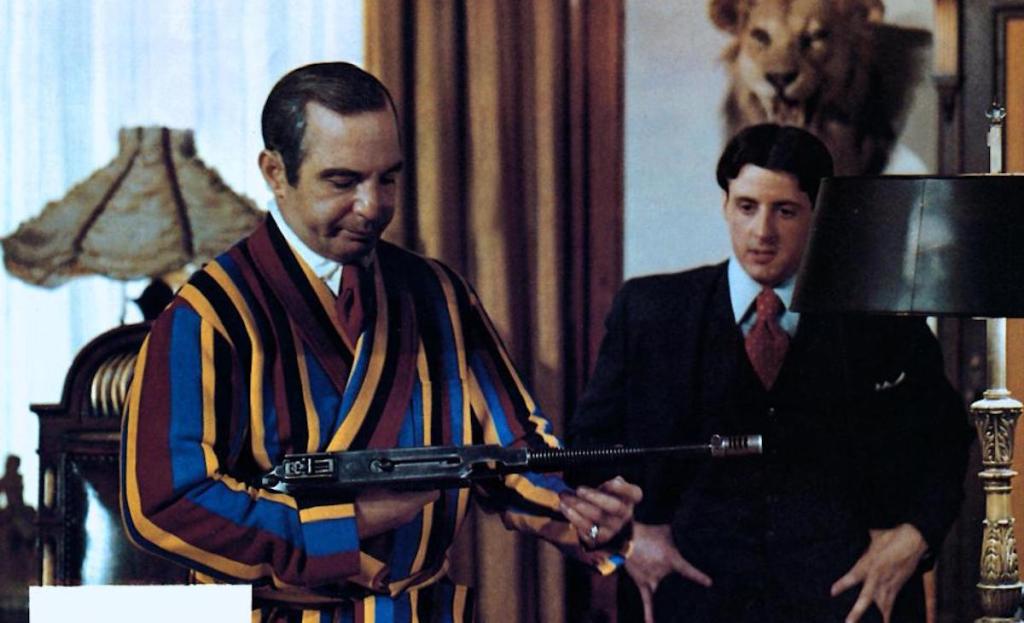 Ben Gazzara in Capone (1975)
Sylvester Stallone, who played gangster Frank Nitti, called Steve Carver's Capone "the cheesy, mentally challenged inbred cousin of The Godfather." For starters, Nitti delivers the title character's eulogy in the film, even though Capone outlived Nitti by four years. Ben Gazzara pays homage to Marlon Brando's Vito Corleone by stuffing so much cotton in his jowls you wonder if there's room for a cigar. As Capone, Gazzara shouts his lines like he's on a long-distance call at all times and doesn't trust the telephone wires to carry his voice. But he hits a hole in one on the golf course, not because he sinks a putt but because it's the one moment he truly captures the mythic mystique of the character. He's dressed in his street hood finest and chomping a cigar while he tees.
The Roger Corman production cut corners by incorporating whole sections of The St. Valentine's Day Massacre into the film. And the first movie had scenes which cut so many corners you could plainly see the same cars circling an exterior over and over during some scenes. But like a true Corman picture, you can also count on plenty of violence and a healthy heaping of titillation, especially whenever Susan Blakely hits her mark.
Gazzara is a seasoned actor who learned his legal limits in the 1959 classic film, Anatomy of a Murder. He earned his mob movie button during the 1972 French-Italian film, The Sicilian Connection, and followed up his criminal path when director John Cassavetes ordered The Killing of a Chinese Bookie in 1976. But his Capone is a must-see. However overdone he plays it, he is still a master player.
Robert De Niro in The Untouchables (1987)
"Yes," Robert De Niro's Al Capone admits in The Untouchables. "There is violence in Chicago, but not by me and not by anybody who works for me. And I'll tell you why. Because it's bad for business." What was great for business was the reteaming of De Niro with Brian De Palma, who initially cast Bob Hoskins as the larger-than-life villain Capone in this loose movie adaptation of the old TV show. But De Niro is a team player and really went to bat for the director, and he did it in the same style of silk underwear Capone wore for a fully internal experience.
De Niro gained 30 pounds to play the role but also brought the weight of his past underworld achievements to the set. With films like The Gang that Couldn't Shoot Straight (1971), Mean Streets (1973), and The Godfather: Part II (1974) under his belt, De Niro had more than made his bones. He was a mob royalty.
Written by David Mamet, the film is supposed to belong to Kevin Costner, but is stolen by supporting actor Sean Connery in an Oscar winning turn, even though he couldn't quite commit to an accent. De Niro reduces Elliot Ness to "nothing but a lot of talk and a badge." De Niro captures Capone's magnetism and his menace, often in the same scene, occasionally in a single sentence.
He still had Goodfellas (1990), Casino (1995), Analyze This (1999), and The Irishman (2019) ahead of him. De Palma had already put his spin on Scarface, with Al Pacino, and has a ball with the street level violence and the criminal hedonism in The Untouchables. The film opens with a shot of Capone getting a manicure while holding court for the press and builds to the cinematically perfect climax of a shootout in Chicago's Union Station before carving out time for a leisurely denouement at Capone's day in court.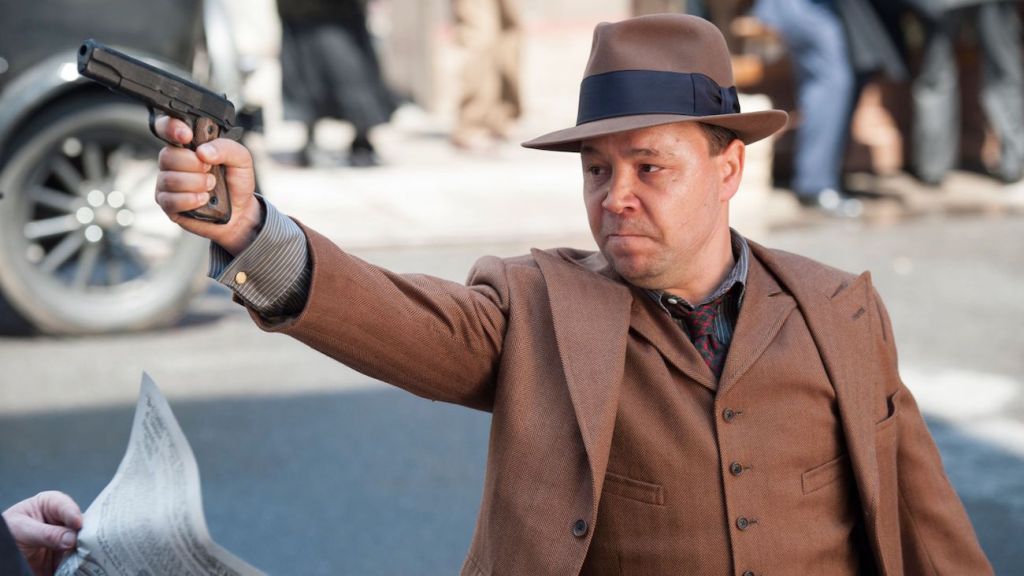 Stephen Graham in Boardwalk Empire (2010–2014)
The leisure of serialized TV let Boardwalk Empire capture the fun in Al Capone like no depiction on film. It balances on a razor blade tightrope walk between ruthless business and happy horseplay. Stephen Graham caught the nuances of a deeper character skimmed over in the movies. Maybe Graham couldn't always pull off the jaunty angle with which Capone wore his fedora, but he knew how to make the maids earn their pay. Graham cuts his violence with deeply emotional and personal scenes.
Al and his brother Ralph "Bottles" Capone (Domenick Lombardozzi) tumbled out of ridiculous roughhousing to make precise judgment calls based on innate intelligence before they hit the ground. Graham plays Capone like a big kid with a sense of humor who'll knock you on your ass if you don't get the joke. He will also stick up for people when they are the butt of unnecessarily cruel jokes. One of his gang gets berated at a bar by a guy from the North Side Gang while on collection rounds in an early episode. Before Capone's man is even finished saying he's personally hurt by the incident, Al is out the door, paying the funeral expenses for the man who caused the humiliation. Cash on delivery.
More than any other character on Boardwalk Empire, including Steve Buscemi's anti-hero protagonist, Nucky Thompson, Graham captured the family side of criminality. His home was the closest we got to sipping anisette with the Don in The Godfather or Sunday dinner with The Sopranos. Capone played mandolin and sang to a deaf son who couldn't hear it.
The show depicts him as pretty much faithful to his wife, even though Capone was renowned for his happy dalliances. Graham is also one of the few actors to let white powder lead Capone around by the nose. Capone was famous during his reign and he did get a kick out of his own celebrity. There are movies about him, comedies compared with his real life antics. Variety interviewed him in his underwear and he didn't even have to cover up his knife wounds. Even the Germans thought he was a prince. Nobody was misspelling his name once Al Capone ruled the headlines.
Tom Hardy in Capone (2020)
Tom Hardy gives a lot of depth to a hull of a man who used to be a legend. He growls when he thinks he's speaking. He shits himself when he thinks he's countering an offer from a federal cop. He mistakes his real son for one who is possibly a distant, illegitimate relation. We don't know how historically accurate the film is because even the title character can't remember the details. Josh Trank made a "what if"' movie, and the story is filtered through a lens of dementia. Hardy's Capone responds to humor though. He does catch that. The first time we see Matt Dillon, as one of the old gang, he grills Capone with the courtroom scene from the Marx Brothers' Duck Soup. The film came out in 1933 while Capone was in federal custody. The film also presents a nostalgic fantasia where Louis Armstrong sings "Blueberry Hill," which didn't come out as a single until two years after Capone died.
While it is true the Capone enclave in Florida was guarded by armed men, Al probably never shot a tommy gun after he got out of Alcatraz. He certainly couldn't have wounded anyone, as he was under constant surveillance for the rest of his life. Hardy's Capone tugs at the heart, however roughly.
Capone is now available on VOD, courtesy of Vertical Entertainment.