News
Capone Trailer Asks If Scarface 'Faked' Dementia
Josh Trank and Tom Hardy's Capone trailer hints that Al Capone, aka the original Scarface, was bluffing with an ace in a hole.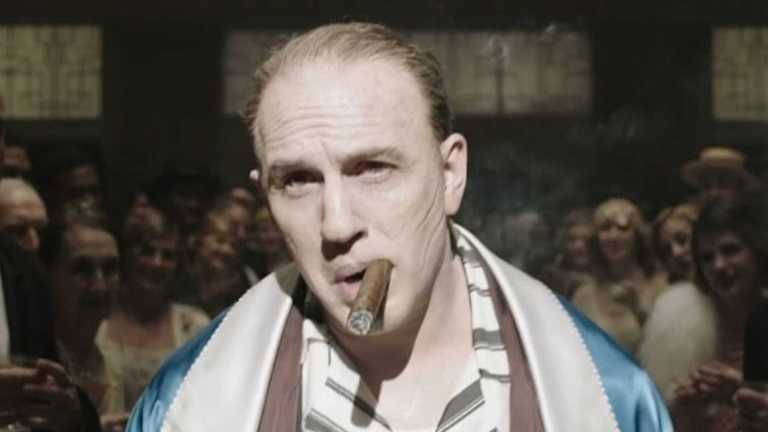 Could Al Capone's famed syphilitic dementia have all been an act? It would've been a brilliant ploy. Consider that mob boss Vincent Gigante walked the streets of the West Village in a bathrobe to put on a public performance of a mentally broken man. He kept up the act in court, during affidavits, tests, interviews and under more forceful questioning. But all the while, Gigante ruled the Genovese crime family from 1981 to 2005. The trailer for Capone promises to deliver an "untold final chapter" of his life by suggesting the original Scarface perfected a similar dog and pony show, and then claims it can back it up by saying the movie is based on true events.
"A ruthless businessman and bootlegger who ruled Chicago with an iron fist, Al 'Fonzo' Capone (Tom Hardy) was the most infamous and feared gangster of American lore," according to the official synopsis. "At the age of 47, following nearly a decade of imprisonment, dementia rots Capone's mind and his past becomes present as harrowing memories of his violent and brutal origins melt into his waking life."
The trailer opens with Capone being introduced at a nightclub, and as a good friend of the owner. I don't know if this is Bumpy Johnson, or a Floridian counterpart, but he throws a welcome home party like a true original gangster. It's positively funereal fun. He even has black balloons. Capone, however, looks far worse for wear, and what is he wearing? A pajamas and a robe like Gigante? Is this a hallucination or a gangster playacting at one?
In history, the ever energetic boss of the Chicago crime industry was ravaged by syphilis and was showing signs of dementia when he got out of prison after completing an 11-year prison sentence for tax evasion. He spent the rest of his life recuperating in Miami. But the trailer shows him still chomping on that cigar in sunnier weather while focusing on the time right before his death of cardiac arrest on Jan. 25, 1947.
"We made a promise," Capone says in the trailer. "One day we was gonna make it big." We get sprayed by a river of bullets from Capone's Tommy gun and a hint that Capone hid a fortune in cash and is trying to convince everyone he has no idea what they're talking about.
The trailer says it is based on a true story, and writer/director Josh Trank (Chronicle, Fantastic Four) isn't the first to float the idea the social disease story was made up. Capone was released from Alcatraz in 1939. Afterward, Clyde Smaldone, head of the Denver crime group called the Smaldone family, visited Capone. This call on the former Chicago crime boss came shortly before Capone's death, and  Smaldone concluded something was wrong with the narrative.
"They told Al he had syphilis and that's a damned lie," Clyde told author Dick Kreck for his book Smaldone: The Untold Story of an American Crime Family. "He never had syphilis. I think his heart was broken more than anything. I snuck down and got to see him a week before he died. Nobody knew when I went and nobody knew when I came back."
As far as treasure the former Little Caesar can't remember burying, he may not have known where it was buried, but he knew people who could dig it up. "He was glad to see me." Smaldone said about the man this new trailer compares to Adolf Hitler. "He even asked me 'How do you stand on the money?' I said 'It's All Right.' He gave me the name of a fella and says, 'If you ever need anything or need any money, you go see him. I'm going to put a mark on this so you can show him this.' Well, I don't have that anymore, I tore it up and burned it."
Smaldone was apparently a standup guy.
Capone, which was developed under the title "Fonzo," also stars Linda Cardellini as wife Mae Capone, Matt Dillon as Karlock, Kyle MacLachlan as Johnny, Jack Lowden, and Neal Brennan.
Capone will be released by Vertical Entertainment and Redbox Entertainment on VOD on May 12 with a 48-hour rental.