Features
The Real History of The Godfather Movies and Book
The Godfather made history even as it reinterpreted it. We look at the real gangsters who inspired the book and movie.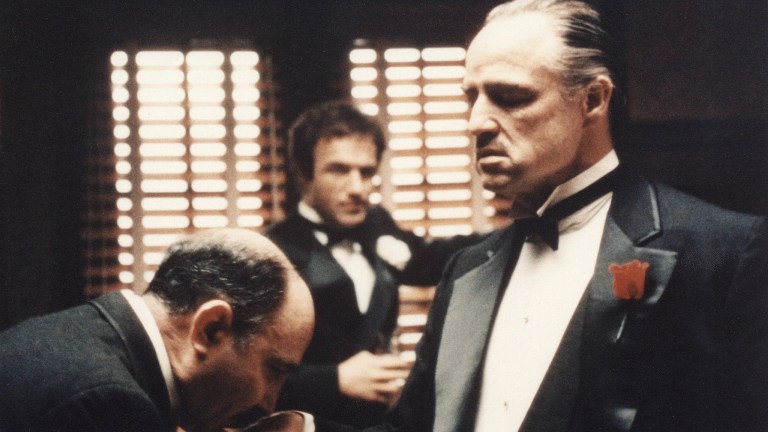 The Godfather is a historic movie that made and remade history. Francis Ford Coppola's adaptation of Mario Puzo's best-selling family novel is consistently rated in the top three motion pictures ever made, often at number 1. Some critics and film historians believe the sequel, The Godfather Part II, was an even better film, solidifying its place in the upper echelon of cinema.
The Godfather was an allegory of corporate America told personally in a family setting that interpreted real life events. It charted the rise and fall of the Mafia, a word you never hear in the movie. That is because a mob family father declared omerta and created the first Italian American anti-defamation league just to keep the movie in line, again putting cement shoes on a legend.
The Godfather is a family film, which raises the question of which family?
Some of the more romantic film analysts point to the Borgias, the pezzonavante who pulled the strings on the political puppets of the 15th and 16th centuries. The Borgias have been accused of all manner of crime, sin and naked ambition, pissing off the Medici family, the House of Sforza, and the Roman Catholic Church. The family assimilated so high into the upper echelons of medieval European society that they had their own seats at the Vatican and two of them became pope. Alfons de Borja was Pope Callixtus III from 1455–1458 and Rodrigo Lanzol Borgia was Pope Alexander VI from 1492–1503. Cesare Borgia passed up being pope to roam the countryside with an assassin sidekick. Sancha of Aragon could be considered the Kay Francis (Diane Keaton) of the family that financed the Renaissance.
Men of Respect
The Corleones are also part of the Five Families and Don Vito Corleone himself is a composite of real-life mobsters Frank Costello, Carlo Gambino, and Joe Profaci.
Don Corleone, in the book and the movie, had a reputation for being a reasonable man, a modest man who will always listen to reason. As a reasonable man, he is willing to do whatever is necessary to find a peaceful solution to problems. Frank Costello, of the Luciano/Genovese family, was known as "The Prime Minister" of the Mafia. He stayed out of the limelight that put mobsters like Al Capone in the headlines and jail. The diplomatic Costello opted for reason over violence and had enough judges and politicians in his pocket to stay in power.
In Mario Puzo's book, Vito Corleone and Frank Costello were born in the same year. Vito Andolini was born in Corleone, Sicily, the city that gave him his famous name, on December 7, 1891. Costello was born January 26, 1891, in Cassano all'Ionio, Italy. Costello made money off harmless vices like gambling and bootlegging, had operations in Las Vegas and Cuba, and kept his soldiers from dealing heroin. Like Corleone, Costello survived a hit, and died of natural causes. But he went to jail a few times and was usurped on the Commission. When Marlon Brando was preparing to play Corleone, he listened to tapes of Costello testifying to the Kefauver Committee on Organized Crime.
Carlo Gambino never went to jail and also died of natural causes, though it was in 1976, after The Godfather came out. Corleone and Gambino had three sons and a daughter. The Gambino Family had a "deal and die" policy on heroin and both were bugged by the fucking FBI, who don't respect nothing.
Giuseppe "Joe" Profaci was born on October 2, 1897 in Villabate, a province in Palermo, Sicily. He came to America on the same boat as future Gambino family boss Vincent Mangano and his brother Phillip. Profaci was the Olive Oil king of Long Island. Corleone also imported olive oil (so did my great grandfather Don Guiseppe Giannusa, but that didn't make him Mafiosi). Profaci was at the December 5, 1928 mafia summit thrown by Cleveland boss Joseph Porello at the Statler Hotel. While his Lucky Luciano-sanctioned family was one of the biggest in the Commission, Profaci's legitimate business protected him from tax evasion charges. But he wasn't protected from going to the mattresses.
The Gallo-Profaci War
While The Godfather Part II is known for examining how Don Vito Corleone came to sit at the table of New York's five families of crime, The Godfather detailed a very specific mob insurrection: The Gallo-Profaci wars of the late fifties.
The Gallo-Profaci war was the biggest mob war since the Castellammarese war, named for the town of Castellammarese del Golfo of Sicily, of 1930-31. Joseph Bonanno told Gay Talese, for the book Honor Thy Father, the story of how the bloody gang war gave rise to the Commission and the price. The Gallo-Profaci war took the lives of 13 gang members and changed the Profaci Family name to Colombo. The mafia mythology of The Godfather would have you believe that "sleeping with the fishes" was an old Sicilian message, but it only went back about a decade to the time a gang that couldn't shoot straight went to the mattresses on President's Street in Brooklyn.
read more: The Real Goodfellas
"Crazy" Joe "The Blond" Gallo and his brothers Kid Blast and Larry ran rackets for the Profaci Family. Joe Gallo is credited as being one of the "Barbershop Quintet" that did the job on Albert "the Lord High Executioner" Anastasia while he was getting a shave. The Gallo brothers thought the high profile execution of the man who co-created Murder Inc. would raise their profiles and fatten their wallets, but they found themselves stuck at the same dead end.
The Gallo Wars started in 1960. It was the first time a mob family hierarchy was openly challenged. Joe Gallo put together a plan to kidnap the top tier of the Profaci family, much like "the Turk," Virgil Sollozzo, bagged the Corleone family consigliere Tom Hayden, played by Robert Duvall. Profaci escaped the kidnapping, but his brother-in-law and underboss Joe Magliocco was nabbed along with four Profaci caporegimes. Word is that Joe wanted to whack one of the hostages and demand money before the talks started, but Larry talked him out of it.
Profaci negotiated a better deal on the ransom and his soldiers were let go, but the boss wanted revenge for the insult. In Sicily, revenge is a dish best served cold. In May 1961, Profaci unleashed Carmine "The Snake" Persico to take out the entire Gallo crew. "Joe Jelly" Gioelli was executed by Sally D'Ambrosia. A fish was wrapped in Joe Jelly's coat and dropped off in front of a candy store in the Gravesend section of Brooklyn. Like Luca Brasi in The Godfather, Gioelli "slept with the fishes" and the Gallo faction "went to the mattresses," holing themselves up on President Street and shaking down merchants within a few blocks' radius.
In the novel The Godfather, the German-Irish consigliere Tom Hayden explains that the fish wrapped in Luca Brasi's bulletproof vest is an old Sicilian message. Caporegime Peter Clemenza explains the meaning behind the mattresses to Paulie Gatto (John Martino) while was driving under the Elevated trains in the Bronx before heading to the swamps of Jersey. That stronzo Paulie gets one in the back of the head from Rocco Lampone (Tom Rosqui) not too far from the Meadowlands. Richard Castellano, who played Clemenza was only scripted to say "leave the gun." He improvised the line "take the cannoli" because he knew his wife was waiting for dessert. That may have been payed forward in the relationship between Bobby Baccalieri and his wife Karen on HBO's The Sopranos.
Persico then went after Larry Gallo, inviting him to a sit-down at the Sahara Lounge supper club in Brooklyn. Larry was jumped when he got into the building and was being garroted when a cop stopped in and the attack was thwarted, much like the Corleone caporegime Frank Pentangeli, played by Michael V. Gazzo, is attacked by Rosato brothers in The Godfather Part II.
read more: Goodfellas and the Mysterious Fate of Tommy DeSimone
Vito Corleone's death was the only act he ever committed that let his son Michael (Al Pacino) down. The don's funeral was a place of intrigue as the other family fathers were positioning themselves to move in on his turf, even turning the loyal Tessio (Abe Vigoda) into a finger man. When Joe Profaci died, Joe Magliocco took over the Profaci Family and Joe, Larry, and Albert Gallo, backed by Tommy Lucchese and Carlo Gambino, started leaning on the new boss for old dues. The family name didn't pass on to his son.
Capos i tutti capi
Michael Corleone was loosely based on Salvatore "Bill" Bonanno, Joseph Bonanno's son, who was groomed to go into the straight life after law school but got prematurely pulled into the family business after his old man was kidnapped. The nice college kid prowled phone booths waiting for late night calls from the absent Bonanno Family father.
Salvatore Tessio was based on Gaspare DiGregorio, the Bonanno family caporegime who tried to get rid of Salvatore during the "Banana War" with the Gambino and Lucchese families and Joseph Bonanno's cousin, Buffalo don Stefano Magaddino. DiGregorio was best man at Joseph Bonanno's wedding and was godfather to his son Bill. During Vito Corleone's funeral in The Godfather, Tessio arranges a meeting between Michael and Barzini where the new boss "would feel safe." DiGregorio set Bill Bonanno up for a hit in October 1964 when his father went underground after being kidnapped by his cousin. Joseph Bonanno set up his son as acting boss and DiGregorio arranged an ambush, but the bullets hit the sidewalk, not the Bonanno delegation.
Emilio Barzini, played by veteran actor Richard Conte, who costarred with James Cagney in the espionage thriller 13 Rue Madeleine in 1947 and James Stewart in the classic film Call Northside 777, was based on Vito Genovese, the non-traditionalist who didn't shy away from the heroin and cocaine trade and ordered a hit on Frank Costello. Costello lets some dimes drop on Genovese, who went to jail on drug charges in 1959.
Philip Tattaglia (Victor Rendina) was loosely based on Gaetano "Tommy" "Three Finger Brown" Lucchese. The Lucchese family was the smallest of the Five Families and his associate, Vincent Papa, was part of the French Connection heroin distribution ring. Tattaglia was the first to back Virgil Sollozzo's (Al Lettieri) white powder movement. Rocco Lampone blasts Philip Tattaglia while he's in bed with a hooker in the movie and looming over a young girl in the book.
You let me worry about Luca Brasi
"There are men in this world who go about demanding to be killed," Don Corleone says in the 1969 novel. "They argue in gambling games; they jump out of their cars in a rage if someone so much as scratches their fender. These people wander through the streets calling out 'Kill me, kill me.' Luca Brasi was such a man." So was Frank Costello's cousin, Guarino "Willie" Moretti.
Brasi is the guy who held a gun to a bandleader's head while Vito Corleone assured him that either his brains or his signature would be on a contract releasing Johnny Fontane from fronting the band. Moretti stuck a gun in Tommy Dorsey's mouth to free Frank Sinatra from a bad contract.
Francis Ford Coppola cast Lenny Montana as Luca Brasi after Joe Colombo visited the set. Montana was the gangster's bodyguard. The former pro wrestler was so nervous about acting in a scene with Brando that he flubbed every take and the director added a snippet of caught footage of Montana rehearsing his lines to make it seem like Luca was nervous about taking up the Godfather's time on the day of his daughter's wedding.
In real life, people were more nervous about being around Moretti. He was erratic, unpredictable and wild. When Moretti told the Kefauver Organized Crime hearings that he didn't "carry a membership card that says Mafia on it," the mob figured he also had a big mouth. Willie was shot, in the face out of respect, at Joe's Elbow Room in New Jersey. Vito Genovese called Moretti's execution a "mercy killing."
The hit on the powerful and independent Luca Brasi made the Corleone Family vulnerable to the Tattaglia and Barzini attacks. When Moretti was taken out, Frank Costello lost control of the Luciano-Genovese-Costello family.
Bigger than U.S. Steel
Hyman Roth in The Godfather II is based on Meyer Lansky. "We're bigger than US Steel," Lansky said about the crime organization he forged with Salvatore "Lucky" Luciano. Jewish gangster Lansky was an associate of the Commission since its foundation. A friend of Luciano's since he stood up to two shakedown attempts, Roth helped set up the National Crime Syndicate and Murder Incorporated. Lansky arranged for Luciano to go into exile in Sicily instead of doing jail time in exchange for securing the Brooklyn shipyard during World War II. Lansky also counseled Frank Costello.
Lee Strasberg, who played Hyman Roth, was personally complimented by Lansky on his performance. "They talked," Meyer Lansky II told Den of Geek. "He called. He was around when that movie came out and he called Lee Strasburg. He got hold of his wife and his wife knew right away that it was Meyer. My grandfather said he did a great job. He could have made him more sympathetic, my grandfather, but he did a wonderful job. That must have been quite a moment for Mr. Strasberg. He liked the way he portrayed him."
"Lee Strasberg was from relatively the same time period and background," Lansky II said. "At one point it was like looking at and listening to my grandfather. He sounded just like him. It was almost spooky. His mannerisms and everything were just perfect."
Johnny Ola (Dominic Chianese, who played Uncle Junior on The Sopranos), Roth's go-between to the Corleone family, is modeled on Vincent Alo, who passed Lansky's messages to the Luciano family. Roth is killed by Rocco Lampone in Godfather II. Lansky died of natural causes at the age of 80.
Roth reminds Michael that he never got in the way of unceremoniously removing Moe Greene (Alex Rocco) from Las Vegas because this is the business they chose. Lansky okayed the hit on one of his and Luciano's oldest friends.
You don't come to Las Vegas and talk to a guy like Moe Greene like that
Moe Greene, who made his bones while Michael was going out with cheerleaders, is based on Benny Siegel. Benjamin, who had a few personal quirks, was better known by his nickname, Bugsy. But you didn't want to say that to his face. Moe Greene put Las Vegas on the map. Jewish mobster Siegel built the Flamingo. Moe Greene was shot in the eye for bringing up the Barzini family and slapping Fredo around a little. Siegel was shot in the back of his head and his eye popped out from the pressure for mislaying some mob money in the foundation of the first casino on the Las Vegas Strip.
Moe Greene was a Murder Incorporated hitman in Brooklyn before Meyer Lansky sent him out to consolidate Vegas for the syndicate. Siegel became a Hollywood legend. The affable actor George Raft introduced him around and he became friends with Tinseltown legends like Sinatra and Clark Gable and romanced Virginia Hill, whose living room he was in when he was shot twice in the face on the evening of June 17, 1947.
Moe Green was also partially a composite of Gus Greenbaum, Moe Sedway, and Moe Dalitz. Sedway and Greenbaum were part of Meyer Lansky's gang when they were still on the Lower East Side before Greenbaum went to work for the Chicago Outfit. Sedway and Greenbaum ran the El Cortez Casino and started managing the Flamingo Hotel in 1946, when Siegel was doing construction. They ran it until January 1947, when it was shut down because Siegel was skimming. Moe Dalitz was a bootlegger before he went to Las Vegas began in the late 1940s to run the Desert Inn.
In The Godfather, Corleone family took over Greene's casino and installed Johnny Fontane as the headlining performer. The day after Siegel was killed, the Commission took over the Flamingo and booked Frank Sinatra as their top draw.
That Olive Oil Voice
Mario Puzo always said Johnny Fontane wasn't based on Frank Sinatra, though according to his The Godfather Papers, he wouldn't show the novel's manuscripts to Ol' Blue Eyes' lawyers. Sinatra had been a longtime hero to Puzo and the novelist took abuse from the singer at a millionaire's birthday party at Chasen's. Puzo remembers that the food was lousy and Sinatra called him a pimp, which he took as a compliment. The legendary actor, singer, and Northern Italian told the unfortunate pilgrim that he'd beat the hell out of him and left him with the words "choke. Go ahead and choke," which says to this writer that Sinatra had tried the food, fugati. That's Life.
Johnny Fontaine was a kid from the neighborhood who did alright for himself. The mob helped him get out of a personal services contract when he was first starting out and got him into a war picture where he wouldn't even have to act because he was so right for the part that would put him right back on top. Sure, Fontaine betrayed his wife with a Hollywood starlet in the book. But in the movie he knows a man who doesn't spend time with his family can never be a real man. In the book Fontaine gets an Oscar for the picture.
Frank Sinatra was a Hoboken kid who broke big and never forgot the people from the old neighborhood. As stated before, Sinatra had help getting out of his contract with Tommy Dorsey. He also had a lifelong devotion to actress Ava Gardner. FBI Director J. Edgar Hoover said Sinatra had a "hoodlum complex," but couldn't prove that his comeback had anything to do mob connections in their 1,275-page file on the singer. Sinatra won the Academy Award for Best Supporting Actor for his role as Private Angelo Maggio in the 1953 classic film From Here to Eternity.
Sinatra also had a sit down with Francis Ford Coppola about playing Vito Corleone in the classic mob film he preferred not to talk about.
There is no evidence that a movie producer ever woke up with the head of his favorite thoroughbred under the sheets but that was a real horse-head in film. Production designer Dean Tavoularis arranged for a dog food manufacturer to deliver the head of a killed horse in dry ice on day the scene was shot. It was done so quickly they had no time to tell John Marley, the actor who plays Jack Waltz. That scream was as real as the head.
That Olive Oil War
In The Godfather Papers, Puzo admits he wrote The Godfather "entirely from research. I never met a real honest-to-god gangster," though Sammy "The Bull" Gravano was convinced the writer had inside informants. Puzo included historical figures in the book that were left out of the movie. The book cast the real life Al Capone as an associate of Salvatore Maranzano who called on to help during the Olive Oil War of 1933.
Capone sends two hitmen to whack Vito Corleone, but Luca Brasi finds out and savagely deals with them as a message to the man they called Scarface. "You know now how I deal with enemies," reads a note Corleone sends Capone. "Why does a Neapolitan interfere in a quarrel between two Sicilians? If you wish me to consider you as a friend I owe you a service which I will pay on demand. A man like yourself must know how much more profitable it is to have a friend who, instead of calling on you for help, takes care of his own affairs and stands ever ready to help you in some future time of trouble. If you do not wish my friendship, so be it. But then I must tell you that the climate in this city is damp; unhealthy for Neapolitans, and you are advised never to visit it."
In spite of Puzo's extensive research he made one mistake in this. Capone was aligned with Joe Masseria, Maranzano's rival during the Castellammarese war.
Try the veal
The scene where Michael blows Virgil "The Turk" Sollozzo (Al Lettieri) and police captain Mark McCluskey's (Sterling Hayden) brains all over his nice Ivy League suit at Louis' Italian American Restaurant in the Bronx was inspired by the elimination of Joe the Boss. On April 15, 1931, Mafioso Charles "Lucky" Luciano met Joe Masseria at Nuova Villa Tammaro in Coney Island. They ate, played some cards and Lucky excused himself to go to the bathroom.
According to the book Murder Inc., by Sid Feder, Luciano dawdled while washing his hands, similar to how, in Puzo's book, Michael really had to go. What luck, Luciano just missed getting caught in the crossfire when Benny Siegel, Vito Genovese, Albert Anastasia, and Joe Adonis shot Masseria more than 20 times. It ended the Castellammarese War and left only Salvatore Maranzano between Italian mobs and The Commission.
Michael Corleone had to flee to Sicily after he gunned down the Turk and the police captain, but he found a short lived love, Apollonia Vitelli. Lucky Luciano moved to Italy after he was deported and he too was hit by the thunderbolt of love. Similarly, Vito Genovese fled to Italy to escape charges for killing Ferdinand Boccia in a Brooklyn coffee shop on September 19, 1934. He returned to America after the charges were dropped.
The assassination scene saved Coppola's job. Paramount producers weren't happy with the talky, introspective dailies they were getting from the set. They were just about to fire him when the executives saw the violence and declared it good, which is all the more amusing considering how much historical violence remained in the film's DNA.
Read and download the Den of Geek Lost in Space Special Edition Magazine right here!