News
Spider-Man 2 PS5 Release Time: When Can You Download the Game?
You can swing into action as the Spider-Men as soon as you're done reading this sentence. So long as you read this article after midnight.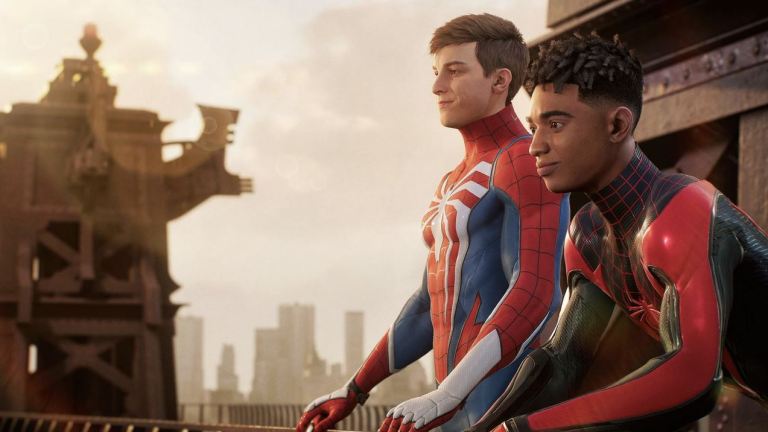 Insomniac Games has demonstrated that Rocksteady Studios isn't the only company capable of developing a spectacular open-world franchise based on a popular superhero. The first two Spider-Man games impressed fans and became must-play titles for any Playstation owner. According to reviews, Spider-Man 2 will fit in just nicely with the others, just as soon as it launches. And we do mean soon.
According to the official launch trailer and the game's PS5 store page, Spider-Man 2 will release on October 20. But what time on the 20th, you're probably asking. Neither Sony nor Insomniac Games have provided a narrower window, but the most prevalent theory is that Spider-Man 2 will follow a staggered release that will only let players start playing when their specific time zones reach midnight. However, that's not the only possibility. The game could also be released at midnight EST, which means audiences living on the West Coast might get to start playing at 9 p.m. their time. Given Sony Insomniac Games' silence, it's probably safer to assume that you can start playing at midnight, wherever you are. At the very least, that's the release schedule that many major PS5 games end up following.
Normally, when games follow a staggered release window, you can shorten your wait time by using the New Zealand Time Zone Trick (i.e., making a new account, setting its home to New Zealand, and using that account to purchase the game). However, since we don't know if Spider-Man 2 is releasing worldwide at 12 a.m. ET or at 12 a.m. in each subsequent time zone, we don't recommend using this technique. Based on current reports (and the increased difficulty of that process on PS5), it doesn't seem like it will do you much good anyway. Moreover, depending on when you actually bought the game, you might need to wait a little longer than that.
As is the case with many video games these days, you have to install Spider-Man 2 before you can start playing, and it's quite a hefty install. At the time of writing, you're looking at around 86 GB worth of game data. You can save yourself a bit of time by pre-loading Spider-Man 2, but that option is only available for people who pre-ordered the digital version. If you bought or plan to purchase the physical version, or you don't want to drop the cash just yet, you will have to wait for the installation to complete.
While the previous Spider-Man games launched on the PlayStation 4 before eventually receiving PlayStation 5 upgrades and PC ports (available on Steam and the Epic Games Store), currently you can only play Spider-Man 2 on PS5. A PS4 version seems unlikely, but a computer port doesn't, although admittedly the ability to play Spider-Man 2 through Steam is as much an "if" as it is a "when."
And that's all you need to know about Spider-Man 2's release time. See you around NYC, wall-crawler.