Features
Rep. Ilhan Omar vs. Henry Cavill: Who Has the Better Gaming PC?
Ilhan Omar's Twitch appearance has us wondering whether her incredible gaming PC is better than Superman's.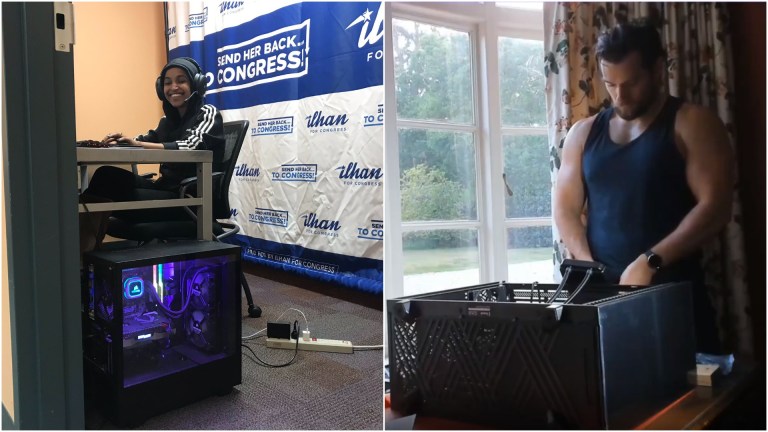 U.S. Representative Alexandria Ocasio-Cortez took over Twitch yesterday, as more than 400,000 viewers sat down to watch her stream a few hours of popular party game Among Us as part of her campaign to encourage people to get out and vote. Joining her were streamers Pokimane, DrLupo, Myth, Maia, Jacksepticeye, MoistCr1TiKaL, Hasanabi, and Disguised Toast as well as Congresswoman and fellow Squad member Ilhan Omar.
In short, it was a pretty cool event, and it was made even better when Congresswoman Omar took to Twitter to share a photo of her gaming PC:
We'll dive into the specifics of the build in a minute, but we should first point out that Omar's PC is legitimately impressive. That's not the kind of rig you keep around unless you're planning on playing and streaming high-end PC games and ensuring that they run about as optimally as possible.
Of course, it's not like Omar is the first celebrity or public figure to double as the owner of an impressive gaming PC. In fact, The Witcher star Henry Cavill caused quite a stir earlier this year when he posted an Instagram video of himself building his own gaming PC to the sultry sounds of Mr. Barry White.
While we don't want to spark an unnecessary rivalry between Mr. Cavill and Mrs. Omar, we couldn't help but wonder which of them has the more powerful gaming PC. To be fair, the answer to that question is complicated somewhat by the fact that Cavill hasn't actually shared the official specs of his PC while Omar has. However, this is a rough comparison of Omar's specs with Forbes' guess of Cavill's build based on the parts seen in his video:
Ilhan Omar's PC
Intel Core i7-10700K
Zotac GeForce RTX 2060 Super
G.Skill TridentZ RGB 32GB
Samsung 970 EVO Plus 1TB M.2 NVMe main
6TB SSD storage
Corsair iCUE H100i AIO
NZXT H510i case
Henry Cavill's PC
AMD Ryzen 9 3900X
G.Skill Trident Z RGB 32GB DDR4-3600 CL16 (2 x 16GB) RAM
Asus GeForce RTX 2080 Ti 11 GB ROG Strix Gaming OC GPU
Asus ROG Crosshair VIII Hero (Wi-Fi) motherboard
Samsung 970 Pro 1TB SSDs x 2
Fractal Design Define 7 case
NZXT Kraken Z73 liquid cooling
Seasonic Prime TX-1000 PSU
So who has the better build? Well, the processors are arguably too close to call, but we've got to give the slight edge to Omar's i7-10700K based on popular comparison charts. However, Cavill makes up some ground with his impressive GeForce RTX 2080 Ti, which has a slight performance advantage over the 2060. Congresswoman Omar's 6TB SSD (and 1TB NVME boot SSD) is undeniably impressive, but without knowing its brand and specs, you could certainly make the argument that Cavill's double NVMEs are more valuable.
The builds are fairly close, but based on what we know and reasonably deduct, we might have to give the slightest of edges to Cavill's PC due to the fact that the gap between their GPUs is larger than the gap between their CPUs. The real takeaway is that if neither the Congresswoman nor the actor can get their hands on NVIDIA's new RTX 30 GPU line (although Cavill's build pre-dates the release of the new cards), then we're not sure what hope the rest of us have of getting an RTX 3080.