Features
Pokémon: The Terrifying History of Lavender Town
Lavender Town is one of the creepiest corners of the Pokémon universe, but some believe that the horrors of Lavender Town aren't limited to those classic games.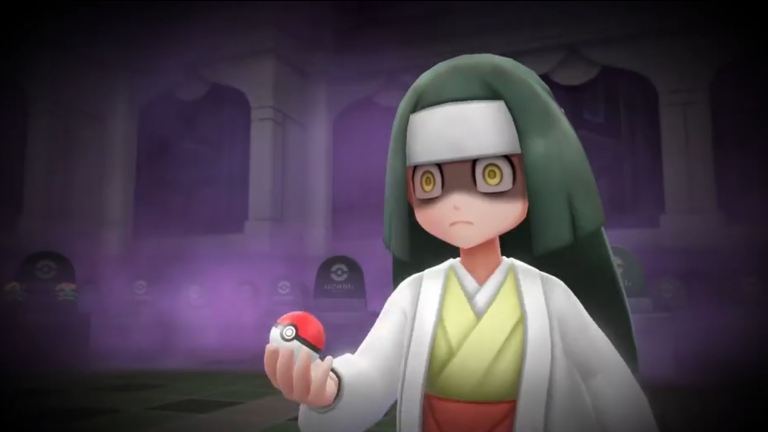 For the most part, the world of Pokémon is a happy-go-lucky place where humans and wild, superpowered animals peacefully coexist. However, those who know the franchise bet know that it is filled with dark corners and disturbing secrets.
Some of the franchise's Pokédex entries are basically condensed X-Files episodes. Certain subplots, such as a mission where Ditto replaces humans, feel torn from the pages of EC Comis. Oh, and there's always Lavender Town. That place is just plain creepy.
While the franchise is full of scary locations, such as the Old Chateau and Strange House, none have captured gamer imaginations and terrified the Crabrawler out of them quite like Lavender Town. This tiny village introduced audiences to the terrors that hid just beneath the surface of Pokémon's kid-friendly world, but more importantly, it inspired ghouls and ghoulettes across the world to create their own stories and rumors based on the haunted hamlet.
Pokémon's Lore Explains Lavender Town's Haunted History
In the northeastern corner of Kanto rests the small village of Lavender Town. This location is unexceptional save for the giant tower nestled near its northern exit. This tower, which carries the oh-so-imaginative name of Pokémon Tower, is part of why Lavender Town has earned a sinister reputation both in the in-game world and in real life.
Every town in a Pokémon game serves a purpose, both from a gameplay perspective and a lore perspective. Well, Lavender Town is a graveyard. To be more specific, the bodies of dead Pokémon are housed in the huge tower. You probably already know where this is going, and you'd be right. Local superstition suggests that all of those bodies have apparently turned the tower into a powder keg of supernatural energy. Wild Ghost-type Pokémon roam the upper floors, and all the Trainers in the tower are seemingly possessed until players smack some sense into them via a battle. The tower's obviously haunted qualities clearly contribute to Lavender Town's supernatural reputation, but the village isn't just haunted by Ghost-type Pokémon; Lavender Town also has its share of actual ghosts.
Anyone who has played Pokémon Red/Blue/Yellow or has seen the second episode of Pokémon Origins knows about the Marowak at the top of Pokémon Tower. Not to be confused with an Alolan Marowak, which is part Ghost-type, the tower's Marowak is a literal spirit that refuses to pass on. Speaking of that episode of Pokémon Origins, most gamers who played the original Pokémon games probably remember the kid who tells players there is a white hand on their shoulder. Well, the anime takes that bit one step further and actually places a white, transparent hand over the main character's shoulder in a blink-and-you'll-miss-it scene. No explanation, just an Easter egg that more or less confirms ghosts exist in the world of Pokémon.
While ghost-like animals and actual ghosts are scary enough, I would be remiss if we forgot the creepiest part of Lavender Town: its music. The village's theme was composed long before developers had the technology to convert orchestrated pieces into soundtracks, and before terms like "binaural audio" were recognized by the gaming public. Rough edges aside (or perhaps because of them), the Lavender Town song is an absolutely spine-chilling composition highlighted by sharp, atonal notes. The Lavender Town theme is arguably one of the scariest songs in video game history, partially because it comes out of left field in a game rated "E for Everyone." The tune is so iconic that remixes in the sequels and remakes don't measure up.
Curiously, Lavender Town's music is also a significant part of one of the strangest and most terrifying urban legends in video game history. Indeed, that urban legend is a big part of the reason why Lavender Town stands out from nearly every other vague scary location in Pokémon history due to the lasting legacy of a story that has haunted generations of fans.
Lavender Town's Ghosts Invade Our World Through Creepypastas
We love to be scared, but we don't always know why. We enjoy experiences that make our hearts race and our brows sweat. That's why we go to haunted houses, watch movies like The Exorcist, and play games such as Resident Evil. We crave that high of being terrified and will gladly seek out increasingly more terrifying works in order to capture that feeling that first alerted us to our desire to be scared. But what happens when a manufactured scary experience doesn't go far enough? Usually, we try to make our own. After all, if the human imagination can create something as scary as Lavender Town, why can't it push that same concept even further?
For those who don't know, "Creepypastas" are basically internet urban legends. Typically horror-focused, creepypastas earn their name from the way they usually originate as some kind of short story that is copied and pasted to various parts of the internet. Many creepypastas come and go without ever catching the attention of all but a few diehard internet users who seek such things out. However, there are some creepypastas (most notably the Slenderman story) that take on a life of their own.
Lavender Town is linked to two prolific creepypastas: Lavender Town Syndrome and White Hand. The first revolves around the original game's soundtrack (predictably, that famous Lavender Town theme). Legend has it that Japan experienced a spike in reported suicides and illnesses, specifically in children between the ages of 7 and 12, after the release of Pokémon Red and Green. According to an urban legend that grew into a creepypasta, these were linked to the theme of Lavender Town, as its high tones resulted in headaches and irrational, suicidal behavior.
Pokémon's developers reportedly lowered the frequency of the song's notes in subsequent versions to prevent future outbreaks. Sounds ridiculous, right? Perhaps, but it's important to remember that in the 38th episode of the Pokémon anime ("Electric Soldier Porygon") utilized flashing lights that triggered epileptic seizures among some of its young viewers. The idea that a technical error in a Pokémon product could cause real-world tragedies (even if the error and subsequent tragedies were entirely unintentional) certainly seemed believable once upon a time.
Mind you, okémon fans did their best to help the rumor spread. To provide "proof" of Lavender Town syndrome, some people even posted videos of a Lavender Town beta theme, which is somehow even more unnerving than the official release. Others have provided spectrographs that translate the Lavender Town song tones into pictures, which seemingly "reveal" that the track hides sprites of ghosts and several Unown arranged to spell out "LEAVE NOW." Of course, the mere presence of Unown, which didn't debut until Pokémon Gold and Silver, calls these spectrographs into question, but what about the rest of the tale?
The truth is no records of any such mass suicides or illnesses exist; the story is just a tall tale that someone made up, blossomed on the internet, and wormed its way into the cultural zeitgeist. Think Slenderman before Slenderman. Still, the official version of the Lavender Town song is unsettling enough to make this creepypasta seem halfway plausible. Try reading the story while listening to the music. Puts your heart in your throat, doesn't it?
The other popular Lavender Town creepypasta, White Hand, revolves around the idea that there's an entity in Lavender Town that should never be seen by players' eyes. According to a popular rumor, one of the game's developers worked on a "Pokémon" that only appears in Pokémon Tower: the titular "White Hand." Unlike actual Pokémon, though, this creature is nothing more than a disembodied hand suffering from an advanced state of decay. The sprite's details are far more realistic and meticulous than any other element in the entire rest of the game, and the asset even features advanced animations several years before Pokémon Crystal formally introduced that feature. As is creepypasta tradition, the animations make anyone who views them violently ill. Of course, they say that all footage and evidence of the animations have been lost to time. How convenient. But what self-respecting creepypasta would end there?
According to hearsay, White Hand was actually one of two assets meant exclusively for Pokémon Tower. The other was a "trainer" by the name of Buried Alive. As its name suggests, this NPC is a zombie that rises from the ground to challenge players to a Pokémon Battle. This creepypasta states that Buried Alive was supposed to be Pokémon Tower's final challenge and the "trainer" used a Gengar, Muk, and two White Hands. If players lost to Buried Alive, a special ending would play where he gurgled, "Finally, fresh meat!", followed by a unique game over screen that shows him eating the player character.
What would happen if players won? Nothing. Literally nothing. The game would freeze, making it impossible to progress one way or another. The creepypasta ends with a suggestion that Buried Alive was replaced by the Marowak ghost. Given the many aspects of that story that defy common game design sense (i.e., an intentional soft-locking progress) and various anachronisms (i.e., animations in the first Pokémon game), it's surprisingly easy to debunk that famous creepypasta.
As you've probably guessed, no genuine evidence of the White Hands or Buried Alive has ever been discovered. Yet, you'll occasionally hear a fan swear that Lavender Town Syndrome and the White Hand are real. Some simply grew up with that information and haven't been able to shake it, but others claim to have seen evidence of those horrors for themselves. Such claims don't make the stories any more true, but they do show what makes Lavender Town so special and even legitimately terrifying.
As noted at the start of this article, there are many dark corners of the Pokémon universe. There are even other, intentionally supernatural locations in that universe as well as some urban legends that go along with them. Lavender Town is special, though. The rumors surrounding it began to spread at a time when nobody was entirely sure which Pokémon rumors were real (such as Mewtwo and MissingNo.) and which were simply legends. It was remarkably easy to believe in the possibility that Lavender Town was so much more sinister than its "paper ghosts" Halloween decoration vibes would lead us to believe it was.
Those that opened themselves up to that possibility may be shocked to realize that they still have room in their hearts and minds for those same possibilities all these years later. The thought of entering Lavender Town, or even just listening to the town's music or saying its name, sends a familiar thought to your brain that whispers "What if?" Other Pokémon legends and creepypastas have come and gone, but the horrifying history of Lavender Town lingers in our hearts and minds long after logic should have shined a light on one of the darkest corners of the Pokémon universe.