Features
Will Pokémon Legends: Arceus Replace "Traditional" Pokémon Games?
What do Pokémon Legends: Arceus' record sales figures mean for "traditional" Pokémon games?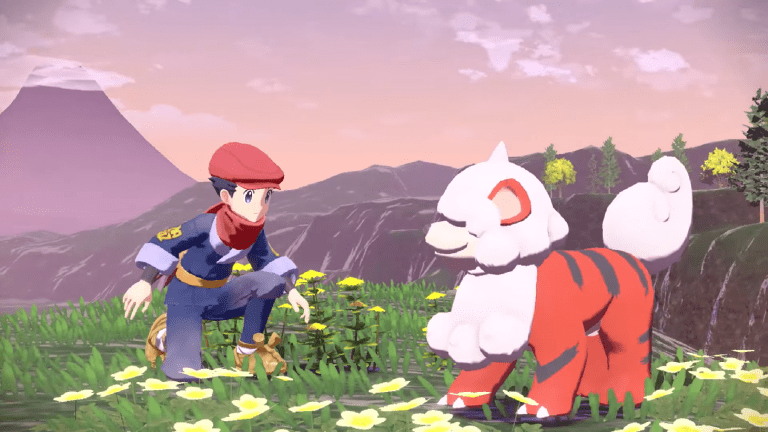 Whenever Nintendo and Game Freak release a new Pokémon game, you usually expect high sales at best and decent sales at worst. However, Pokémon Legends: Arceus has blown past most expectations and seems poised to influence subsequent franchise entries. Of course, that raises an important question: If Pokemon Legends: Arceus truly represents the future of Pokemon, could it supplant the "traditional" mechanics from previous games going forward?
On February 3rd, Nintendo of America tweeted that Pokémon Legends: Arceus had sold over 6.5 million copies worldwide in its first week. According to CNET, this is a veritable record-shattering performance, as Pokémon Sword and Shield only pushed 6 million copies in their first week. Moreover, in Japan, Pokémon Legends: Arceus is the second best-selling Nintendo Switch game ever (via Siliconera/Famitsu). Admittedly, the race to the top isn't over yet, as the prior titles, Pokémon Brilliant Diamond and Shining Pearl, have sold around 13.87 million copies. Also, despite slower initial performance, Sword and Shield went beyond that with almost 24 million lifetime sales, officially dethroning Pokémon Gold and Silver as the second best-selling entries in the franchise. Still, there's seemingly no stopping the game's popularity, which is why some gamers might fear its semi-open world success might come at the cost of the Pokémon formula they originally fell in love with. But should they worry? Probably not.
While the Pokémon series has mostly stuck to a very comfortable gameplay loop of using turn-based battles to catch/train Pokémon to catch/train even more Pokémon, the franchise is no stranger to experimentation. Even though most attempts to alter the Pokémon formula have been relegated to spin-offs, Pokémon: Let's Go, Pikachu! and Eevee! are not among them. On the surface, those games look like simple remakes of Pokémon Yellow, as players travel Kanto to catch all 151 original Pokémon. Instead of battling wild creatures, though, the game copies the catching mechanic from Pokémon GO. The remakes might be the eighth best-selling games on the Nintendo Switch, but they aren't even in the top ten best-selling Pokémon games. It would be foolish to call Let's Go, Pikachu! and Eevee! financial failures, but their sales numbers probably didn't convince Nintendo's upper brass that the games represent the future of the franchise, despite mimicking the uber-successful mobile spinoff.
Comparatively, Pokémon Legends: Arceus is far more experimental. Players can still catch Pokémon without battling (although this time they need to utilize stealth, not just toss Poke Balls into a shrinking ring), and the game sports a semi-open world experience that emphasizes exploration. Legends: Arceus might lack many of the hallmarks of a Pokémon title, including Gyms and competitive multiplayer, but the game has received rave reviews and stands a good chance of surpassing Let's Go, Pikachu! and Eevee! in sales. Even if Legends: Arceus was originally intended to be an experiment, Nintendo and Game Freak could easily decide it deserves a sequel or three based on the fan reaction and revenue. It wouldn't be the first time that's happened to a major (and financially successful) franchise.
For instance, the Yakuza series is a pretty notable example of a timeworn system being upended due to sheer fan approval. The franchise started as a beat 'em up action RPG that emphasized slick action, crime drama narratives, and wacky side missions. You might think the series would suffer from tone whiplash, but it all gels pretty well, and audiences loved the franchise for that. Yakuza utilized this formula for seven entries (plus two remakes and some Japan-exclusive spinoffs) until its eighth game, Yakuza: Like a Dragon when things changed in a rather unexpected way.
Like a Dragon replaced the franchise's long-running main protagonist, Kazuma Kiryu, with newcomer Ichiban Kasuga, but that was hardly the most significant change the project made to the series. Instead of using the tried-and-true action brawling mechanics of previous entries, the new title sported a turn-based JRPG system that was born out of an April Fools' Day trailer. That's not an exaggeration. The game was originally intended as an action brawler like its prequels, but the joke video received so much positive reception, the developers changed genres. The result turned Yakuza: Like a Dragon into the game audiences love today but also altered the franchise's future. Yakuza leads Toshihiro Nagoshi and Kazuki Hosokawa told IGN that the series would abandon its roots and keep the turn-based battle mechanics for future entries.
Now to be fair, neither Game Freak nor Nintendo have said anything about Pokémon Legends: Arceus replacing the mainline franchise's classic mechanics. Plus. Yakuza and Pokémon are two very different titles. Just because Yakuza abandoned its series-synonymous battle system for a different one (that is just as enthralling) doesn't mean Pokémon will do the same. After all, Sega offered a decent compromise by letting the Yakuza spinoff series, Judgment, carry the action brawler torch. Who's to say Pokémon can't do the same? 
While Game Freak was busy developing Pokémon Legends: Arceus, the game studio ILCA handled Pokémon Brilliant Diamond and Shining Pearl production duties. Going forward, Game Freak could easily work on more open-world-esque Legends titles and let ILCA produce the more classic-styled Pokémon games. Given those remakes' generally good reviews, the "traditional" Pokémon franchise might be in good hands. This hypothetical arrangement wouldn't be that different from the one Sega currently has with Yakuza and Judgement, which is only problematic since Judgment's future is up in the air thanks to an alleged (and unexpected) disagreement between Sega and the talent agency Johnny (via Kotaku). 
So long as Nintendo and Game Freak don't bump into similar legal messes, there's no reason why the companies couldn't use Pokémon Legend: Arceus' success to turn the game into the first entry of a new line of Pokémon titles that live alongside more "traditional" entries. That's essentially what happened during the development of Legends: Arceus and Brilliant Diamond/Shining Pearl. As always, though, we will have to wait for an official announcement regarding the future of the franchise.